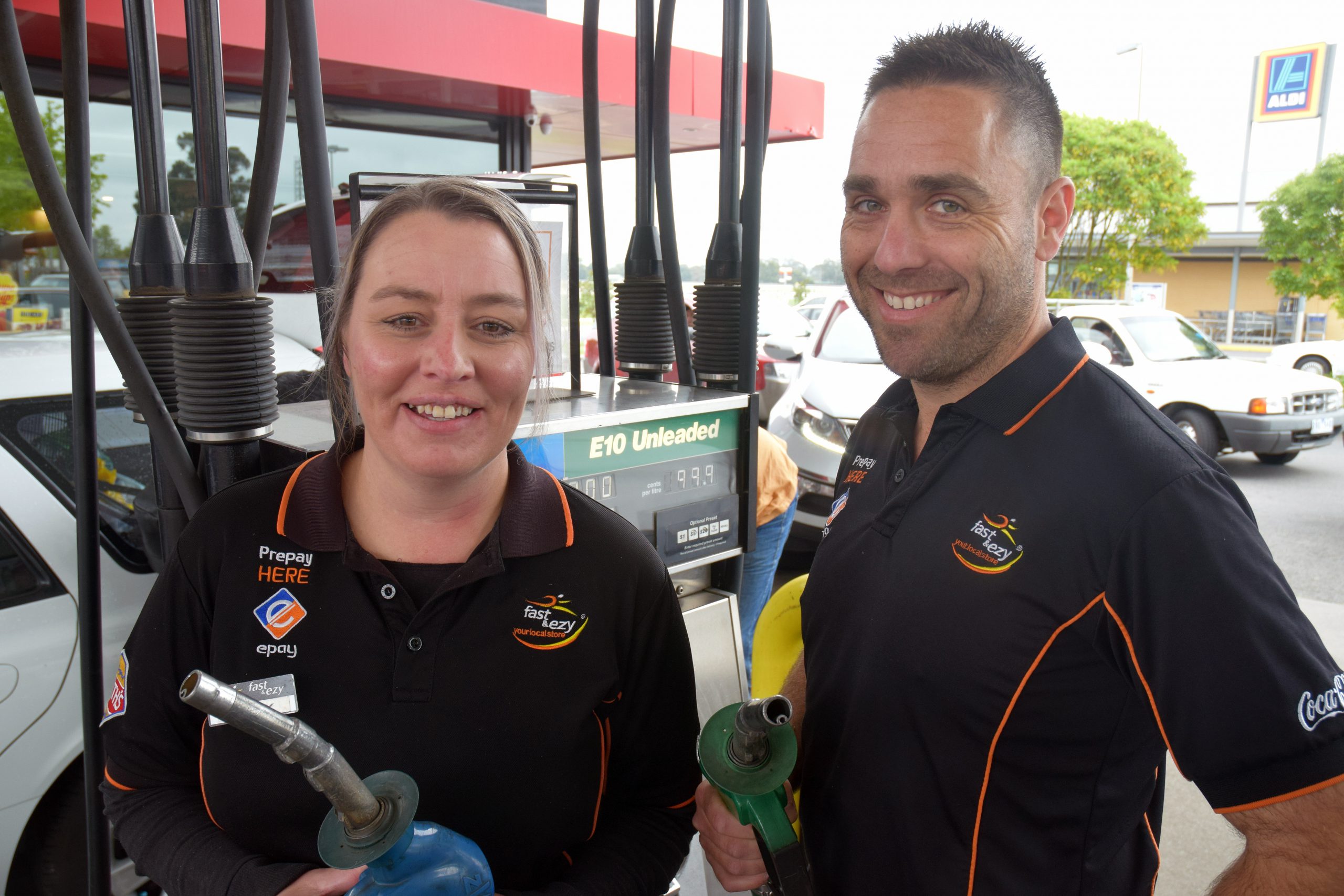 Bryce Eishold
There was a mixed response from the retail sector on Thursday during Moe's three-hour public holiday cup sale, with many traders questioning whether the full-day public holiday was as effective as the half-day holiday in years gone by.
Many traders reported reasonable sales, with some businesses slashing prices by up to 50 per cent, however, several retailers claimed the full-day public holiday was "confusing" and tough on small business.
Saviges Road Fast & Ezy slashed the price of E10 petrol to 99 cents a litre, and sold more than 10,000 litres of fuel to more than 500 customers during the three-hour sale.
"This is a significant saving because usually the price of E10 is usually $151.9 and down to 99 cents that's a 52-cent saving on a litre – you're saving a third of the price," Saviges Road Fast & Ezy manager Peri Hortis said.
"The sale itself is extremely important to drive people into Moe to encourage them to spend big and go to the races afterwards."
TM & H Home Timber & Hardware purchasing officer Laura Town said the sale was "good for the town", and was an opportunity for businesses to "give back to the community" by lowering the price on items in the shops.
Panther's Mensland director David Panther "cheated", opening his store two hours before the sale officially kicked off: " We opened at 7am and we had people in the door at eight minutes to seven and we were steady right through."
Frame by Frame owner Andrew Corrigan noticed a "pretty active period" during the sale and was pleased with the results, but described the full-day public holiday as "confusing".
"The fact that it's a public holiday and retail is still open – some people would take that public holiday and relax and not come in to shop, perhaps thinking the shops will be shut," Mr Corrigan said.
"I feel for businesses that have to pay penalty rates because it's a public holiday but we also have a sale day at the same time so they struggle to stay open as a small business."
Regal Jewellers Moe manager Harmonie Smith agreed, and said the public holiday which coincided with the three-hour sale "hurt us more than it helped".
"My opinion is that the public holiday hasn't benefited us at all. It's really only the kids that get the win – they get the day off. However, it's not [kids] we want to be shopping, it's not them who go to the cup," Ms Smith said.
Changing Seasons store manager Michelle Nilsson said while the sale was "vital" to the town, the public holiday was difficult for workers and the community to manage.
"We're opposed to the public holiday. There's loads of confusion and being Melbourne Cup in a few weeks, what do you do with your staff that don't live in the 3825 postcode?" Ms Nilsson said.
However, Moe Traders Association secretary Sue Broadbent encouraged businesses to play a more active role with discussions about the cup public holiday next year.
"I think with everything that's happened, with the loss of so many jobs, the cup sale has always been one of the traders' best sales of the year," Ms Broadbent said.
"We would've loved the half day cup – half day Melbourne Cup but unfortunately we didn't have enough support to do that.
"Next year we hope we can get all the traders together to get a half day public holiday. We had that for a lot of years and it worked successfully."