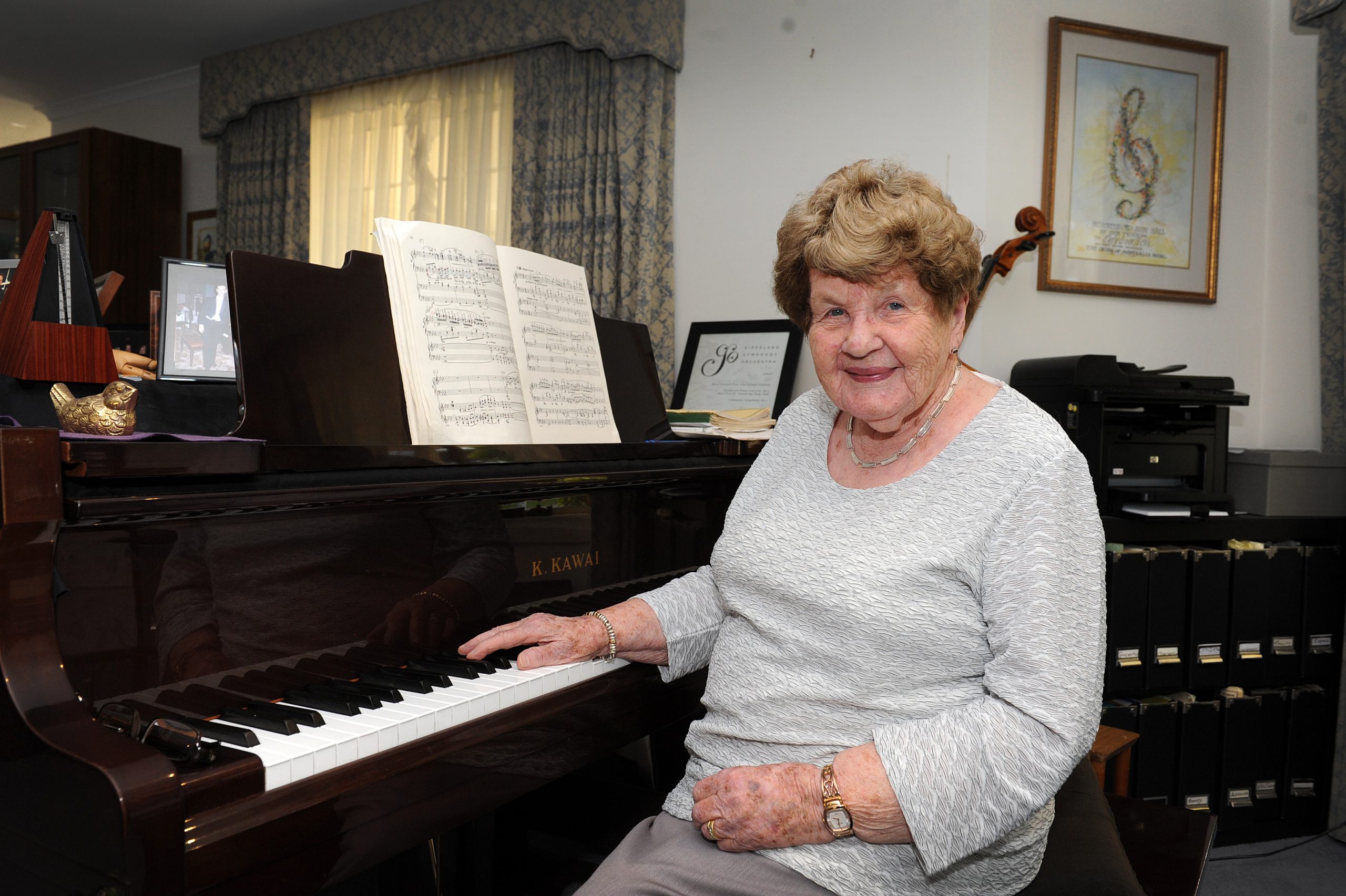 By Cher Jimenez
It was a childhood dream she thought would never come true.

But at 96 and nursing carpal tunnel syndrome and arthritis in her fingers, veteran pianist Judy Hall is set to fulfil the dream she kept playing in her mind over many years. Ms Hall will perform at the Melbourne Town Hall in November with the Gippsland Symphony Orchestra and a couple of her former students who have made a name in the international music scene.

She was just 12 when her father, a bandsman, bought a radio and she would sit on the floor listening to concerts being played on air.
"It [concert] was always on at the Melbourne Town Hall, the only recital centre we had back then," she said.
"As a kid when I was playing, I thought it would be lovely to play at Melbourne Town Hall.
Born in Trafalgar Ms Hall started learning the piano at the age of 12.
A young pianist playing at a Yallourn eisteddfod inspired her to get better at music and she went on to train with a series of teachers including the head of the conservatory in Melbourne.
From music lessons in the country, Ms Hall found herself exploring 26 countries over three international music study tours where her deep knowledge and skill in classical and other genres were developed.
It was about this time Ms Hall met Italian teacher Lidia Baldecchi-Acuri who became and still is, at 88, her teacher and mentor.
At a young age of 24 Ms Hall started teaching the piano and developed a number of successful students including Timothy Young who is the current head of piano and chamber music at the Australian Academy of Music.
Teaching took most of her time so it was only 20 years ago when the Newborough resident did a solo performance with the Latrobe Orchestra.
"It was at the Morwell art gallery in 1996, I was in my 70s and that went very successful," she said.
"I never got a chance again to play with an orchestra."
This year Ms Hall has reaped the rewards of the seeds she has sown over seven decades of teaching music.
Early this year she performed her third career concert as a featured soloist with the Gippsland Symphony Orchestra and played 'Lhargetto' movement from Chopin's Second Concerto.

In May she again played with the orchestra, this time for a performance in Warragul.
At the time the 96-year-old music teacher thought that would be the closest she would get at realising her childhood dream.
"Someone put it on Facebook and asked why can't she play at the Melbourne Town Hall," she recalled.
It was the city council of Melbourne who offered Ms Hall to do the concert after seeing the video.
The 96-year-old music teacher is diligently preparing for what could be her greatest performance so far on Melbourne's stage.