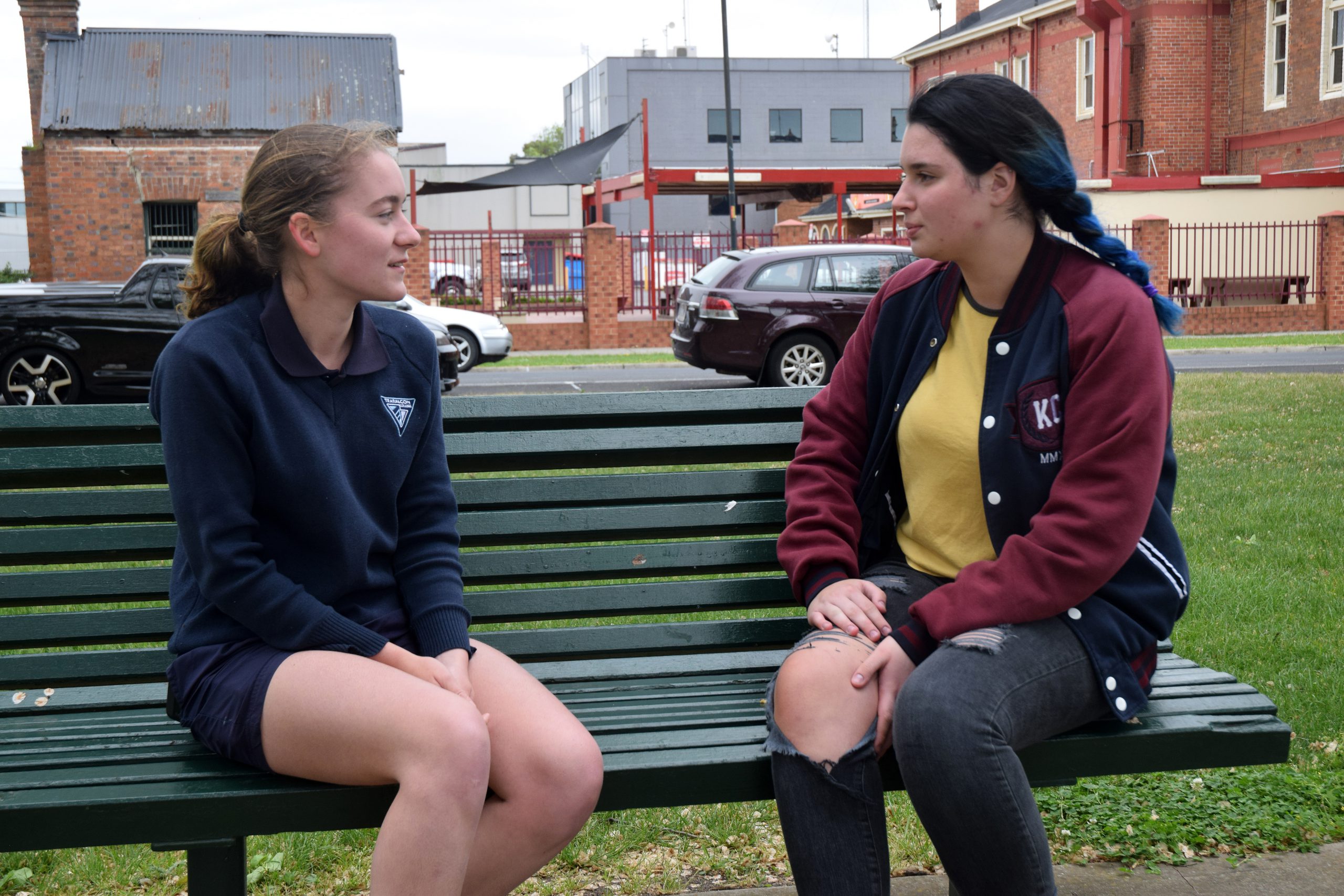 By Cher Jimenez
High school students Hannah Lawrence and Lara Redford have seen bullying first hand and are hoping to protect their brothers from it.

Hannah and Lara, both 17 and from Traralgon, have brothers studying at Latrobe Special Developmental School on Hickox Street and are concerned about the possibility of their brothers' school co-locating with Traralgon College.
Hannah is in year 11 at Traralgon College while Lara used to study at the Grey Street facility but has moved to another school.
"There's only going to be a fence line separating the two schools so if a child was in the playground having a meltdown or doing something you wouldn't want others to see they can be videoed or made fun of," Lara said.
Hannah said she was afraid her brother, Stan, would be bullied by some kids at Traralgon College as she had witnessed other kids do to vulnerable children on campus.
"Bullying would definitely be the number one issue like, yes traffic would be horrible, but bullying will not only affect the students but it will affect the parents [and] the teachers from both schools," Hannah said.
They both said that the possibilities of their siblings being treated badly by other people, especially kids at school, was hard for them to take.
"I just think if I ever heard my mum on the phone with the special school hearing my brother being bullied, if I ever look on someone's SnapChat in TC and I saw my brother, I would feel physically sick to my stomach," Lara, who has a brother named Zavier at the developmental school, said.
"No child should be bullied, especially kids with special needs because they don't know that they're being bullied, I think that's probably the worst thing," Hannah said.
While Lara said bullying at her former school was not "rife but definitely present," she said teachers tried their best to address it, however, people still found their way around it.
"It's [bullying] just going to be amplified if there's a special school right next to them," she said.
Hannah said most Traralgon College teachers were unaware of the issue of the special developmental school's possible co-location with the Grey Street facility.
"I was the one telling them because they really don't know what's happening," she said.
Hannah is the daughter of Latrobe SDS school councillor Leesa Lawrence who started a petition to push for a standalone facility for the special developmental school.
Both girls said that they decided to add their voice to the issue because they loved their brothers.
"He's my life. We would go to any lengths to protect him," Lara said.
"If something happens to Stan we would move anywhere and take him to a better school," Hannah said.
The girls said they had experienced seeing their brothers, both on the autism spectrum, being treated badly in public and wished that people would be more understanding and accepting.
Lara recalled one incident in Melbourne where she was with Zavier and the boy accidentally hit a woman on her shoulders while walking past her and she became mean to him.
"I'd love to sit there and lecture her that my brother's autistic. He has all this trouble – we wish we could fix it too but you can't. That's a stranger on the street you can't tell your life story to them you just kind of suck it up and say 'Sorry he didn't mean it,'," Lara said.
She said moving the special developmental school to Traralgon College would also not be fair to the students there as many of them may not know how to be around children with special needs.
"Some kids were not brought up around people with special needs it would be confronting for them to get used to. If I didn't have a brother with special needs I wouldn't know how to act around that," Lara said.
The Express contacted Traralgon College for comment but the school did not respond by time of publication.
On Tuesday the Education Department and the Victorian Schools Building Authority held consultation meetings with both Latrobe SDS and Traralgon College to discuss the $6 million project.
Mrs Lawrence said the VSBA told parents that the meeting was a "reset" of their previous meeting and that new inputs from the school community would be taken into account including results of an online survey that the agency started. She said a report would be submitted to the state government before the end of this year although funding would not come in until the May budget.
"There's a lot of it up in the air but it was a positive at least yesterday," she said.