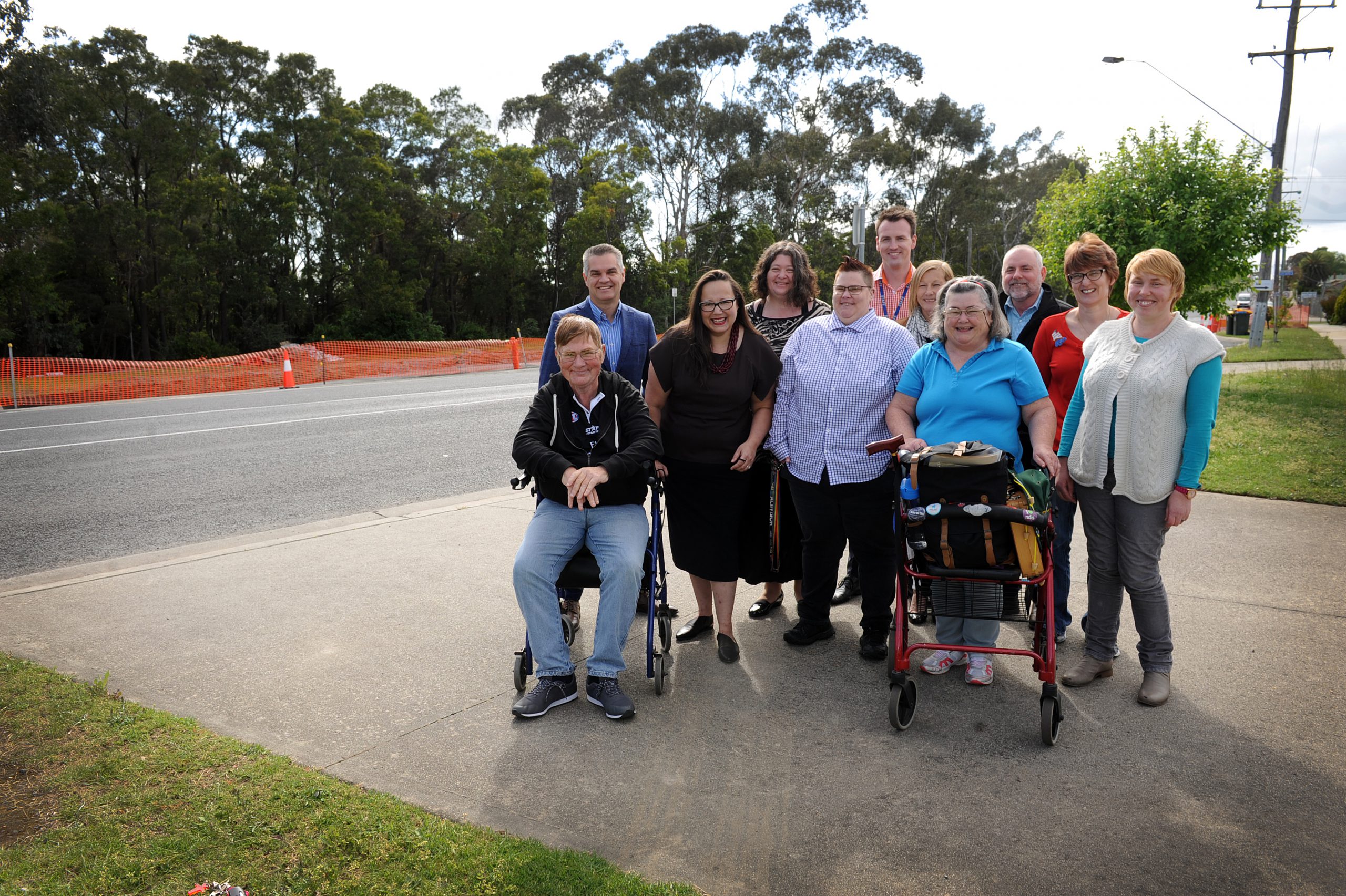 Heidi Kraak
Disability advocacy groups have welcomed an announcement that a pedestrian refuge island and line markings will be installed at the western end of Commercial Road in Morwell.
It comes after disability self advocacy group New Wave made a video calling on the state government to install a pedestrian crossing at the site, stating that at on any given day up to 20 people with cognitive disabilities, including Tipping Foundation and Interchange Gippsland clients, had to cross the busy road to access the bus stop.
The $150,000 safety upgrade will include a pedestrian refuge island and associated line markings, an upgraded bus shelter and pedestrian path to the shelter, an indented bus bay, new bus stop hard stand, pram crossings and a pedestrian hard stand.
New Wave leader Rachael Walters said the upgrades would make it safer for everyone to cross the busy road.
"Lots of people use this crossing every morning and afternoon and during the day, but mainly people with disabilities that come to the programs, and they need to be safe when they are crossing," she said.
"It is making it easier for people with walkers or wheelchairs to get to the other side.
"It is good it is finally happening, I'm so excited."
The upgrade is being funded by Regional Roads Victoria, Transport for Victoria and Public Transport Victoria and Latrobe City Council.
Regional Roads Victoria senior transport engineer Gerard Engel said construction on the upgrade had already begun, with works expected to finish by the end of the month.
"[New Wave's video] was quite confronting to see how difficult it is and how challenging it is to cross – it is a busy road. That advocacy was a fair way of seeing that we really need to do something here," he said.
"We understand here that people really rely on public transport so we want to put some infrastructure in place to make sure they can do that safely.
"We rely on the community to show us and advocate and let us know of the issues so we can see what we can do."
Member for Eastern Victoria Harriet Shing said the upgrade was a "really strong outcome" for the advocacy groups involved.
"I've been working alongside advocacy groups including Voice at the Table, New Wave advocacy, The Tipping Foundation and Interchange to hear exactly what the challenge was and to design an engineering solution that made it more user-friendly," she said.
"The people who use this part of the road and rely on public transport to get around need to be able to do so in the most safe way possible and they need to be able to be comfortable while they are using public transport.
"These improvements, which will be finished by the end of October, will create a real difference, particularly on a very busy road like this one, and they are going to be a benefit that sticks around for a very long time."