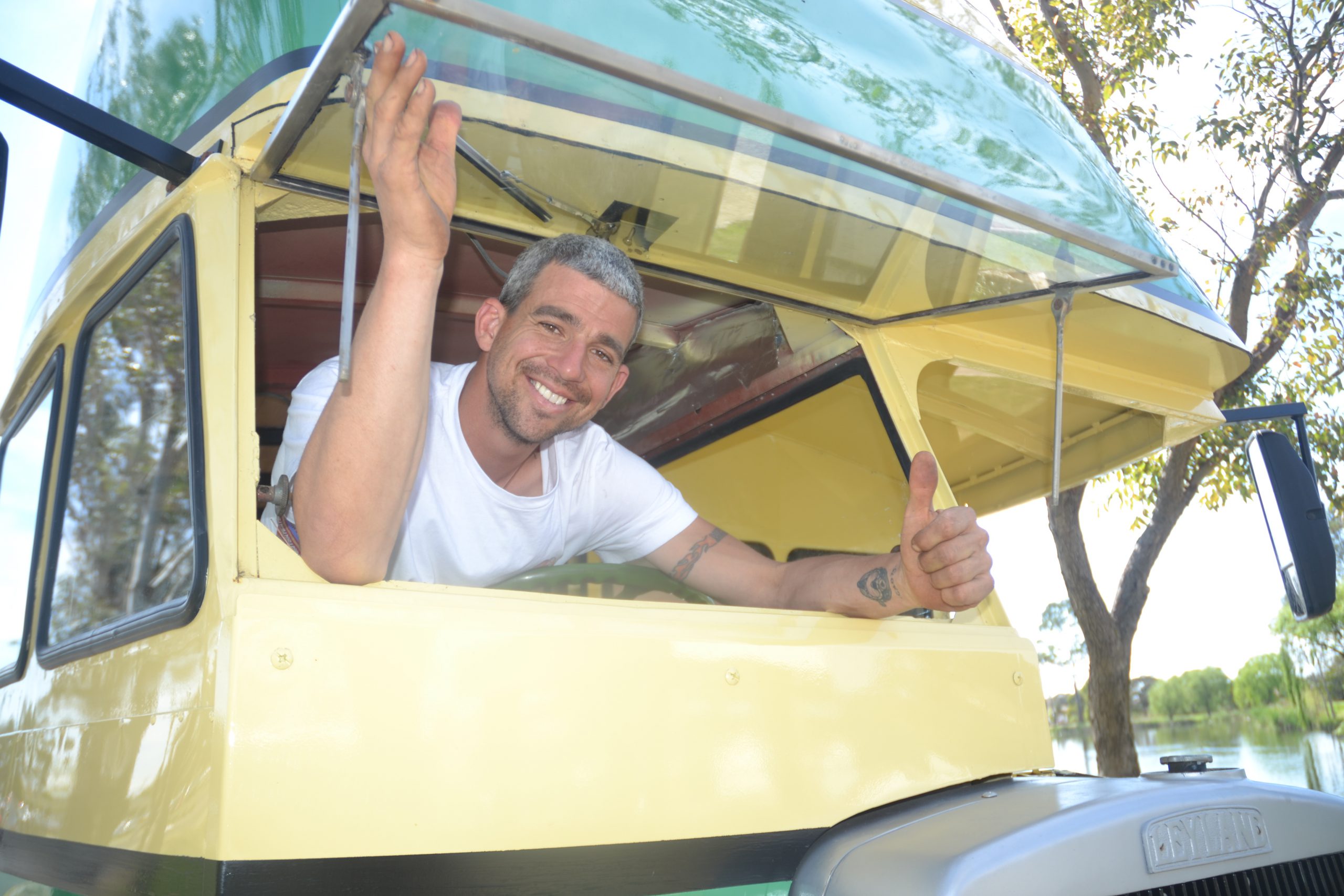 Bryce Eishold
Lawrence Norton literally rolled into Morwell last week in his 1949 double decker Leyland bus on his return from a men's wellness weekend in Licola.

With a top speed of about 40km/h, it was hard to miss the green and yellow bus as it roared along the highway on its return to Pakenham, stopping at Morwell's Kernot Lake for a short break.
Mr Norton, 33, purchased the bus, originally used in Sydney, a decade ago and intends to drive it around Australia next year to raise funds for Eli's Gift – an organisation which helps families who have seriously-ill children and are struggling to make ends meet.
Mr Norton hopes to sell the outside of the bus for advertising with proceeds raised donated to the foundation.
A linesman by trade, Mr Norton hopes to raise more than $50,000 for the charity and will finance his trip through an on-board mobile gallery and coffee shop.

"The gallery side of things is going to support my income so I can put fuel in the bus" Mr Norton said.
"Then the actual café side of things – we're going to be selling coffee and the funds raised from the sale of coffee will be donated directly back into the local community we're visiting.
"So say if we come to Morwell and I make $1000 in profit here, then 100 per cent of that profit will go into the local community and I'm going to use the Masonic Lodges to distribute that money."
The 12-month journey will start in January "in and around Melbourne" before heading up the east coast, north to Darwin and back down through Perth and Adelaide before arriving in Melbourne.
Mr Norton said he came up with the idea to raise funds for the charity after spending his younger years in pubs and clubs.
"I continually went out and partied with friends but inside me there was something that just wasn't satisfying me," he said.
"When I turned around and started giving, I started [to] be satisfied with myself – life isn't about taking, it's about giving and to do that is a wonderful feeling of gratification."
For more information, visit Twice as Nice Gallery Cafe on Facebook or Instagram or elisgift.org.au.