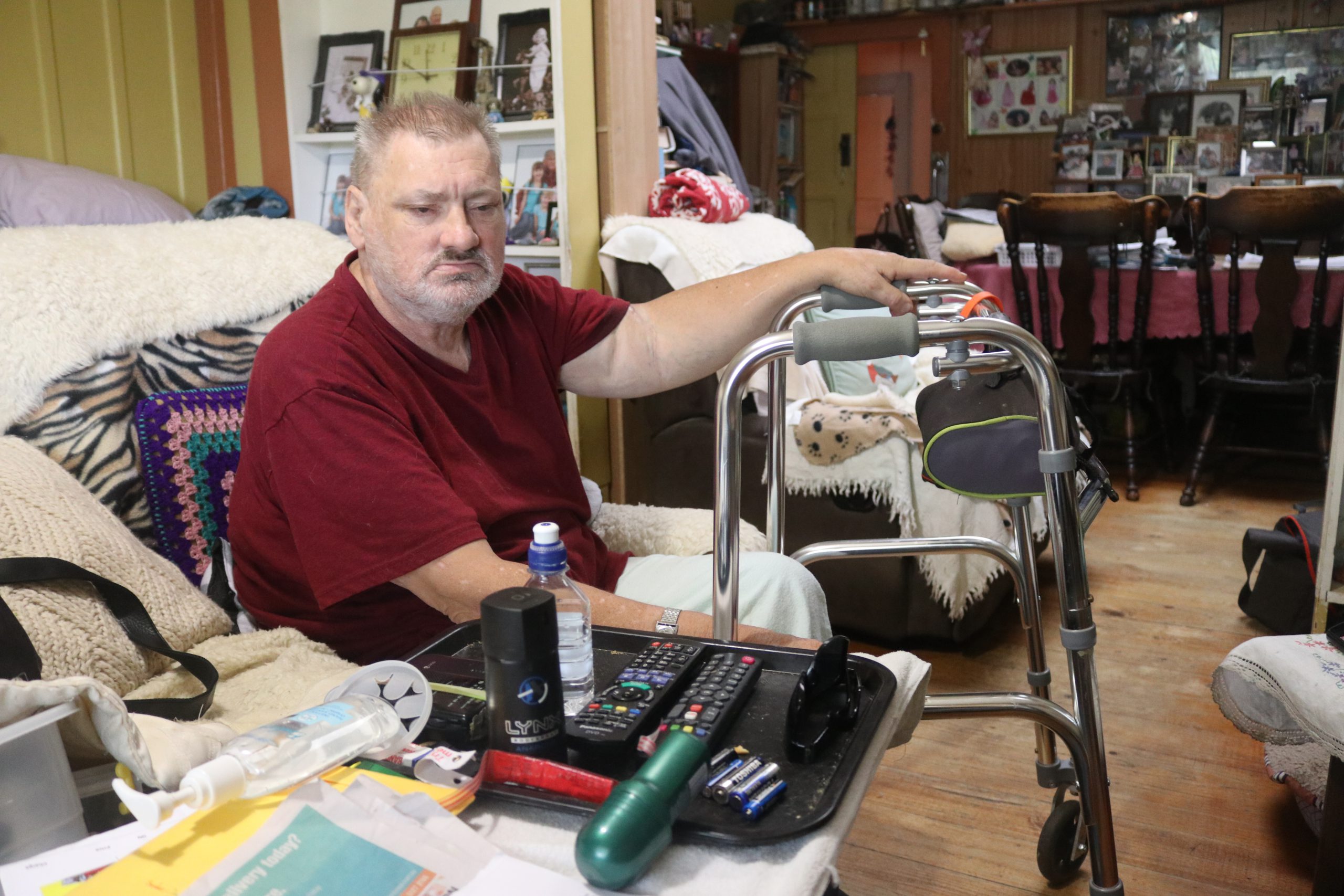 Michelle Slater
A Moe man with severe disabilities is stuck waiting for major renovations to make his cramped home wheelchair-accessible under the National Disability Insurance Scheme.
Les Robertson was formerly a client with the Tipping Foundation, which delivers disability services under the NDIS, but he left the organisation frustrated with the service delivery.
The 60-year-old is blind and needs dialysis three times a week. He is also diabetic and suffers from several other afflictions. Mr Robertson needs a wheelchair and has limited use of a walking frame.
He is confined to his living room where he sleeps in a reclining sofa because he cannot access his own bedroom.
"My life is in my living room. I can't get into my bedroom. I sleep in the living room and I get dressed in the living room. I struggle into the bathroom in my walking frame down some steps," Mr Robertson said.
"I fall onto the floor trying to get into the bathroom. I cannot do anything."
Mr Roberston lives with his mother Kathleen who attends to his daily needs like bathing him and taking him to the toilet.
His mum regularly calls paramedics to pick her son off the bathroom floor, as the surface in uneven and not suitable for wheelchair access.
"We've been asking for these modifications for the past seven years. We've had occupational therapists take photos but when they walk out the door it's all finished," Mrs Robertson said.
Mr Robertson was switched on o the NDIS early this year, which funds his transport to his dialysis appointments, but he is waiting to access his allocated funds for other provisions.
A spokesman for the Tipping Foundation said the organisation had been working closely with the Robertsons since 2012 and had pushed for his transport to be better funded under the NDIS.
He said that it was agreed after several discussions that Mr Robertson find another service provider to better support his needs.
"We have provided him with flexible supports and community access so that he can enjoy his local community," the spokesman said.
"All the supports and services that we have provided to Les and his family have been directed by their wishes."
Under the NDIS, a client can choose their own service providers or have multiple providers.
A National Disability Support Agency spokeswoman said Mr Robertson's case was complex.
"The NDIA is continuing to work with Mr Robertson to ensure he receives the reasonable and necessary supports he is assessed as needing – including home modifications," she said.
Gippsland Disability Advocacy chief executive Adrian Terranova said the NDIS was a major part of the organisation's work, with vulnerable people baffled by the system.
He also stressed there were people receiving good plans and good outcomes under the scheme.