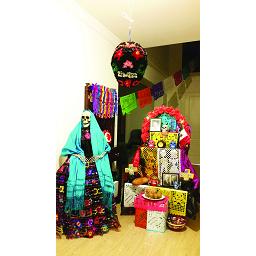 Cher Jimenez
Latrobe Valley will be treated to a different celebration of the spirits post-Halloween as the Gippsland Multicultural Services hosts Día de Los Muertos or the Mexican Day of the Dead.

A display of authentic Mexican arts and crafts and a range of colourful decorations will be showcased at the GMS headquarters on Buckley Street from November 5-8 during office hours as a way of observing the festivities.
Gippsland Mexican Art Group president Omega Melis said while people's response to Halloween was often about fear and mischief, Day of the Dead is celebrated to pay respects to departed loved ones through colourful festivities.
Ms Melis said Mexicans set up altars in their homes and cemeteries where they display photos, flowers, and memorabilia of the departed as a way of welcoming spirits back to the realm of the living.
They also celebrate the event with colourful festivities of street dance and food.
Day one of the fiesta is dedicated to children who have passed and people observe it by setting up a children's altar to invite the deceased to come for a visit.
The second day is called All Saints Day where deceased adults are remembered while the last day of the celebration is called All Souls Day where families gather in cemeteries and make offerings to the deceased.
Dia De Los Muertos takes its roots around 3000 years ago during pre-Hispanic cultures where mourning the dead was considered disrespectful.
During this period it is believed that the departed come back to earth temporarily to join the living.
Ms Melis said while people coming to the event at GMS would not see Mexican dancing they would be treated to a range of Day of the Dead displays including an altar and a skeleton that she would dress up with traditional Mexican clothing.
"They will see the colourful ornaments and they will learn why we do this tradition," she said.