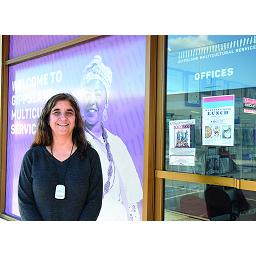 Cher Jimenez
The name Lisa Sinha is synonymous with Gippsland Multicultural Services.

For 25 years Ms Sinha has represented GMS's image and what the organisation stands for in terms of justice, tolerance, and acceptance of people no matter where they come from.
For people who have worked with her for many years, Ms Sinha's relationship with them and the wider community transcends office hours and her job description.
"As much as she's CEO you don't see a distinction between her and the workers. She's always down to earth and willing to do and get her hands dirty," GMS respite services coordinator Mersiha Grbic said.
Ms Grbic landed her first job at GMS as a resettlement officer assisting refugees and newly-arrived migrants when she was 18.
"She will do shredding, will go to archiving, clean up the front office, wash the dishes after the meeting, clean up the rubbish … she puts us, her workers, first."
Kelly Bull, who joined the organisation as a financial controller more than five years ago, said she knew Ms Sinha for about 18 years and worked alongside her in her previous jobs.
"She's got a lot of skills than most CEO's I've met[don't]. She deliberately learnt how to do the pay so I can have leave," Mrs Bull said.
Both said Ms Sinha's heart to champion the underprivileged and to be there to offer help had been with her for 25 years.
"She's always there to help in any way shape or form anybody who comes to that door," Ms Grbic said.
"She's incredibly fair and just had that heart to really advocate for people … no matter which corner of society they come from whether it is aged, or women, or refugee, or whether it's children," Mrs Bull said.
Ms Sinha joined GMS as its chief executive in 1993.
An anti-racism campaigner, Ms Sinha championed the rights of refugees and the wider multicultural community and is passionate about social justice.
She currently manages a team of eight program managers and 50 bilingual direct care workers and provide a range of services in aged care, disability and settlement.
Born in Richmond, Ms Sinha comes from an Indian-New Zealand background. She worked in community housing, Aboriginal children's services, lectured in early childhood development, and was a kindergarten teacher before joining GMS.
Colleagues said her passion for work was second to none as Ms Sinha, who lives outside of Latrobe Valley, would always find time to attend multicultural activities on weekends that sometimes finish late at night.
Ms Grbic said GMS staff respected their boss for her work ethic and ability to empower people to take charge of their own affairs.
"She's not there to fix things and it's always about empowering somebody else to do that for themselves by giving them the right tools and that, I guess, [is] what I admired most about her," she said.
Mrs Bull said the 57-year-old's ability to juggle her time with her work requirements and being a single mum to her daughter, Vilani, was amazing.
"One of my earliest memories of Lisa was not long after Vilani was born – like having her in a capsule in the office. I was mesmerised at how she's handled it all. I guess she's made it work and between her and Vilani they've worked it out," she said.
Vilani, who is almost 18, said her mum was her role model.
"I grew up being in GMS and being around diverse of people … she's my biggest influence in life, my views of the world come from her," she said.
Vilani said while her mum was busy at work she would always find time to be with her and if she had conflicts in schedule, would ask a colleague to take her to school activities.
"She may not be physically organised but she's organised in her head …she's got my back. I wouldn't be who I am without her … she's my role model and close to my heart," she said.