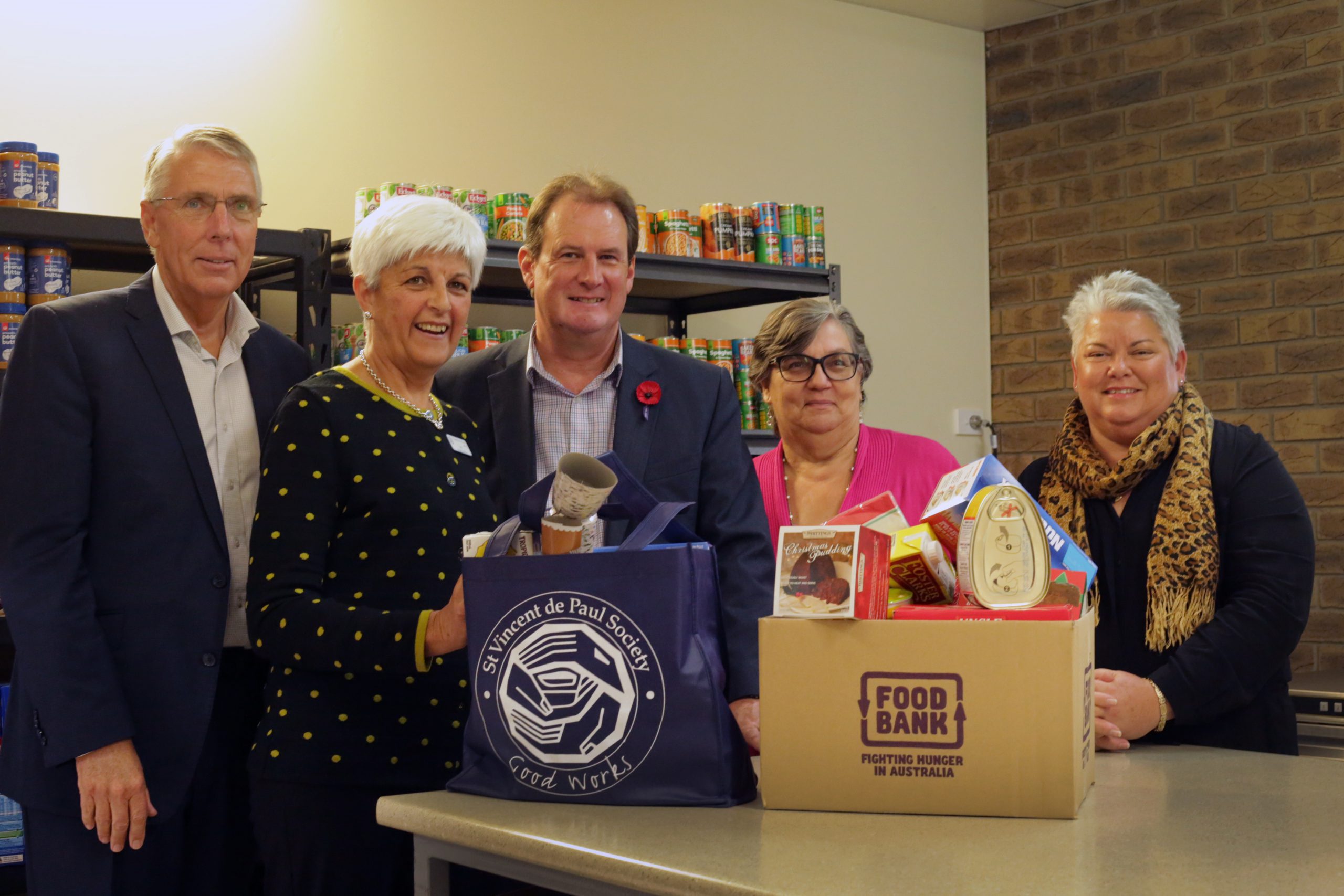 Anne Simmons
Local charities will be able to access food on demand at a new distribution centre in Morwell with an elected Coalition government.

Nationals leader Peter Walsh visited Traralgon Vinnies yesterday to announce $1 million to establish a purpose-built Foodbank hub in the Latrobe Valley to give agencies easier access to fresh, chilled and frozen food for families in need.
All agencies registered with Foodbank would be able to access the local centre and would no longer need to send their own trucks to Melbourne.
Mr Walsh said there would be "big savings" in logistics.
"Instead of getting a truckload every two weeks you [agencies] could go down there every day or whenever it's needed to restock the pantry," Mr Walsh said.
St Vincent de Paul Society's Traralgon service has been associated with Foodbank for about 12 years and has delivered more than $230,000 in food assistance in Traralgon alone in the past year, Vinnies Gippsland development officer Rob Howell said.
"We have seen about a 20 per cent rise in the need for food across the Latrobe region in the last three years so a huge increase in demand," Mr Howell said.
Families might be able to access food from the centre when they need it, but sometimes they might have to wait, according to Mr Howell.
"When you come to look inside the pantry we've got at the moment, at various times in the fortnight it will go from being totally filled to being barren," he said.
"A local Foodbank will always have the food available."
Mr Howell said there had been long-term generational poverty in the Latrobe Valley, but there was situational poverty today because of job loss.
Liberal candidate for Morwell Dale Harriman said breaking the poverty cycle was about "long-term, meaningful" employment.
"Two years ago their [working families'] worlds fell apart. Hazelwood closed, Carter Holt Harvey closed and they're the sort of people that would have been donating here five years ago. They are now coming in … to survive and that's just not right," Mr Harriman said.
Nationals candidate for Morwell Sheridan Bond said the Nationals were looking to the energy from waste project at Australian Paper and the establishment of a high-efficiency low-emissions coal-fired power station for construction and sustainable jobs.
"We can't turn our backs on such a rich resource," Ms Bond said.