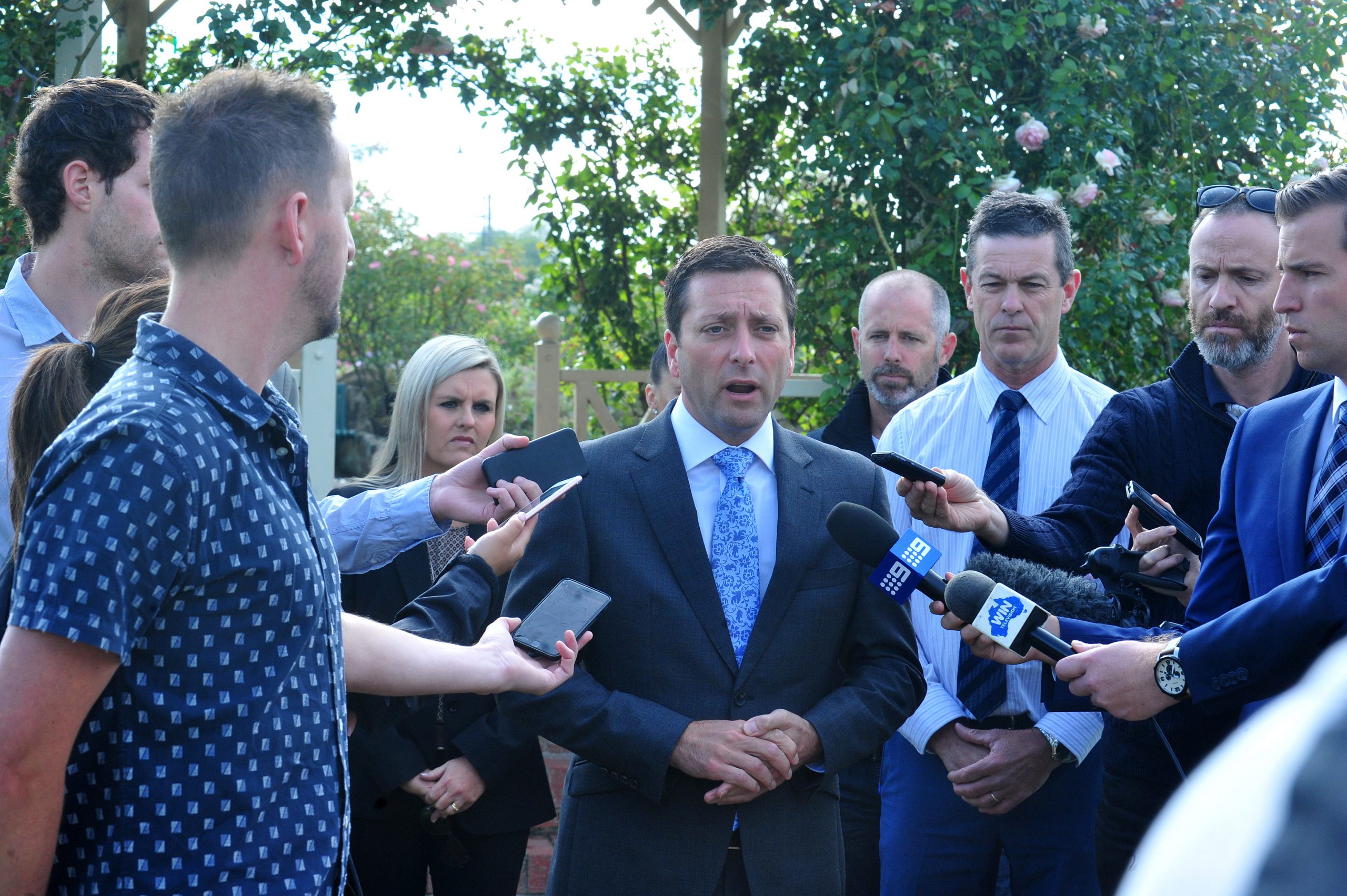 Bryce Eishold
Every time Matthew Guy fronts media in the Latrobe Valley he spruiks that his family migrated to Newborough and how his grandparents are buried in the Yallourn Cemetery.

As a young boy, Mr Guy would catch the train from Flinders Street to Newborough to stay with his grandparents on Chamberlain Road – and his aunty and uncle around the corner on Northern Avenue.
His grandfather worked at Yallourn W as a rigger, as did his uncles who worked at Hazelwood Power Station prior to its closure.
Perhaps it's the sentiment of going to the Newborough Pub as a kid "to drink cordial" with his grandfather on school holidays which brings back fond memories of the Valley and what it was like in the '80s.
Or maybe it's because his parents –Vera and Chris Guy – met in Moe while they were growing up in the 1960s.
Vera worked on the Moe Telephone Exchange while Chris was a disc jockey on radio station 3UL at Warragul; the pair met on a blind date after speaking on the exchange.
A year later, in 1968, they married.
Growing up, Mr Guy knew he wanted to join the Liberals – Vera was certain of that.

"My dad was a great Liberal man and he always voted Liberal and we used to have a friend of ours who lived in Seymour, Wally, and he gave Matthew a Liberal badge and Matthew used to wear that badge to school when he was eight," Vera said.
"When he was 16 and went to university he joined the Young Libs but before he did that he came home from school one day and said 'Mum, I've decided what party I'm going to join and that's the Liberal Party'.
"He said: 'I've weighed up the pros and cons of both parties and I think I'm going to be a Liberal' and that was it – from that age he was a Liberal supporter."
His parents recalled growing up, Mr Guy and his brother, Darren, would be quizzed at the dinner table by their father, Chris, on a range of general knowledge questions.
"Who's the governor of Victoria or how many places starting with B can you think of and things like that just to get their mind going," Chris said.
Both sons enjoyed a love for history, geography and politics and would have a competition at the tea table each night.
"I guess that's why Matthew just loves politics, " Vera said.
It was during a visit to the Latrobe Valley earlier this month his parents opened up about their son's childhood.
His mother's family migrated to Australia from Ukraine and witnessed incidents that are best left unsaid.
However, their migration to Australia – and in particular the Latrobe Valley – is perhaps what also contributed to Mr Guy seeking a position within the Liberal Party.
"[My parents] saw a lot of murder and people getting shot before they came to Australia," Vera said.
"My father hated anything that was red and red represented the communists to my dad, so he refused to have anyone wear red or anything to do with Labor because [of] that communism and that's why my father just loved the Liberal party because they were blue."
Employment and new jobs are Mr Guy's priorities for the region, who said this month the Latrobe Valley needed long-term, sustainable and realistic jobs.
"People need to rely on employment in the Latrobe Valley and I think part of our decentralisation agenda about jobs, relocation of jobs and actually maintaining jobs down here is very important," Mr Guy said. "I remember the Valley of the '80s, I remember how well it did and I want to see it return to that."
When questioned about the former Kennett government's sell off of the State Electricity Commission, Mr Guy said privatisation was already underway under the previous Kirner-Labor Government in the early 90s.
He also dismissed a "city-centric" Grattan Institute report which claimed decentralisation does not work: "It's not going to be a profitable exercise … but it's worth it."
"The Grattan Institute might be looking at dollars and cents but we're looking at communities and it's going to cost us, but I think it's worth the cost," Mr Guy said. He said the party could not afford to lose the seat of Morwell at the November 24 election.
"It's very important no ifs or buts, I don't want to lose it, I can't afford to lose it and we're putting our best foot forward in Dale Harriman, the Nationals with Sheridan Bond," Mr Guy said.
"I think Russell [Northe] will be a very strong candidate … I don't underestimate Russell at all. We're going to have to work as hard as we can to win the seat back and get people's trust."