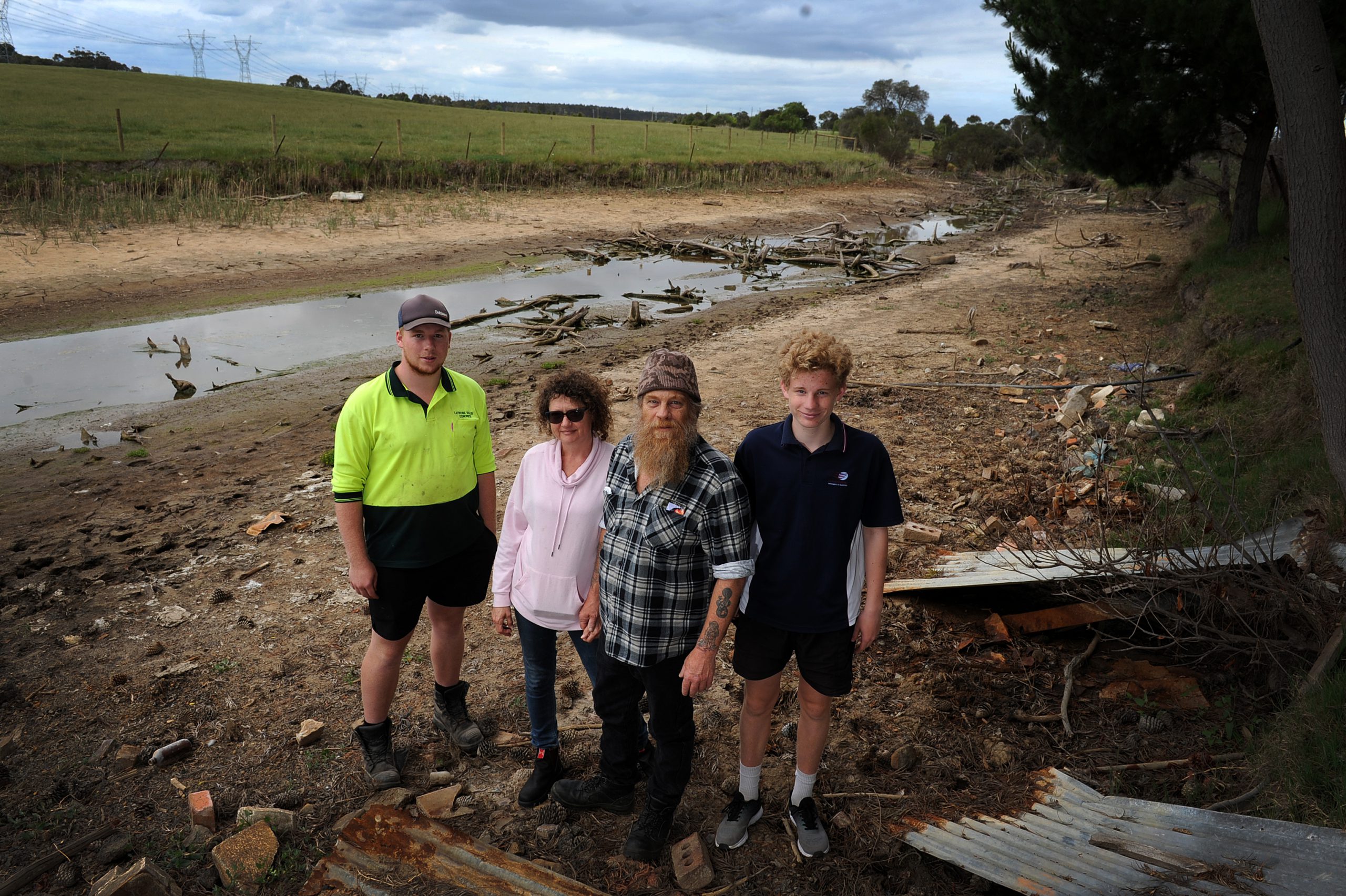 Michelle Slater
A Switchback Road family which bought land backing onto the Hazelwood Pondage for its waterfront outlook is furious they have now been left with a drained, "smelly and disgusting" creek line.
Churchill couple Greg Weir and Sally Denorville are considering their legal options over energy company ENGIE's decision to drain the pondage, taking away their amenity.
"Now, it's disgusting, it's smelly and dirty and full of rubbish. You'd cut your feet on the broken glass from all this rubbish that's ended up at the bottom of the lake," Mr Weir said.
He said they fell in love with the 16 hectare property in April when they saw it advertised with an abundance of water backing onto the boundary at the end of Eel Hole Creek.
Mr Weir said he believes he had lost several hundreds of thousands of dollars in reduced property values without the waterfront appeal.
The father of the family with seven kids said they were excited at the prospect of kayaking off their backyard, or planting-out the edges with vegetation.
"The water frontage was a huge factor – what a great asset to have in our backyard. We were stunned and we paid top dollar for it as we loved it so much," Mr Weir said.
"It's still a nice piece of dirt. We will just have to make the best of it. It will become a gorgeous property but we will have to work hard at it not having the water."
Mr Weir said he dismissed rumours at the time that ENGIE was going to forge ahead with its plans to drain the lake to fill the mine void as part of its rehabilitation plans.
He said he was very upset the company had begun lowering water levels in June in response to an engineering report into the structure of the dam wall.
The couple, along with two other neighbouring property owners, fronted up to a public forum held by ENGIE in Morwell last week.
Mr Weir and Ms Denorville held up before and after photos of the property showing the effects of the receding water line.
"This is what we started with, and this is what we've got now in our backyard. Will it be full of snakes and reeds?" Mr Weir asked.
Hazelwood rehabilitation project director Tony Innocenzi said he expected about 100 metres of beaching to be exposed once they dropped more water out of the pondage.
He said they would look at stabilising the areas for dust, odour and erosion control.
"We will meet with Mr Weir at his property, as soon as it can be arranged, to discuss his concerns raised at our community forum on Wednesday night. We are certainly willing to look at ways we can assist," he said.