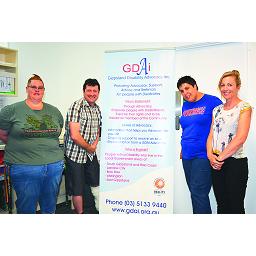 Cher Jimenez
Moe residents Kath Bartlett and Georgia Green have learnt that advocating for people with a disability can be empowering.

Both living with a disability and involved in local peer support groups, Ms Bartlett and Ms Green are committed to raising awareness and driving acceptance of people living with disability.
"People with disability can do what able-bodied people can do," Ms Bartlett said.
International Day of People with Disability will be celebrated in Traralgon on December 3, with music and performances from people who live the experience and a showcase of the different service providers that support them.
Gippsland Disability Advocacy Inc executive officer Adrian Terranova said the free event would be a celebration of people with disability and their contribution to the community.
"It is a United Nations-sanctioned day and it aims to increase public awareness, understanding and acceptance of people with disability and celebrate their achievements and contributions," Mr Terranova said.
He said the event was also aimed at "demystifying stereotypes" that can exist within the disability industry.
"The day of people with disability being downtrodden – that's gone," he said.
Motivational speaker and sportsman Ben Pettingill, who lost 98 per cent of his eyesight when he was 16 years old, will be the guest speaker at the event.
Mr Pettinggil may have lost his sight but it did not stop him from living a normal life.
He water skis with direction through an ear piece, coaches basketball teams, has trekked the Kokoda Trail, was the only legally blind person to have competed a Spartan obstacle course race, water-skied the Southern 80 and even drove a car.
Gippsland's 350s band will play on the day and there will also be dance performances and free food provided by Moe Life Skills.
Stalls from disability service providers will also be on hand to provide information and chat with guests.
Latrobe City Council rural access officer Joanne Bedford said council was happy to partner with GDAI in organising the project.
The free event will be held at the VRI hall on Queens Parade, Traralgon and will run from 3.30pm until 6.30pm on December 3.