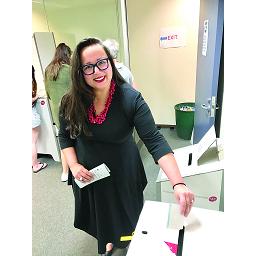 Jarrod Whittaker
Jarrod Whittaker

Member for Eastern Victoria Harriet Shing has declared the Andrews government will work to deliver projects for the Latrobe Valley after Labor's crushing election win on Saturday.
Labor is on track to win at least 52 seats in the new Parliament, compared to the Coalition's 24, after a 4.8 per cent swing towards it gave the government 42.9 per cent of the primary vote.
During the campaign, the government made a raft of pledges for the Latrobe Valley, including $217 million for the stage three upgrade of Latrobe Regional Hospital, $1 million for an asbestos taskforce as well as school and sporting upgrades.
Prior to the election the government announced 500 jobs would be created after attracting a solar vehicle manufacturer to the region and to base the Solar Victoria authority here to oversee the roll-out of Labor's subsidised solar panels scheme.
"The preparatory work has already begun for many of the things that we pledged to deliver before the election," Ms Shing said.
"Now that we have a result we will continue that work to get projects started, people employed and projects underway in exactly the same way that we did in the last Parliament."
Labor's massive victory was secured following huge swings in the Liberal heartland of Melbourne's eastern suburbs and after the party held the so-called "sandbelt seats", including Frankston, Carrum and Bentleigh.
Counting is still underway in her upper house region of Eastern Victoria, but with 45.77 per cent of the vote counted last night it appeared Labor and the Coalition were on track to pick up two seats each in the region.
The early result suggests Ms Shing and Nationals upper house MP Melina Bath would be returned, with ABC election analyst Antony Green's analysis suggesting the Aussie Battler Party's Vern Hughes could secure a seat.
But Ms Shing would not declare victory yesterday.
"I'm waiting to see the results confirmed but an early indication seems to suggest that the upper house will be for Victoria a very different one to the last Parliament with an increase Labor members and an increase in single issue and micro parties," she said.
"But I've worked as hard as I possibly could have worked over the last four years.
"If there has been a reflection of that in the votes that have been secured by Labor in the upper house then all I can do is express my extraordinary gratitude for the people who have recognised what we've worked so hard to do since 2014."
Ms Shing was the second Eastern Victoria candidate elected at the 2014 election, while Ms Bath filled the casual vacancy created by Danny O'Brien's decision to vacate his position and contest the lower-house seat of Gippsland South, which had previously been held by former Nationals leader Peter Ryan.