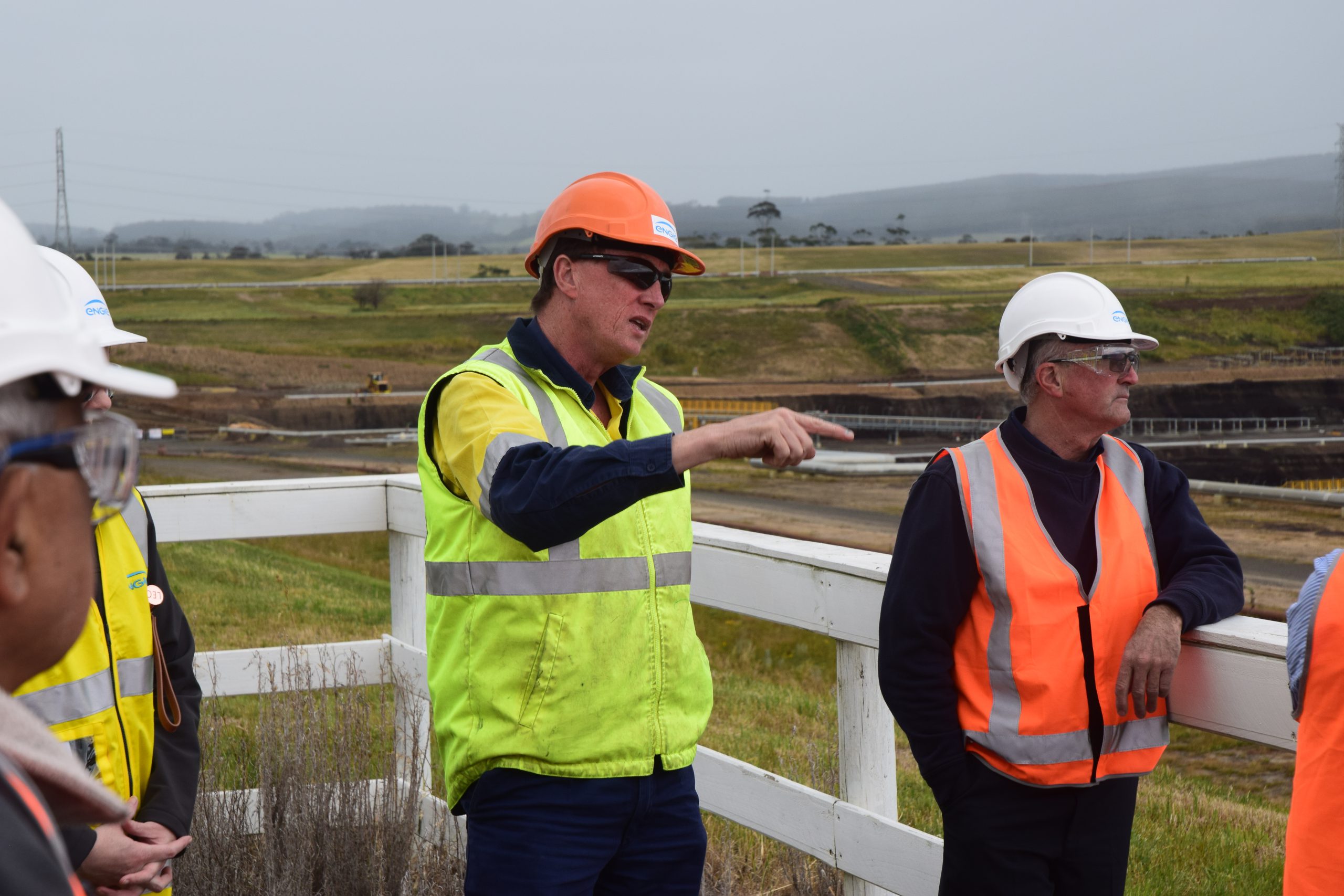 Bryce Eishold
Ignition sources which posed significant risks of fires in the Hazelwood open cut mine have been removed in the past 12 months, ENGIE says.

A tour of the mine on Monday revealed equipment which previously posed serious risks of causing a fire had been removed this year.
Works included the removal of more than 75 kilometres of conveyor belts, including off the mine's dredgers, to reduce the risk of combustion and a repeat of the 2014 mine fire which blanketed the Latrobe Valley in smoke and burnt for 45 days.
Community representatives including Latrobe Valley mine rehabilitation commissioner Rae Mackay, Latrobe Health Advocate Jane Anderson, Voices of the Valley's Wendy Farmer and a handful of vocal community representatives were invited on the tour.
ENGIE mine services superintendent David Shanahan said the biggest improvement in the mine's rehabilitation this year had been reducing the fire threat.
"A lot of the ignition sources were the conveyor belts we were operating; so sources from hot idlers, belts rubbing on conveyors … have been removed," Mr Shanahan said.
"Vehicles driving on coal to operating areas of the mine like the dredgers doesn't need to happen now so people are now driving on clay roads."
The tour included a demonstration of Hazelwood's fire readiness plan, including the use of protection sprays on top of the mine's batters which emitted 600 litres of recycled water per minute, and a run through of one of four 30,000 litre emergency water carts.
"Probably our biggest risk now is not an internal ignition but it's probably likely to be an external ignition which has always been a risk to the mine," Mr Shanahan said.
"We believe we've done everything we possibly can to stop a fire from happening and we've tried to man our levels so in the event of a fire, we've got our manning levels that if we haven't got CFA we've got adequate people to be able to respond."
Mine production manger Rob Dugan, who oversees the firefighting capacity of the mine, said the company managed weather predictions six days in advance to understand and determine days which may pose a fire risk and require more staff on duty.
"So if it's a really hot day and temperatures are right up in the 40s, that would require us to have 30 people on-site wetting down the mine, and being prepared with cranes and water carts ready to respond if there is a fire coming in," Mr Dugan said.
"If we need to increase that response, we have on-call personnel which we can call in and we tested that the other night with the regulators and we had our water cart operators here within 13 minutes."
Voices of the Valley president Wendy Farmer was pleased with the tour.
"There's a lot of work that's been done in the mine … and if there was a spot fire, it would be controlled in an appropriate and timely manner, I believe," Ms Farmer said.