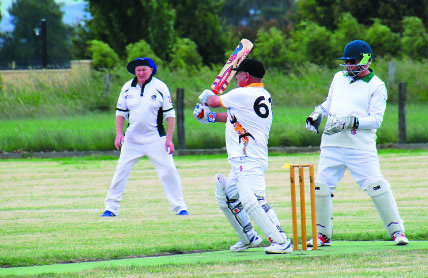 Bryce Eishold
The Gippsland Goannas travelled to the picturesque Bundalaguah cricket ground to play the Australian Cricket Society at the weekend.

The skies were bleak but the weather held for the day with no rain delays.
ACS won the toss and decided to bat first and the Goannas opened the bowling with Ian Southall bowling downhill and Peter Anton at the other end.
Stumbles and Hammet opened the batting, but unfortunately Stumbles was run out by a brilliant throw from Col Carmody.
Ken Bailey, who was quick to put his hand up to play against the Goannas, joined Hammet and they pushed the score along at a brisk rate.
Alex Dowsett and Jim Armstrong replaced the opening bowlers.
Bailey retired on 41, which included seven fours and a six.
Ken Piesse joined Hammet and they took the score to 88 at drinks.
Dowsett and Kelvin Bond took up the bowling after the drinks break.
Piesse went out on 24 from the first of three stumpings by stand-in keeper Ray Smith.
The first one was off Kel Bond with the second bite of the cherry, then Peter Neville for 15 bowled by Murray Moore on consecutive balls.
The next to go out was Goannas player assisting ACS, Neil Kline, who was also stumped by Ray Smith off Kel Bond.
Neil Smith from ACS made a quick-fire 11, mostly off Murray Moore who had the last laugh when Ian Southall took a good catch in the deep and ACS ended their innings on 163.
Ray Smith and Fred Debono opened the innings and got off to a rapid start with Smith striking four boundaries in his first seven balls.
Debono was unlucky to be caught in the deep and Col Carmody joined Smith in the middle and the scoring continued at a rapid rate until Smith was run out for 39 with the score at 68.
Murray Moore went to the crease with Carmody and pushed the scoring along to 90 at drinks.
Carmody retired on 41 and was replaced by Dowsett who continued to push the score along.
After a slow and considered start Moore retired on 43, Anton finished with seven not out and Dowsett 24 not out to help the Goannas to reach the target in the 32nd over.