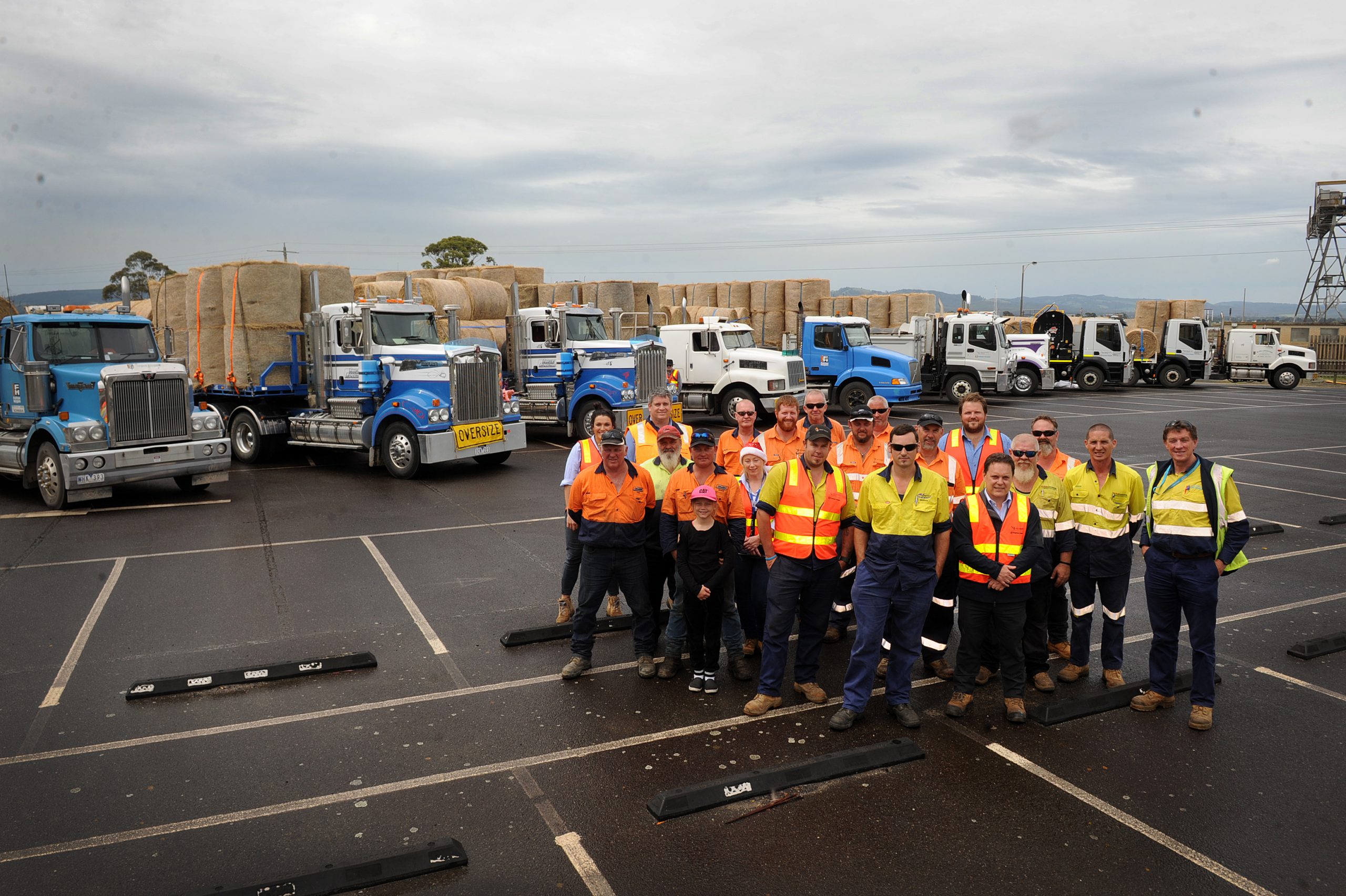 Michelle Slater
Gippsland's drought-affected farm animals got an early Christmas feed when 300 bales of hay cut from a roadside were donated to needy farmers across the Wellington and East Gippsland shires.
The donation was a joint effort with Regional Roads Victoria, power company ENGIE and contractor Fulton Hogan to turn roadside grass into $40,000 worth of stockfeed.
The hay was cut from a section of the Strzelecki Highway road reserve that runs alongside Hazelwood and was checked for weeds and rubbish before it was baled.
It was carted in a convoy of 10 trucks down the Princes Highway on Thursday morning to Longford, where it was distributed by local Victorian Farmers Federation representatives.
Regional Roads Victoria eastern alliance program manager Michael Flegg said a similar program was run during the 2002 dry spell.
"We looked across our road reserves for the best opportunity as not all hay on road reserves are the best quality for suitable fodder quality – we've taken the best of the hay," Mr Flegg said.
"We know farmers are doing it tough and we identified there was grass on the roadside reserve that could be put to a better use than just cutting it."
Mr Flegg said it could potentially be carried out across other road reserves but safety and grass quality were major considerations.
A1 Asphalt transport manager Ryan Rees was one of the truckies who donated their staff, time and transport to the cause.
He said he was keen to jump on board the hay run and would put his hand up the next time the opportunity came around.
"We employ a lot of locals and have a lot of dealings with local farmers. We wanted to come down and let people know we support the local community," Mr Rees said.
Fulton Hogan infrastructure services general manager Peter Curl said he knew the hay would make a great early Christmas present.
"I think this will be a great spectacle to see 10 trucks with hay being delivered. Hopefully it can … give some benefit and Christmas cheer in what is a drought-affected time," Mr Curl said.