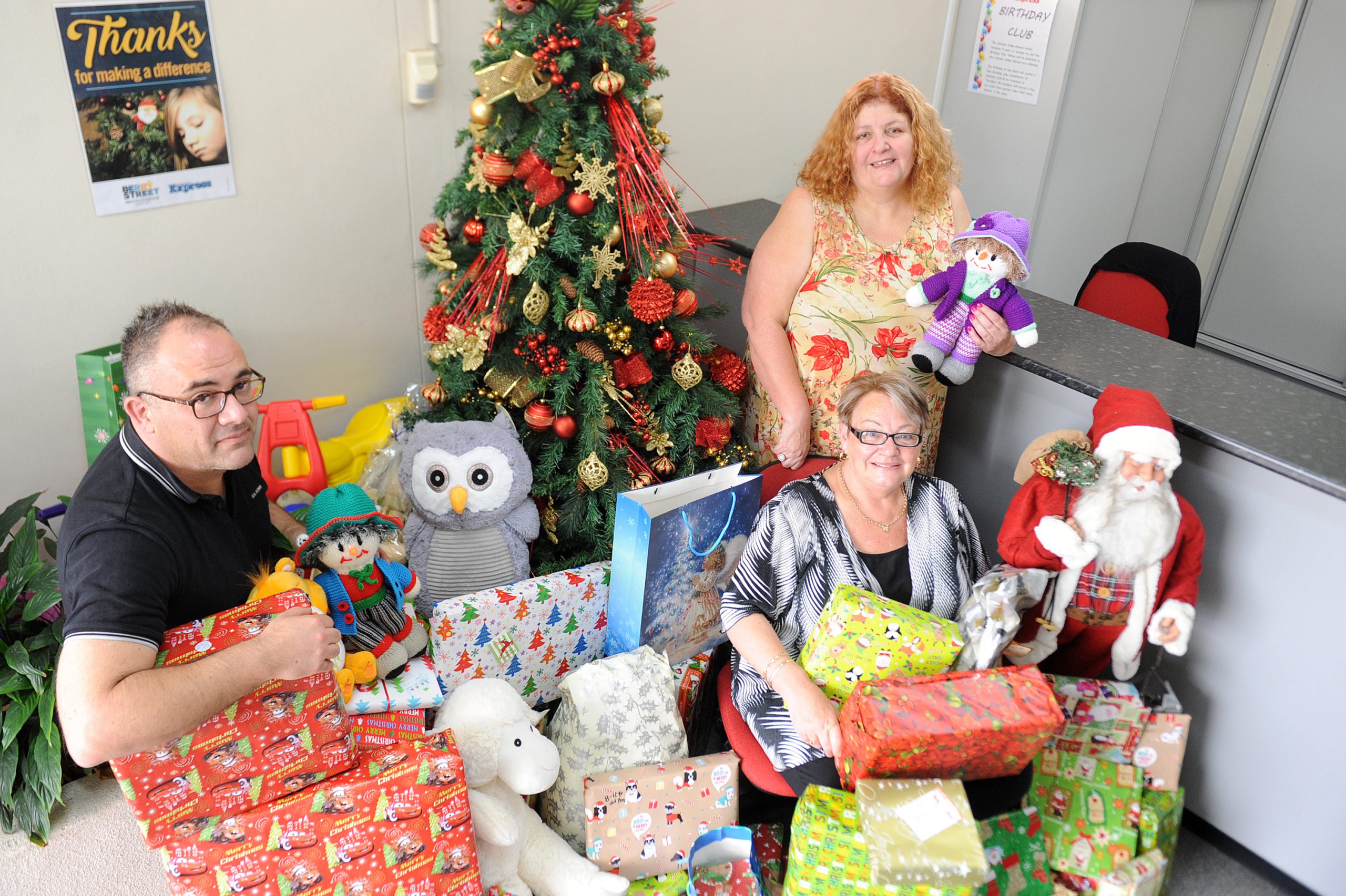 Bryce Eishold
Berry Street has thanked the generous people who contributed to The Express' Christmas giving tree this year after more than 100 gifts were kindly donated.

The gifts will be placed under the tree for young people living in foster families or with extended family such as grandparents, uncles and aunties and for whatever reason can't live at home.
Berry Street Gippsland director Annette Jackson said the items would also be given to families doing it tough in the Latrobe Valley.
"I think what's great is it's not just the gift, but it's also the community involvement – the fact that we've got our neighbours, the local shops and everybody putting in for our kids is wonderful," Ms Jackson said.
"These presents will go to kids who were born and raised in the Valley and they need to know they're part of our community."
On average, Berry Street assists between 200 and 250 young people a year across Gippsland who are living with foster families, including in south and east Gippsland and in the Baw Baw Shire Council area.
Latrobe Valley Express features manager Lesley Hogan said given the success of this year, The Express' Christmas giving tree would likely return next year.

"If we can give to those children less fortunate than our own grandchildren and children it certainly gives you a warmth of feeling if you're able to put a smile on another child's face," Mrs Hogan said. "Thank you to all the community for their generosity. It has been absolutely amazing and we cannot thank them enough."

Presents can still be donated before Christmas in person to Berry Street at 37 Elgin Street, Morwell online at berrystreet.org.au.

The Salvation Army has already received close to 300 calls for assistance in the lead up to Christmas – including from those who may not be able to provide a present for their children this year.
Dozens of toys donated by generous members of the public and a trolley-full of canned food and non-perishables were passed onto The Salvation Army from the Morwell RSL on Thursday.
It coincided with a similar amount of gifts collected by the Morwell Bowling Club which were also passed onto The Salvation Army last week.
Each year the Morwell RSL offers the opportunity for locals to drop in a special toy or two and this year organised a shopping trolley where food items could be placed too.
Salvation Army Major Alan Milkins said donations like these from the Morwell RSL would go a long way to provide for people who struggled to buy food and presents for their kids at this time of year.
On average, the Salvo's receive 20 calls for assistance a day, not including drop-ins, from Latrobe Valley families who require anything from the essentials or help to pay utility bills.
Mr Milkins said the cost of electricity bills had "skyrocketed" in the past 12 months, leaving low and no-income families on the poverty line and facing the prospect of having their essential services disconnected.
He said the organisation had seen the cost of living increase significantly in recent years, and demands for help grow in the region due to unemployment and addictions with gambling, alcohol or drugs.
People who wish to donate items this festive season are asked to contact the Salvation Army in Morwell on Bridle Road. Those looking to contribute are requested to donate supermarket vouchers so those on the receiving end can "buy what they need".
Mr Milkins said while most of the toys and vouchers had already been allocated to families, if there were people in desperate need to provide for their family, "we'd do what we could to help them", he said.
In one instance, Mr Milkins was contacted by a local person who had been undergoing medical treatment.
Due to an increase in costs associated with the treatment, they were unable to provide presents for their children, however, would likely receive assistance through the Salvation Army by means of gifts or vouchers, Mr Milkins said.
Outgoing Morwell RSL president Bruce Jeffrey said the RSL was "more than happy" to do what it could to support local families in need at Christmas.
"It's very important for the RSL to support disadvantaged children in the Latrobe Valley and Gippsland area. We don't want someone to miss out on something from Father Christmas," Mr Jeffrey said.
For more information, including for donations and assistance, phone The Salvation Army Morwell Corps on 5133 9366 or 5133 9890.