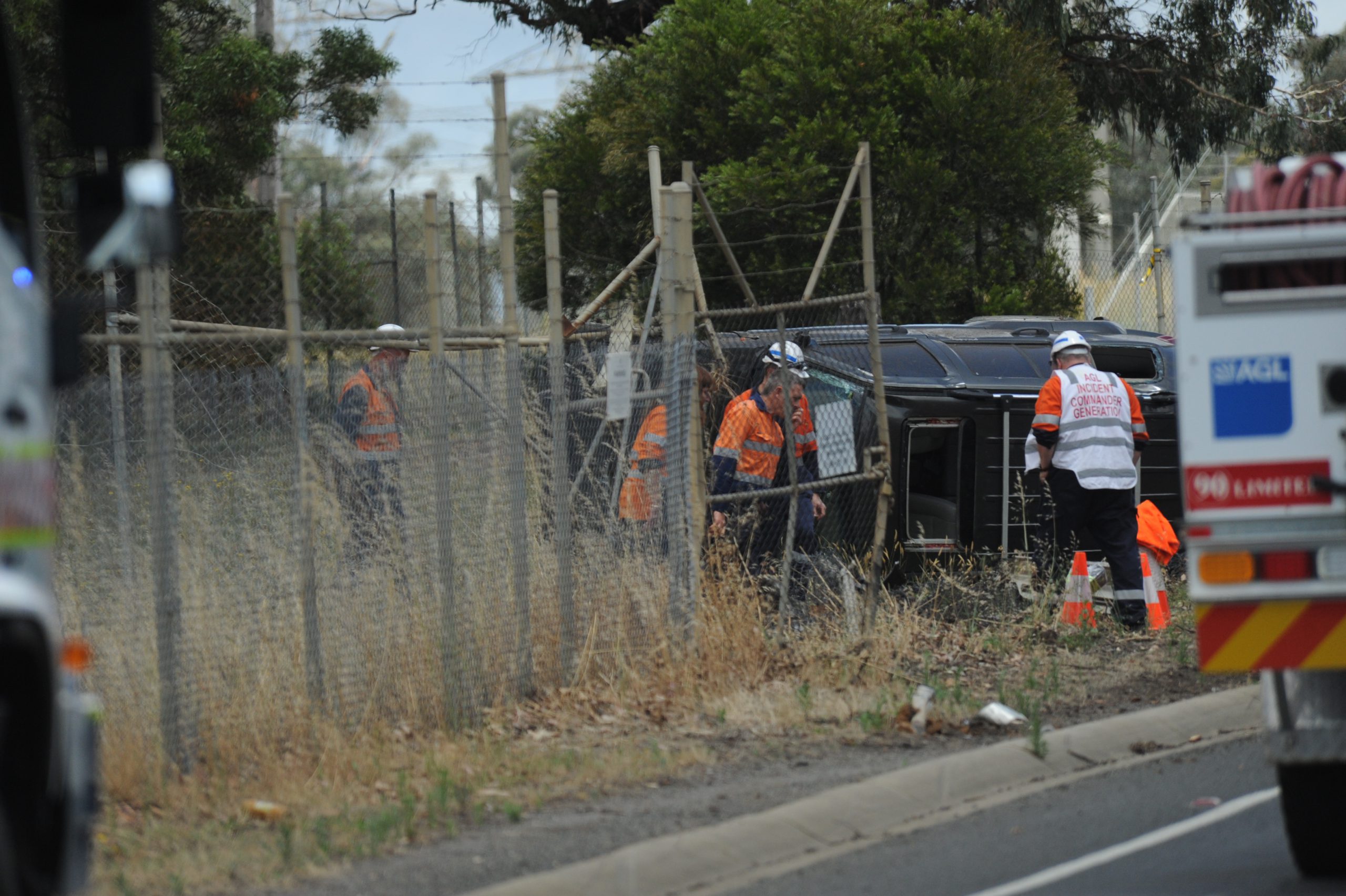 A woman will undergo a licence review following a collision on Bartons Lane near Loy Yang power station on Tuesday afternoon.

Latrobe Highway Patrol said the 60-year-old Robertsons Beach resident was travelling in the right lane towards Traralgon when she overtook a B double truck.
After overtaking the truck, the woman indicated left, before striking a roadside sign and colliding with a power station mesh fence.
The vehicle rolled onto its side before both the driver and her male passenger were able to leave the vehicle.
They were assessed by paramedics at the scene, however, they suffered no serious injuries.
Police said the woman would be required to undergo a VicRoads licence review.
Assault appeal

Detectives are appealing for witnesses following an assault which left a man in a critical condition at Traralgon on Saturday morning.
Police said the incident took place between two men on Franklin Street, Traralgon near the Telstra shop about 1am on December 15.
A man in his late 30s was taken to Latrobe Regional Hospital with head injuries in a serious but stable condition.
He was flown later that morning to the Royal Melbourne Hospital in a critical condition, police said.
One man involved in the incident has already spoken to police, however, detectives are appealing for anyone who witnessed the incident to come forward.
People with information can phone Crime Stoppers on 1800 333 000 or Latrobe Crime Investigation Unit on 5131 5000.
Cars impounded

Three cars were impounded within three hours in Morwell on Wednesday morning during a number of routine intercepts.
A 26-year-old woman was first caught allegedly evading police on Hourigan Road about 1am.
Her car was impounded after police found she was driving disqualified.
Then at 2am, a 20-year-old man was caught driving an unregistered car with a suspended licence.
About an hour later a 38-year-old man was caught driving on McDonald Street with a suspended learner's permit.
He was arrested on outstanding warrants while both vehicles were also impounded, police said.
Monkey bike collision

A man remains in hospital in a critical condition after his monkey bike collided with a number of bins on Junier Street in Morwell on Tuesday night.
Investigators said the 31-year-old Morwell man was travelling on the unregistered bike about 8.40pm when the incident occurred.
Police said he was not wearing a helmet at the time and sustained life-threatening injuries.
Nearby residents came to the man's aid and waited with him until paramedics arrived at the scene.
He was airlifted to the Royal Melbourne Hospital in a critical condition with an injury to his head, an Ambulance Victoria spokeswoman said.
People who witnessed the incident are asked to phone Crime Stoppers on 1800 333 000 or report online at crimestoppersvic.com.au.
Boolarra house fire

An electrical fault is believed to have caused a house to catch fire in Austin Street, Boolarra on Monday night.
Firefighters received the call about 10pm on Monday after a blaze broke out.
Police said family of the owner of the property were in the process of moving into the house, however, no one was inside at the time of the fire.
Crews from Boolarra, Yinnar, Yinnar South, Mirboo North, Churchill, Traralgon and Morwell attended the blaze.
A fire truck from AGL Loy Yang was also at the incident.
It took firefighters about four hours to extinguish the blaze which caused extensive damage to the property.