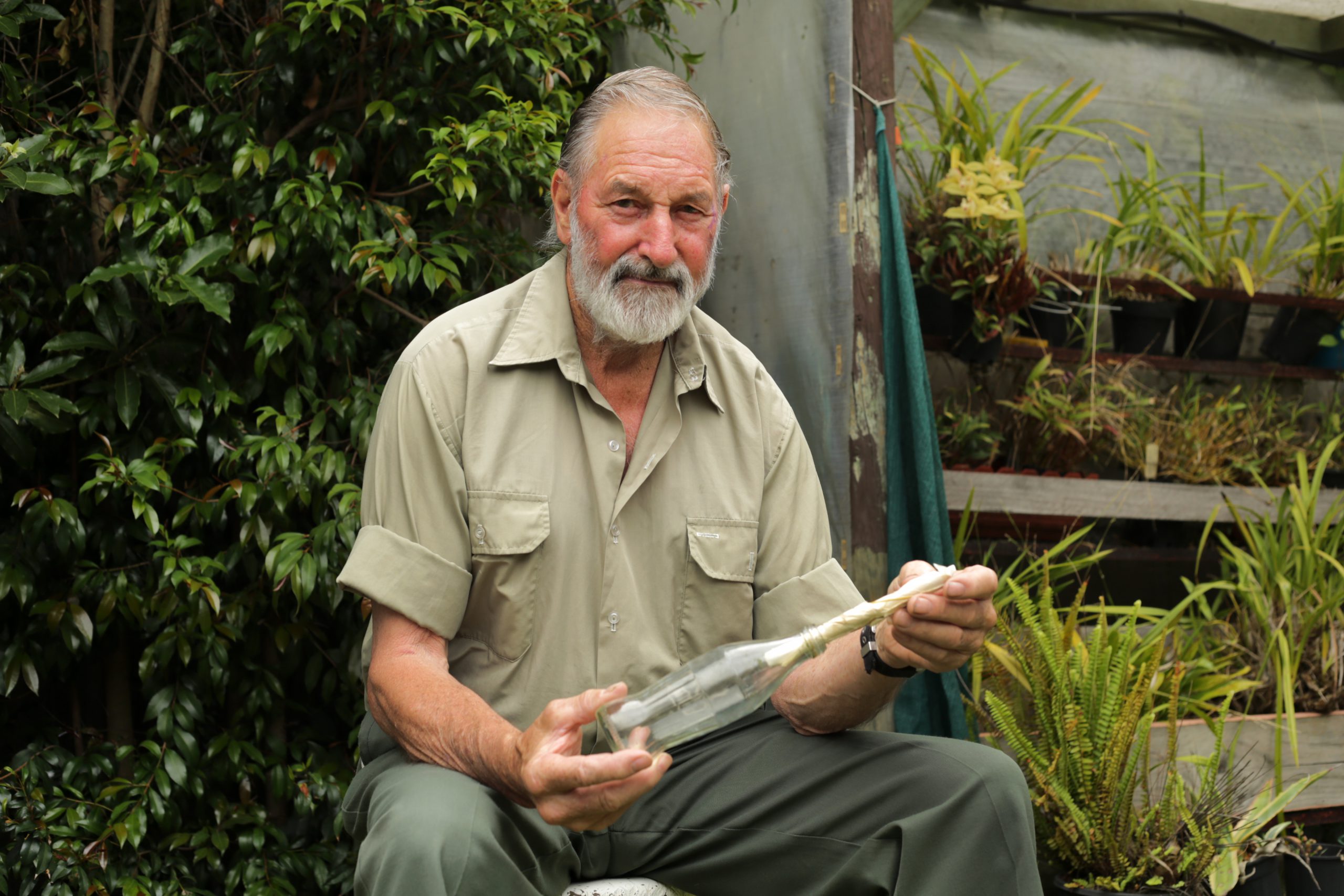 Anne Simmons
Low tide at Sunday Island has revealed many unusual and sometimes grim artefacts for a member of the Para Park game reserve cooperative, Ron Mayze.

Mr Mayze, who lives in Traralgon, said in his 55 years of involvement with the private island off the coast of Port Albert he had twice come across human remains as the most macabre of his finds.
About 30 years ago his wife Thelma found a message in a bottle from an English boy they believe tossed it from a ship outside of Melbourne but their investigations ground to a halt there.
On December 5, however, Mr Mayze found something that connected him to a moment in the past – July 10, 1990 to be precise.
He was on an annual patrol walk, crossing tidal rivers, through mangroves and silver tussock when he found a clear soft drink bottle, tightly sealed with its lid rusted on.

"I was lucky enough to be cutting through the bush there because I was tired and it was time to get out of there and just happened to walk in the right place at the right time and saw this bit of white," Mr Mayze said.

The bottle contained a rolled up note from two boys from Elsternwick who wrote they "let fly" the object at Port Albert and asked the recipient to send back information about themselves "if ya like".
On the back were some drawings of guns.
Mr Mayze phoned the number left by the letter writers, Cameron and Ben Rogers, but the number led him no closer to their trail.
Later, with some "luck", Mr Mayze traced down the brothers' father Tony with the help of the Yarram Standard and learnt the boys were at their holiday house at Port Albert when the bottle was thrown.
Mr Rogers said he remembered Ben and Cameron were nine and 11-years-old, respectively, and on holidays they would be fishing and "fooling around" under the lights at the wharf at night.
"I've asked them both and they do remember doing it – so they wrote a little note, sealed the bottle and … they were thinking someone over the other side of the world might find it and get in touch with them but it didn't go that far," Mr Rogers said.
He assumed it must have been a very high tide which pushed the bottle along and helped preserve it amongst the tussocks where Mr Mayze found it.
Ben lives in the region today and his brother Cameron is a lawyer in Adelaide.
The Rogers have firm ties to the Yarram region with Tony's grandfather, Jack Stockwell, having a "quite prominent" local name.
"They [the Stockwells] were responsible for doing a lot of building of shops in the main street and they owned the original golf course in Yarram," he said.
"I can remember my mum telling me she used to take sheep out on Sunday Island and let them loose all over winter."
Mr Mayze offered to return the bottle to the family but Mr Rogers said he was happy for it to be displayed in the island co-operative's reference centre where he knows there is other "paraphernalia" from his family history.
Mr Mayze has also invited the family down to the island in the New Year.