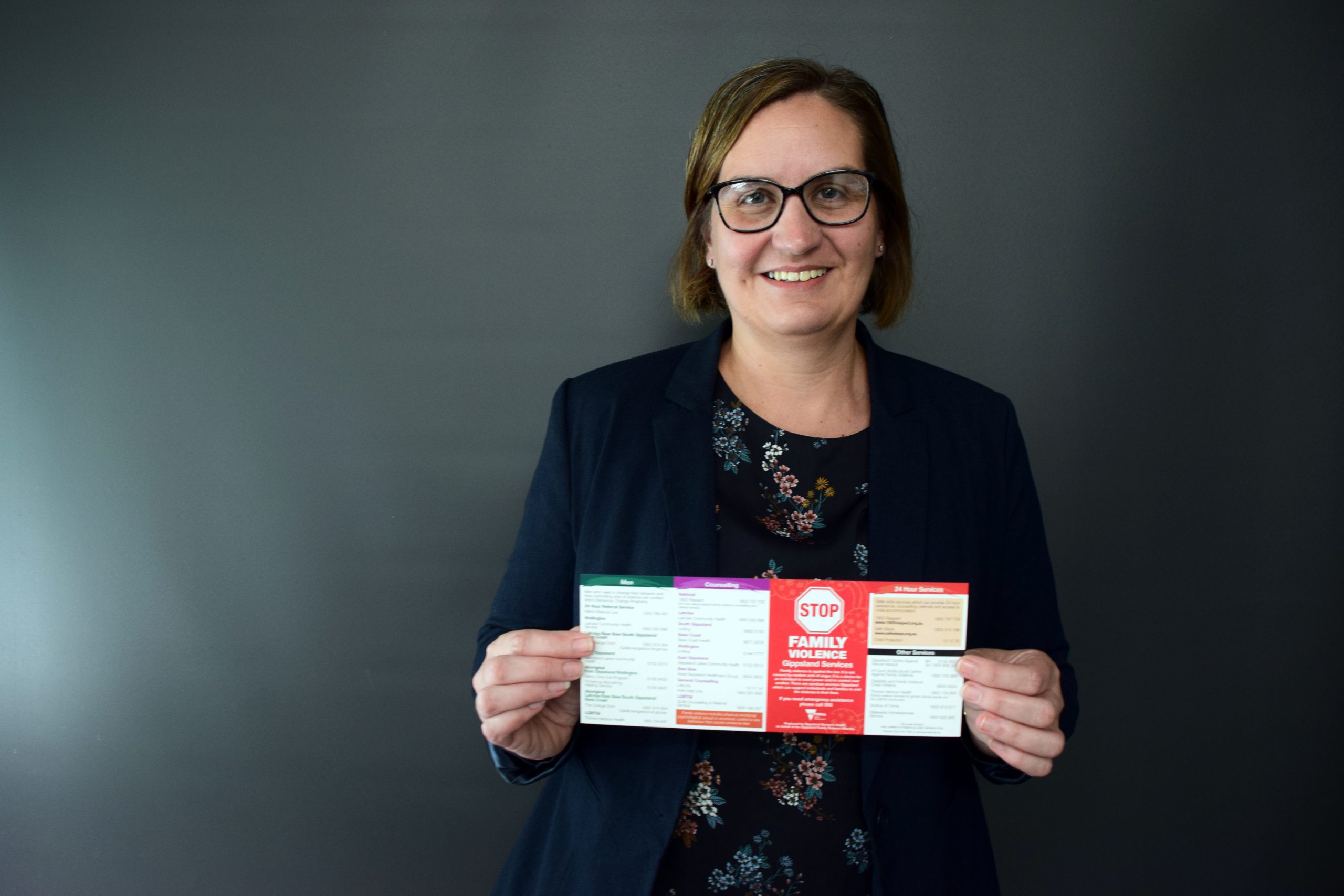 Heidi Kraak
Discreet, purse-sized cards with updated information about local family violence services are being distributed across Gippsland, coinciding with the holiday season when there is generally a spike in family violence incidents.

Gippsland Women's Health, on behalf of the Gippsland Family Violence Alliance updated the STOP Family Violence cards following the opening of new family violence intake service The Orange Door in Morwell.
A walk-in family violence services hub, The Orange Door came out of one of the recommendations of the Royal Commission into family violence and provides a single contact point for adults, children and young people experiencing family violence.
Gippsland Women's Health Gippsland family violence regional integration coordinator Melanie Brown said the introduction of The Orange Door was a "massive change to the intake point" for family violence services.
"We are very conscious of the change of cards so close to Christmas," she said.
"[The STOP Family Violence cards] are one of our most effective means of getting information out.
"It is very discreet, you can put it in your shoe or bra and it allows you to reach out if you need it."
Ms Brown said feedback from past versions of the card revealed that police, other services and community members felt "very comfortable" passing the cards on to other members of the community.
"The information we have [shows] that Christmas and New Year is a high-risk period [for family violence] – this is about letting people know there is support and information available to them if they need it," she said.
Updated cards can be found throughout Gippsland. There will also be posters with contact details located on the doors of Gippsland Police Stations, as well as community services organisations across the region during the holiday period.
If emergency assistance is required please call 000, for 24 hour assistance call 1800 Respect 1800 737 732 or Safe Steps 1800 015 188.
For local assistance in contact The Orange Door on 1800 319 354 during business hours.
For more information about the STOP Family Violence cards, visit whealth.asn.au.