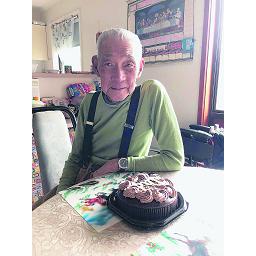 Cher Jimenez
People familiar with elder Filipino couple Zebedeo and Lulu Aragon, fondly called Daddy Ding and Mummy Lulu in the multicultural community, are aware that they are very seldom seen not together.

In the 59 years since they married in the Philippines and then moved to Traralgon in 1989 on Australia day, the Aragons were inseparable and had always been regular participants in many multicultural activities.

In public Daddy Ding always held his wife's hand and looked after her needs – whether it be handing her a plate during a function or escorting her to the car.

On Friday, December 21 Mr Aragon lost his battle with cancer surrounded by his daughter and other members of the family. He was 88.
Gippsland Multicultural Services chief executive officer Lisa Sinha said Daddy Ding was the backbone of the Filipino community who shared his many talents with multicultural social support groups.
"Daddy Ding has been an elder and much loved leader for many years. He is well known as a much adored family man but also as a quiet and humourous and wise person," she said.
"He has been the backbone of the Filipino community and highly respected both in this community and the wider community."

Zebedeo Aragon was born in Manila on March 19, 1930 and studied fine arts at the University of the Philippines.

He worked as a commercial artist and, and even after moving to Australia continued his love for the arts, often making items from wood to give to people.
In 2015 he was the grand winner of a lantern-making contest organised by the Filipino community where he made a traditional Christmas lantern of bamboo sticks and Japanese rice paper.
Long-time friend Bruce Slater said Daddy Ding was a perfectionist as an artist.
"The world would be a sadder place without Daddy Ding. He was one of a kind," Mr Slater said.
Daddy Ding took photos of people before developing them and then driving to their homes to slip the photos into their mailbox.
His daughter Maria Agustin said she had found a bagful of photos that her father took while going over his personal items and plans to send them to their rightful owners.
"He was a very kind man and always looked after the interest of others. He was very generous and a true role model," she said.
Mrs Agustin felt proud that people in the multicultural community even non-Filipinos, referred to her parents as mummy and daddy.
She recalled one encounter with a Caucasian woman on a train trip back to Traralgon from Melbourne where she was asked if she knew a "lovely Filipino couple" named Daddy Ding and Mummy Lulu.
"I told them they were my parents and she said 'that's why you were kind too'. As a daughter that made me so proud," Mrs Agustin said.
Mrs Agustin said her father was very "protective" of her mother and would often shield her from stressing over issues with family members in the Philippines including a recent death of a relative.