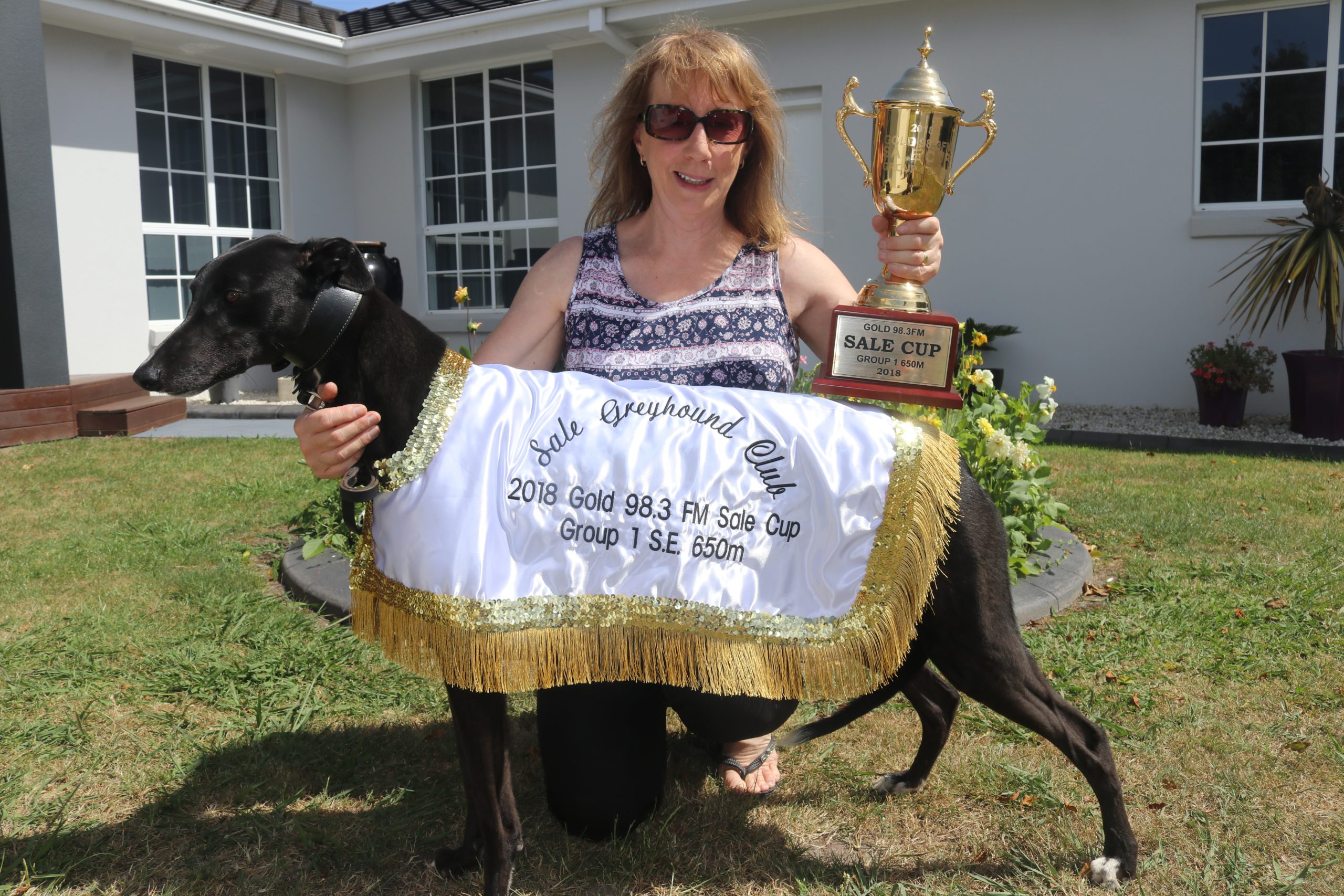 Michelle Slater
The Sale Cup stayed in Gippsland hands after a Hazelwood North trainer took home her first group one race with Neo Cleo who started favourite and led all the way.
Hazelwood North trainer Wendy Neocleous won Victoria's richest country cup with the black three-year-old bitch who clocked up her 27th win from 55 starts.
"I referred to her as my little Winx," Ms Neocleous said, comparing her dog to the unbeatable thoroughbred mare.
"This is everything trainers dream of – to win a group one, and she's finally done it, she's very special, she's a stand-out and she's raced against top company."
The $75,000 cup was Neo Cleo's fourth straight win.
The Boxing Day win took Neo Cleo's stakes earnings to almost $250,000.
Ms Neocleous described her bitch as a versatile dog who showed early speed and backed it up with strength at the end of her races.
The classy stayer also holds two Traralgon track records and has been proven over a range of distances with a swag of city wins.
"She's a little girl most people dream to have," Ms Neocleous said.
"Most of the time she gets out in front and avoids trouble. In the majority of races she leads start-to-finish. To win so many city races means she can hold her own."
Neo Cleo's full brother Blackjack Neo is also no slouch and came sixth behind his sister in the Sale Cup after 17 wins.
Ms Neocleous said the laid-back bitch showed some quirks in the kennel but knew when it was time for business.
"In the kennel on a regular basis she brings her blankets out to make her own bedding arrangements outside. She is so placid and loved attention but put her on the track and she's a different dog," she said.
"She loves racing. When you get the car out she knows it's time to go to the races and she gets excited. She loves exercise and she just runs and runs but other than that she loves to lie around."
Ms Neocleous said Neo Cleo is being turned out for a spell to decide her next preparation, which may include the 520-metre Cranbourne Cup.