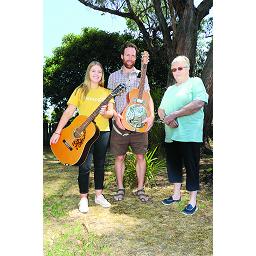 Michelle Slater
The healing nature of music in Balook's peaceful rainforests will help people remember Black Saturday in a special commemorative 10 year anniversary concert.

Rainforest Rhythms is an annual community concert held at the Tarra-Bulga National Park visitors centre, featuring a swag of mainly local musicians across a diversity of genres.
The concert was first held a decade ago to help bring the community together after the horrific event that razed the bush around the small mountain town.
The Balook and District Residents Association is hosting this year's Black Saturday anniversary concert with the help of a $2500 Foundation for Rural and Regional Renewal grant.
Event organiser Pam Pattison said about 300 people turned up each year to hear musicians from across the district play jazz, folk, Irish trad, old time rock and modern day pop in a relaxing environment.
"Music is a healing thing and this is one of the ways we keep Balook on the map. We even have musicians call us at the last moment asking if they can play," Ms Pattison said.
Ms Pattison was one of about 11 full-time residents in Balook at the time of Black Saturday but said no one lost their houses, despite the fires burning right through the town.
"Our heritage apple orchard saved our house. There were two fire fronts that came through but the flames got slower and slower as it went through the deciduous trees in the orchard," she said.
"It stopped in the last row of trees and all we could smell were cooked apples."
Morwell folk musician Dan Musil will be one of eight local performers on the day and said this year will be the second time he is playing the festival.
He encouraged visitors to take advantage of the walking tracks meandering through the rainforest as part of the day's music.
"It's such a heartfelt community and Balook is such a beautiful place. To have local live music in such a beautiful place keeps the community together," he said.
"As a local musician, it's great to have events like this to perform at and families can put out a blanket and chill out. It's a great day for an important cause."
Devonshire teas and a barbecue will be provided via gold coin donation to raise funds for the Gippsland Emergency Relief Fund and local Uniting Church.