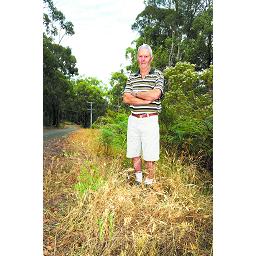 Bryce Eishold
Jeeralang Junction resident Brian Kilday has criticised Latrobe City for "having double standards" after claiming the council failed to meet its obligation to reduce fire risk on a rural nature strip near his home.

Mr Kilday, 74, has lived at Jeeralang Junction for almost 30 years and claims Latrobe City has neglected to maintain roadside nature strips near his property on Fay Street, close to the Morwell National Park.
He said the long grass posed a "significant fire risk" because it had not been cut in several years.
However, Latrobe City has claimed the grass does not require slashing, deeming it a non-urgent matter.
"I pay a little bit over $2600 a year in rates and the point is, in the case of a private land owner like myself, if you have long grass on your property the council can direct you to cut it," Mr Kilday, who lives on about two hectares, said.
"If you don't, they employ a contractor to do it and then they send you the bill.
"But they're not meeting that standard themselves for the roadsides they're responsible for. There's a real double standard there in terms of what they make the landowner do compared to themselves."
Mr Kilday claims the grass along some sections of Fay Street – a dead end road which leads to the Morwell National Park at Jeeralang Junction – is too high and has not been slashed for "three or four years".
"I think I contribute to the issue sometimes insofar that I mow the roadside next to my place which runs about 300 metres by seven metres wide along Fay Street," Mr Kilday said.
"I'm not required to do it but I do it because council isn't doing their job … and I do it our of necessity really because the grass gets so long and the weeds get into my paddock.
"It becomes a severe fire risk and that poses a significant risk for me and my neighbours."
According to the retiree, Mr Kilday was instructed by council to slash his property several years ago during winter – a request he said was carried out.
"I was replacing the fences on the property and so the horses weren't in the paddocks – I did it over the winter and the grass got a bit long," Mr Kilday said.
"I got a notice from council saying to basically cut the grass so I went ahead and did it. I complied so I'd like to see them mow the roadside every year before the fire danger period takes place."
But a spokesman for Latrobe City Council said it was yet to receive a complaint or enquiry from Mr Kilday about the height of grass on Fay Street.
"But approximately two weeks ago a complaint regarding grass lengths was made by another resident in Fay Street, Jeeralang Junction," the spokesman said.
"A supervisor from the depot inspected the area immediately to determine if the grass needed to be slashed, it was deemed [a] non-urgent matter."
Council said it would undertake another inspection of Fay Street this week, and if deemed urgent, the grass would be slashed as soon as possible.
"But if the inspection … is found to be non-urgent the area will be mowed in accordance with the normal schedule," the spokesman said.
"We encourage residents of urban and rural properties to report high grass directly to council as some areas may be missed by mistake."