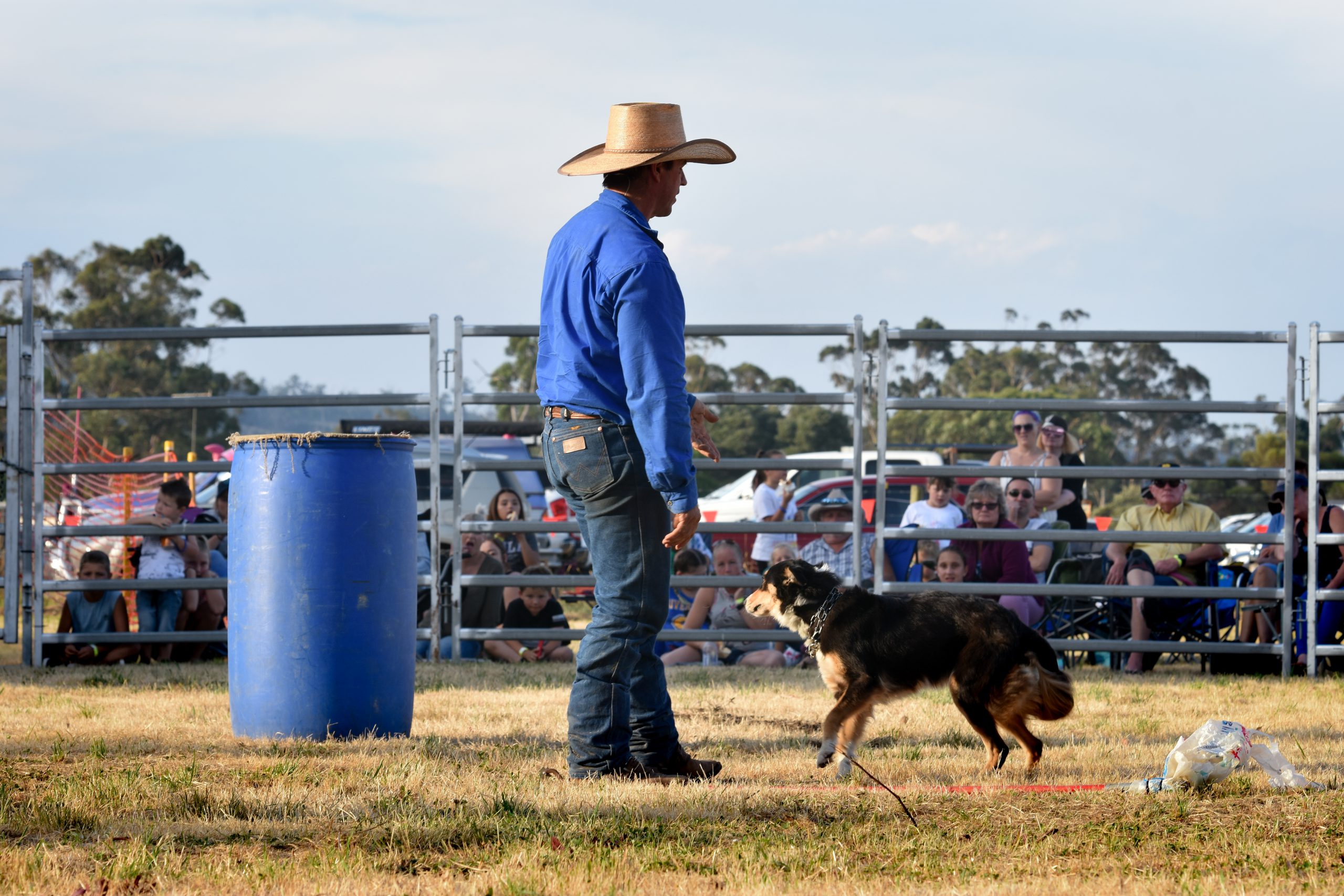 Anne Simmons
"Holy hatbox!" the outback entertainer, Tom Curtain, said as children flooded into his outdoor arena at Boolarra on Saturday night.

He called out for assistance with his act – three to stand around each barrel – and kids from all corners of the crowd scrambled up and over the railings.

It was just one moment of many that revealed the degree the community embraced the event.
Needless to say, each border collie took to each barrel like a throne as they lapped up pats from six or seven hands.
The event held in the Boolarra Community Hotel grounds attracted a crowd that more than doubled the town's population with about 1200 coming through the gates.
It "blew away" the organisers.
"We were hoping for 1000 … We were just delighted," hotel events and entertainment committee member Jeanette Teague said.
Annabel and Tom Curtain offered the Latrobe Valley a taste of a station in the Kimberley.
Tom said his shows were deliberately unpolished to reveal the skills needed for training farm animals.
While dogs ran laps around ducks and balanced on horseback, the message about mental health was not lost.
Spectators could visit a number of stalls from support agencies.
Popular with the kids was a stand for decorating white t-shirts donated by Anglicare with the words to Tom Curtain's anti-bullying anthem Speak Up, inspired by the passing of Northern Territory teenager Amy 'Dolly' Everett.
The event raised about $2500 for the foundation set up in her memory, Dolly's Dream, according to Truck'n with Tim's Tim Ryan who closed the night with a DJ set.
Mr Ryan said the message for mental health support was there for adults and children alike.
"You can talk to your mate … which is great if your mate can listen, but sometimes we need to go that extra step," he said.

"To provide these mental health agencies like Lifeline and headspace … to a country music concert, that's unheard of."
The event organisers contacted tens of local organisations asking for support for the event and came back with free passes for 39 local families.
Ms Teague acknowledged the support from the Boolarra Community Development Group, the CFA for the catering and the long list of sponsors that "goes on and on".
"Just to see those kids singing their hearts out as loud as they could when they were doing the Speak Up chorus; it was just amazing," Ms Teague said.
It was a "pleasure" to be a part of, Mr Ryan said.
"It was like the old days. It was a real family country music event with the highest amount of hospitality," he said.
About $5000 from ticket sales will go back to the hotel, Mr Ryan said.