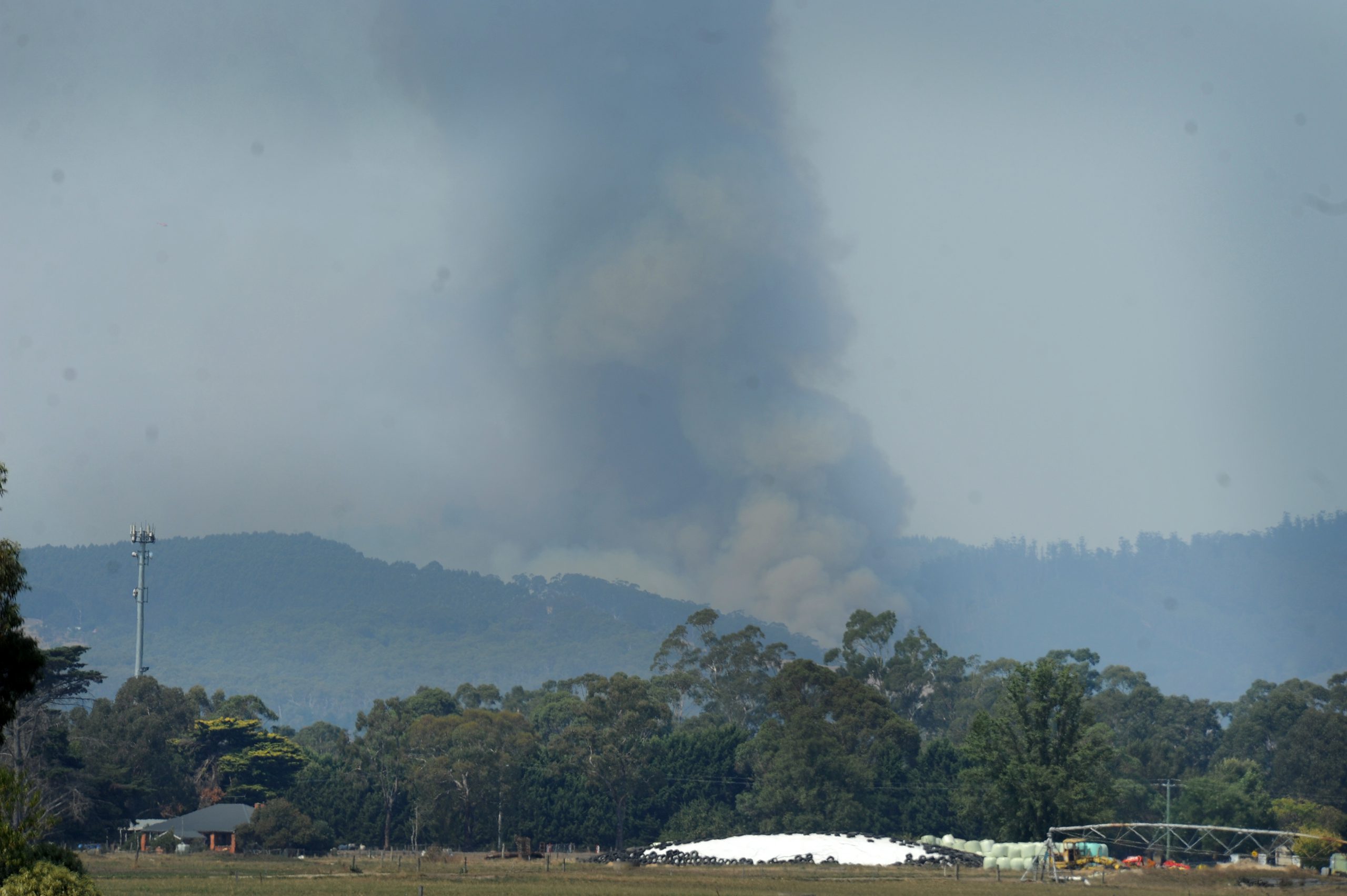 Tracey Matthies and Bryce Eishold
At least two homes have been destroyed in a bushfire which started near Yinnar South on Saturday.

The Yinnar South-Budgeree fire had burnt more than 1800 hectares and was not yet under control at the time of publication.
An emergency warning had been issued for people living in the affected area, while the cause of the blaze is unlikely to be determined until later this week.
Up to 150 firefighters will work on the fire today, mostly from Forest Fire Management's Department of Environment, Land, Water and Planning and Parks Victoria, as well as the CFA and HVP Plantations.
Forest Fire Management deputy incident controller Mal Gibson said no homes had been lost to fire overnight after 40 to 60 firefighters had worked on asset protection.
However, two homes were destroyed by the fire at the weekend including at least one on Healey's Road.

Authorities also believe a number of "structures", including sheds, were burned.

He said fire crews had been working to protect houses under threat by fire near the south-west corner of the Morwell National Park after fire had been "slowly creeping" into the reserve overnight on Sunday.
"We sort of hope to have it under control in the next few days, but we're still probably 48 hours away from reaching any type of containment," Mr Gibson told The Express on Monday morning.
Weather outlook promising: deputy incident controller
Mr Gibson said weather conditions for the next 48 hours "looked favourable" for firefighters mainly due to "light winds of consistent direction".
"It means that we've got favourable conditions to actually get in there and fight that fire," Mr Gibson said.
He also urged people rubbernecking to "stay home" following a number of people "stickybeaking" at the weekend.

More than 20 tankers, a dozen bulldozers, two water-bombing planes and two helicopters have already been used to fight the fire.

The fire also caused power outages with AusNet Services reporting 88 customers at Yinnar South and seven at Budgeree without power on Sunday and not expected to be restored until 10pm today.
AusNet Service's outage tracker said power restoration could be delayed due to fires in the area which prevent safe access.
An air quality alert was issued for the Churchill area at 5pm Sunday.
It warned that the poor air quality caused by multiple fires was "unhealthy for everyone".
Meanwhile, Latrobe City Council opened a relief centre at Kernot Hall in Morwell on Saturday to support community members responding to advice to leave properties in Yinnar, Yinnar South, Budgeree, Jeeralang and the surrounding areas.

Forty people stayed at the centre on Saturday night and as at 3pm Sunday, 283 people had registered at the relief centre, although only about 40 were expected to stay overnight on Sunday.

Council expects the relief centre to remain open for at least two more days.
Latrobe City chief executive Steve Piasente encouraged community members leaving their homes to register at the relief centre so services could be offered now and into the future such as impact assessments.

"We appreciate community members taking the warnings and advice to leave so seriously," Mr Piasente said.
"The Vic Emergency app and website is proving an invaluable tool for keeping our community plied with current, accurate information. It is encouraging to see that the message to leave is getting through. As a community we have learned from past disasters.
"Leaving and leaving early means emergency service crews can focus on firefighting without the added pressure of protecting lives, and potentially putting themselves at additional risk in an effort to protect lives."
Latrobe City Mayor Graeme Middlemiss also stressed the importance of evacuees registering even if they chose not to sleep at the relief centre.
"We're a fairly tight-knit community and a lot of people have fathers, mothers, brothers, sisters they can stay with in the main towns [but] register with us first so when someone comes looking for someone, we can look at the list and say they are at so-and-so's place," Cr Middlemiss said.

Cr Middlemiss said the emergency had brought out the best in the community with many businesses and individuals offering donations.
Village Cinemas provided free movie screenings, Wyncity offered free 10-pin bowling and Glengarry's Bushies Bakery delivered dozens of freshly-baked hot cross buns.
Cr Middlemiss said McDonalds provided emergency catering in the middle of the night, a tearoom delivered a large box of scones with jam and cream and a food truck owner rolled up and cooked Dutch pancakes for several hours, free of charge. Many other businesses and individuals have also made donations.
"Our community steps up every time," Cr Middlemiss said.
Service clubs were cooking breakfast on Monday morning and councillors were on hand to provide support to affected residents.
According to Cr Middlemiss, Cr Dan Clancy had cooked breakfast for about 40 people on Sunday morning and then spent the next 10 hours making tea and coffee.

Yinnar preschool, the Gippsland campus of Federation University, the Warragul, Yallourn, Morwell and Traralgon campuses of Federation Training, Kurnai college's two Churchill campuses, Yinnar South, Yinnar, Churchill, Churchill North and Lumen Christi Primary Schools were among facilities which were closed today. Families and students should check with their educational providers to find out whether they will be open tomorrow.
V/line train services were disrupted by the Bunyip State Park fires with coaches replacing trains between Warragul and Southern Cross since Saturday afternoon.
A major bussing operation was being organised out of Warragul to accommodate passengers traveling to work today.
V/line announced on its website that journey times would be extended by 90 minutes due to significant road diversions requested by local emergency services. Check the V/Line website or app for up-to-date travel information.
Organisers of the Boolarra Folk Festival enacted their emergency management plan to ensure the safety of festival participants on Saturday.
Festival president Rick Teychenne said organisers expected numbers to be down slightly due to the high forecast temperatures but cars were "still streaming in" at 1pm on Saturday. He estimated the crowd numbers at about 5000.
"The power of the festival didn't hold people back," Mr Teychenne said.
He said he stayed in close contact with the Traralgon incident control centre and police and made announcements to the crowd about the situation and the need to consider taking a different route home.
"As we started getting smoke into the town, all the people were on the [emergency services] app.

"The numbers started to reduce but a lot of people stayed on into the evening and everyone got home safely," Mr Teychenne said.
A member of the band The Magentas, which performed at the festival, confirmed to The Express that she had lost her home.
The Strzelecki Stringbusters band cancelled its performance at the Boolarra Folk Festival on Saturday night as some band members live in the fire-affected area, however, Sunday's events went ahead as scheduled.
"It all went well. Everyone's safe and looking forward to putting on our 18th festival next year," Mr Teychenne said.

The Traralgon Greyhound Club was one of three greyhound clubs to open its doors to provide emergency accommodation for dogs affected by bushfires across Gippsland, including the Bunyip State Park fire.
General manager Steve Clarke said four trainers evacuated from the Labertouche-Bunyip area brought 60 dogs, including six pets, to the Traralgon club on Saturday afternoon. The club was on stand-by to receive more animals on Sunday afternoon.
Mr Clarke said Greyhound Racing Victoria was working closely with clubs to provide support for trainers and owners throughout the emergency.

"They (GRV) have been incredibly supportive," Mr Clarke said.
He also praised the efforts of Traralgon club employee Andrew Inger who stayed on site overnight Saturday and "worked tirelessly" to support the evacuated trainers and their dogs.
Mr Clarke said anyone needing emergency accommodation for any dogs, not just greyhounds, could phone him at any time on 0418 983 265.
Domestic animals will be accepted into the Latrobe City Pound in Morwell and livestock can be taken to the Morwell Pony Club or Glenview Racetrack Traralgon. Owners are required to stay with the livestock.

This an ongoing fire emergency and the situation is constantly changing. Readers should use multiple sources to stay informed, including:

Anyone concerned about the whereabouts of family and friends potentially impacted by the fire is encouraged to call the Red Cross "register find reunite" line at register.redcross.org.au.