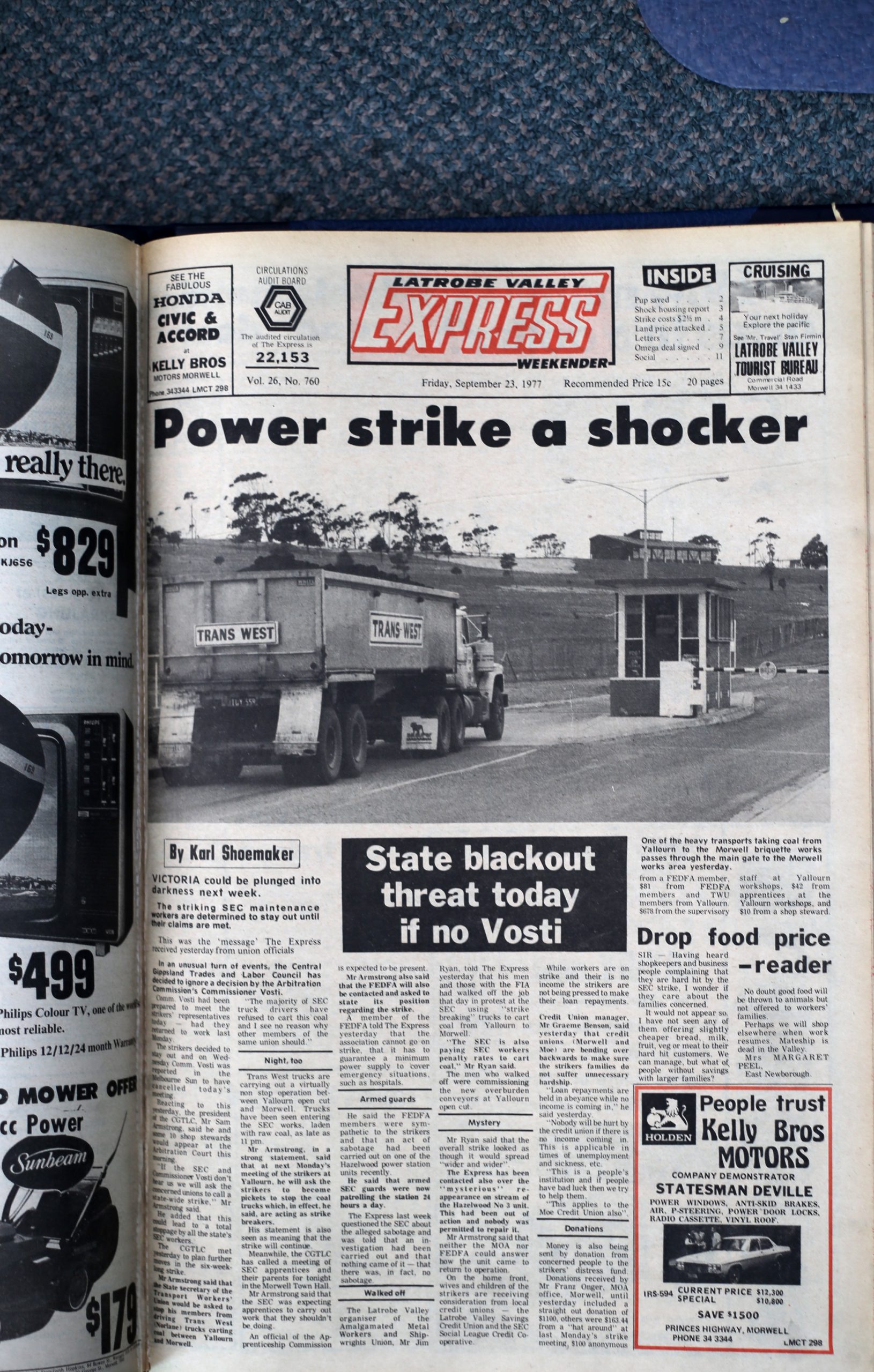 Anne Simmons
To mark Labour Day, The Express looks back at the 1977 State Electricity Commission maintenance workers' strike.

In 1977, the first live televised VFL grand final was in doubt as electricity generation waned and power restrictions took hold of the state.

While Collingwood and North Melbourne were set to clash at the MCG on September 24, another confrontation was shaping up in the Latrobe Valley.
On Friday, September 23 the front page of The Express read Victoria could be plunged into darkness next week.
The SEC maintenance workers had been striking for about six weeks already.
It followed the Central Gippsland Trades and Labour Council's 11-point log of claims to the SEC on behalf of the maintenance workers.
They sought a $40-a-week pay rise, 35-hour week and over-time payments, among other improvements to their conditions.
One key advocate Sam Armstrong said he would soon ask the strikers to form a picket line.
SEC trucks laden with coal were travelling between the Yallourn open cut mine to the briquette factory while the railway was down.
The coal was keeping the power station running but the workers were "determined to make sure the trucks stopped", former president of the Construction Forestry Mining and Energy Union Victorian mining and energy division Luke van der Meulen said as he reflected on the event.

At the time he was a boilermaker who joined the picket line.
"We ended up with bags of these wire spiky things that we were able to put on the road," Mr van der Meulen said.
"We heard that they were from the Yugoslavian partisan, they were used against the Germans and they had a real folklore about them."
He said they stopped a couple of trucks but not as many as the myth.
"If we could've seen those trucks go backward and forward night and day it would've been a psychological defeat to us, and the fact we could've stopped those trucks from delivering that coal eventually was a big win for us."
Mr van der Meulen said in its early days he thought the strike was a waste of time.
But his position changed when he went along to the Arbitration Commission.
"Every time Sammy [Armstrong] got up to talk, this Commissioner Vosti cut him short," he said.
"At one time this Commissioner Vosti said, 'don't you harangue me, Mr Armstrong', and I just thought it was unjust … I realised what side I was on. And that really was the beginning of my active politics."
As the strikes continued, Premier Hamer threatened to declare a State of Emergency and Victorians.
The strike forced workers around the state to go home and this had a divisive effect.
"There was lots of workers who, when they lost their jobs … wanted to have a go at SEC workers for not getting back to work, whilst there was others who were getting messages in – 'keep going, we understand what you're doing'," Mr van der Meulen said.
The dispute had cost Latrobe Valley traders $2.5 million in lost trade, Morwell traders told The Express on September 23.
Some traders were generous and helped feed the SEC workers' families.
"Lots of small butchers provided meat. I remember we used to have carloads of food from all sorts of places," Mr van der Meulen said.
When the workers met in late-October Sam Armstrong told them returning to work was the only option.
Commissioner Mansini awarded pay rises between $1.60 and $5.50 a week.
Mr van der Meulen said it was not a draw but nowhere near what they wanted.
"But [Prime Minister Malcolm] Fraser at that stage was really looking for a decisive win which he never got," he said.
He said Sam Armstrong was an "honourable" man who put his life into the dispute and he and fellow leader George Wragg should be credited for the time they spent trying to raise standards.