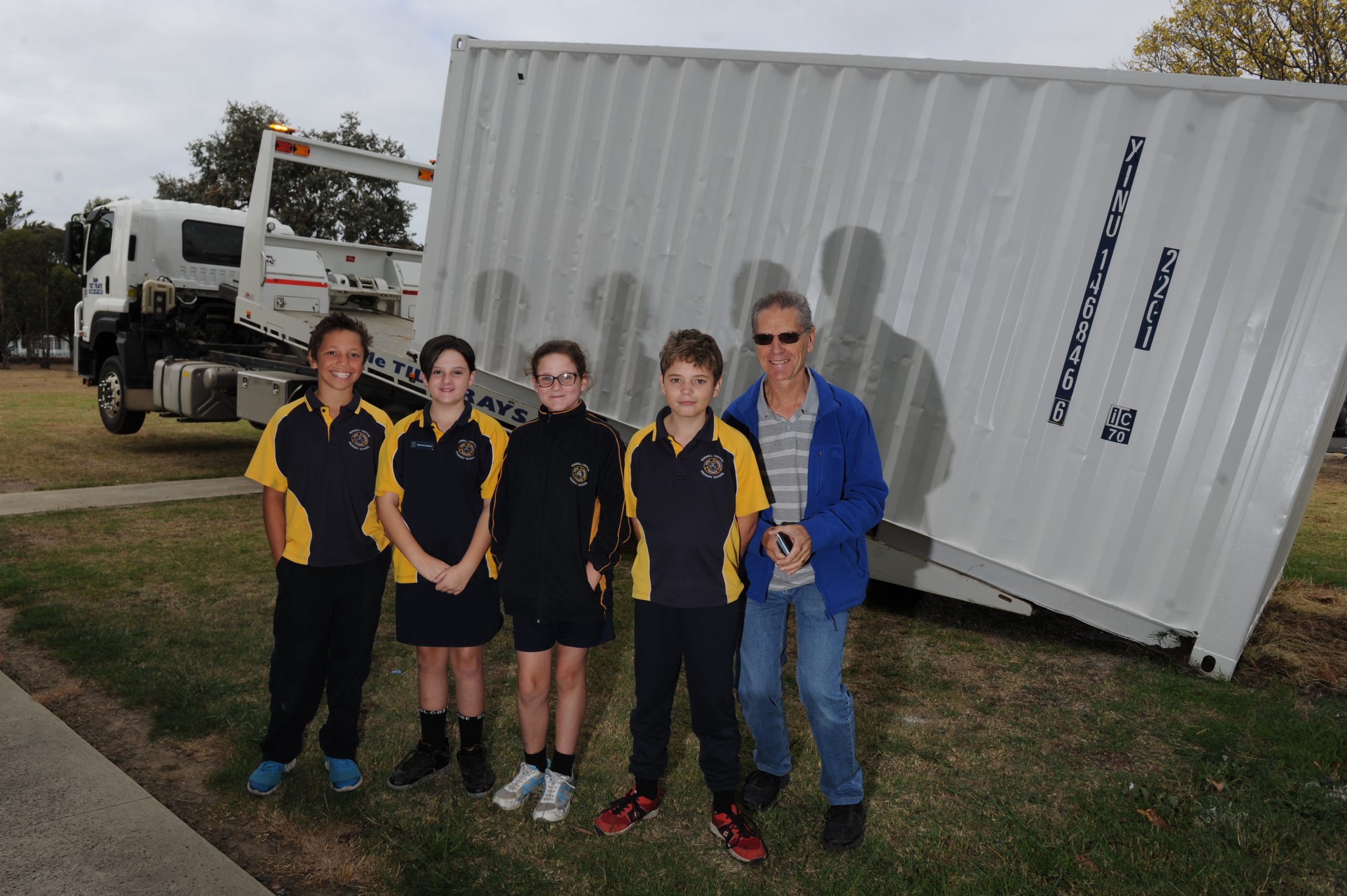 CHER JIMENEZ
Year 6 students looked in awe as a container full of books and school furniture was being lifted to make its way to a primary school in Kenya.

More than $18,000 was raised by students, teachers and staff at Morwell Central Primary School and community members to send the container of donated books to students at Kenya's Mercy Primary School.
The library container project was born out of Latrobe Valley teacher Max Sargent's experience volunteering at the Kenyan school in 2017 where he saw the resilience of Kenyan students despite their difficult environment.
A photograph of one of the students reading a newspaper instead of a book caught Mr Sargent's attention and he used this to encourage the Morwell school to take part in the project.
"There's one photograph that I showed the kids … there's a kid at seven o'clock in the morning sitting at a rickety desk made out of wood, and is reading a newspaper. The thing that struck me the most was instead of reading a book he was reading a bit of newspaper," he said.
"They've also seen the photographs about the poverty that these kids [endure] but the joy in their faces. They just get on with life even if they don't have proper desks or they don't have proper uniforms."
More than 13,000 donated books that were collected before three Morwell primary schools were amalgamated into Morwell Central were packed into the six-metre shipping container that will become a ready-made library for Kenyan students.
Mr Sargent said he was proud of the community response to the appeal to ship the container to Kenya.
He said Morwell Central students raised $3700 through their business enterprises to buy the container and send it off to the port in Melbourne while teachers and staff raised more than $4700 to cover shipping costs. More than $10,000 was raised by the local community.
Year 6 student Hallie was moved when she learned how students in the east African country struggled to stay in school and was happy that the books would help them in their learning.
"I feel so sorry for them. They don't have a lot of stuff like we do. It's really sad to see that," she said.
Mr Sargent said only two per cent of Kenyan schools had a library.