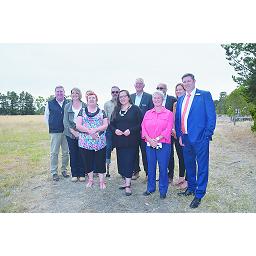 ANNE SIMMONS and BRYCE EISHOLD
Two Latrobe Valley-based service organisations will join together in an attempt to keep the new youth drug and alcohol residential rehabilitation centre in local hands.

Latrobe Community Health Service will work with Youth Support and Advocacy Service to tender for the running of the new drug and alcohol centre slated for Northern Avenue in Traralgon.
LCHS chief executive Ben Leigh said the partnership would provide an integrated pathway between the new youth rehabilitation service and the extensive alcohol and other drug services already offered by the organisation.
"We are established providers in Gippsland in the provision of alcohol and drug services so this is something that is part of our core business," Mr Leigh said on Friday.
"As a local provider we've established connections and have a strong understanding of the Latrobe and Gippsland community and are really well placed in partnership with YSAS to provide an outstanding bid for the operation of this youth residential facility."
The facility would be able to treat up to 80 young people a year when it opens and forms part of a $9.7 million plan in the 2018/19 budget to develop residential rehabilitation facilities at Barwon and Hume.
Staff will provide 24-hour supervision through a live-in program aimed at engaging participants in activities which support behavioural change, relapse prevention, individual counselling and group work.
Mr Leigh said the partnership with YSAS presented the joint tender as a "very strong bid" because both bodies had an extensive understanding of rehabilitation and drug and alcohol addiction in the area.
"YSAS has expertise in running a youth residential rehabilitation centre in Victoria and they have extensive experience in running general residential rehabilitation services across Victoria," Mr Leigh said.
"So we think it's a very strong bid; YSAS with youth residential experience and LCHS with local knowledge and local presence and our broad range of existing alcohol and drug services [which could] be integrated with this new facility."
Mr Leigh said the new centre was "really important" for the region given many people had experienced first-hand the impacts of addiction with drugs and alcohol.
"There's a high need to provide services for young people who are now facing challenges when it comes to alcohol and drugs on many fronts," Mr Leigh said.
"So it's important to have a facility dedicated to the needs of young people and this facility of course will cater for young people aged between 16 and 21 years and we believe that cohort needs to be focused on specifically."
YSAS chief executive Andrew Bruun said his organisation was well-placed to operate the Traralgon centre.
"Alongside Latrobe Community Health Service, we have provided vital drug treatment services to young people in the Latrobe Valley for more than 21 years. We believe this new service will be of great benefit to the community," Mr Bruun said.
LCHS also operates the therapeutic day rehabilitation centre in Moe for adults.