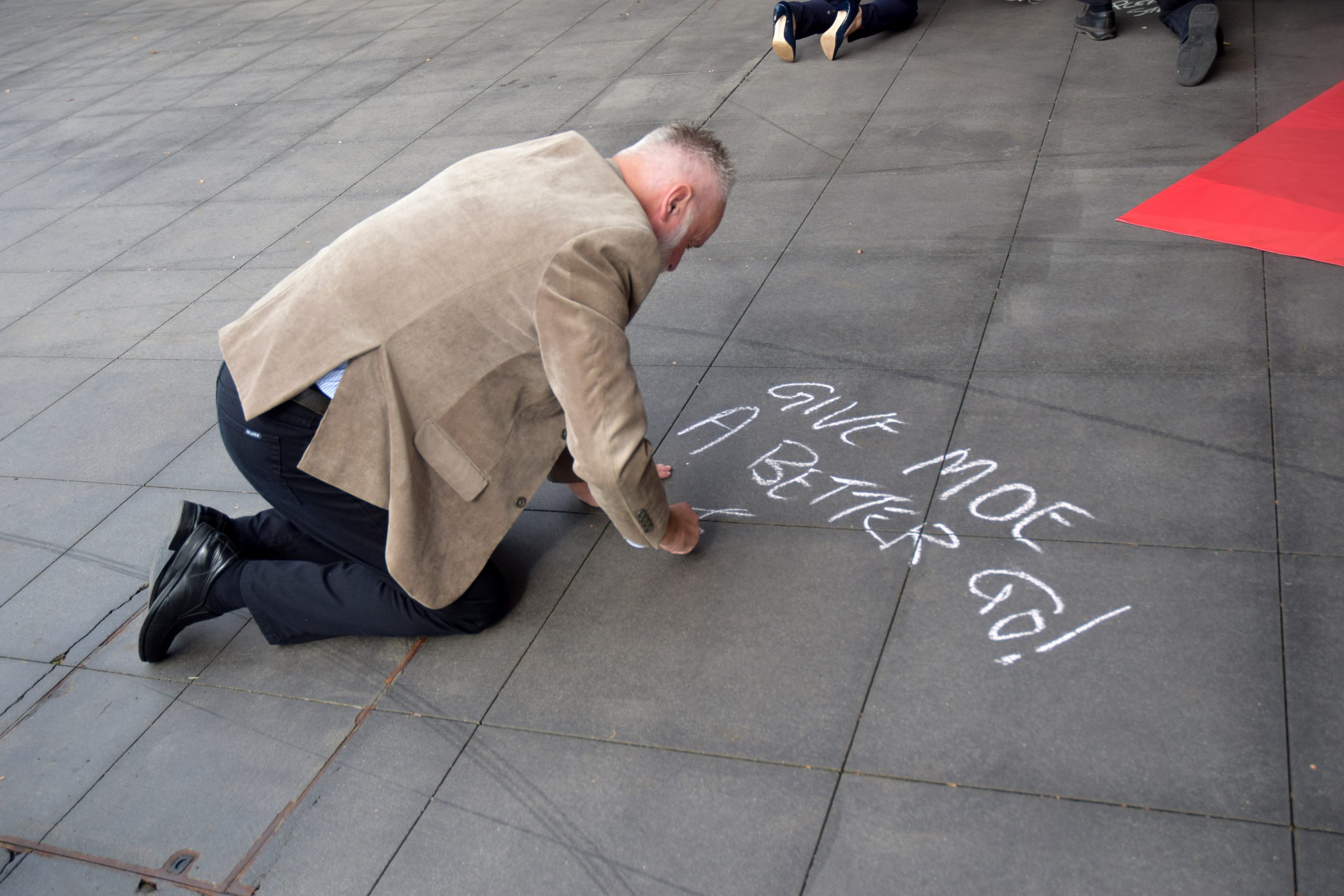 Heidi Kraak
Latrobe City Council has launched its first public campaign in the lead up to a federal election, calling on all candidates for the seat of Monash to pledge $15 million in federal funding to revitalise Moe's central business district.

Stage one of the Moe Activity Centre Plan, which involved the construction of the Moe library, was completed three years ago, however, council is now calling for funding to finish the second stage of the plan.
The second stage comprises car parking, a youth precinct, events space, rail trail extension, barbecues and a shared zone on Moore Street.
The unique campaign calls on community members to show their support for the project by signing a campaign postcard and sending it to Monash candidates or returning it to Latrobe City for distribution.

Council is also encouraging community members to write messages to candidates on the ground in front of the Moe library using chalk and add the campaign frame to their Facebook profile.
Council last year allocated funding to re-draw detailed designs for the plan, however, west ward councillor Brad Law said there were no major changes to the plans.
The MACP formed the basis of Cr Law's election campaign, which he said would act as a catalyst to revitalise the town and needed to be completed.
"It took 13 years to get to this stage now. It has been three years since stage one was done. We're trying to advance stage two," Cr Law said.
"It was always understood that stage two would be funded after the completion of stage one. That is why we are calling on all candidates for the upcoming federal election to commit to funding stage two."
West ward councillor Sharon Gibson said council had always advocated for projects with potential candidates but had never launched such a public campaign.
She said it showed how determined council was to secure the funding.
"We have always been pushing the government to fund it, but sometimes the community haven't seen that as much, but we are showing them, yes we are," she said.
"We are asking the community to get behind it … we are trying to do it as a united voice."
Cr Gibson said candidates should need to "work for" Moe's votes by demonstrating their commitment to the revitalisation plan. "You want it, you work for it," she said.
Moe Traders secretary Sue Broadbent congratulated council for taking "proactive" action to secure funding, however, expressed concerns the federal government would not provide funding until council committed to allocating some funding for the project first.
However, the campaign demonstrated council was committed to the project, she said.
"We're in a bit of a stalemate," Ms Broadbent said.
"It has been 13 years in the making, it's been a 13-year fight – surely we're at the top of that priority list by now."
Monash sitting member Russell Broadbent said stage two of the MACP would be "transformational for the Moe CBD".
"Having secured Commonwealth funding for stage one of the Moe rail precinct, I look forward to working with the Moe community, Latrobe City Council and state government to secure funding towards stage two," he said.
Labor candidate Jessica O'Donnell said she would "always be willing to campaign on behalf of constituents" and Greens candidate William Hornstra said he would be happy to support the project.
Independent Michael Fozard said the MACP was a "forward-thinking" plan developed in consultation with the community.
He said the project had reached a "stalemate" and he would be "very supportive" of funding to be allocated for the completion of stage two of the project.
Independent John Verhoeven said he would "be all for anything that improves Moe, having grown up in Moe and now working in Moe".

United Australia Party candidate Matthew Sherry said he would support the project.

The Express was waiting on a response from One Nation candidate Jeff Waddell at the time of publication.