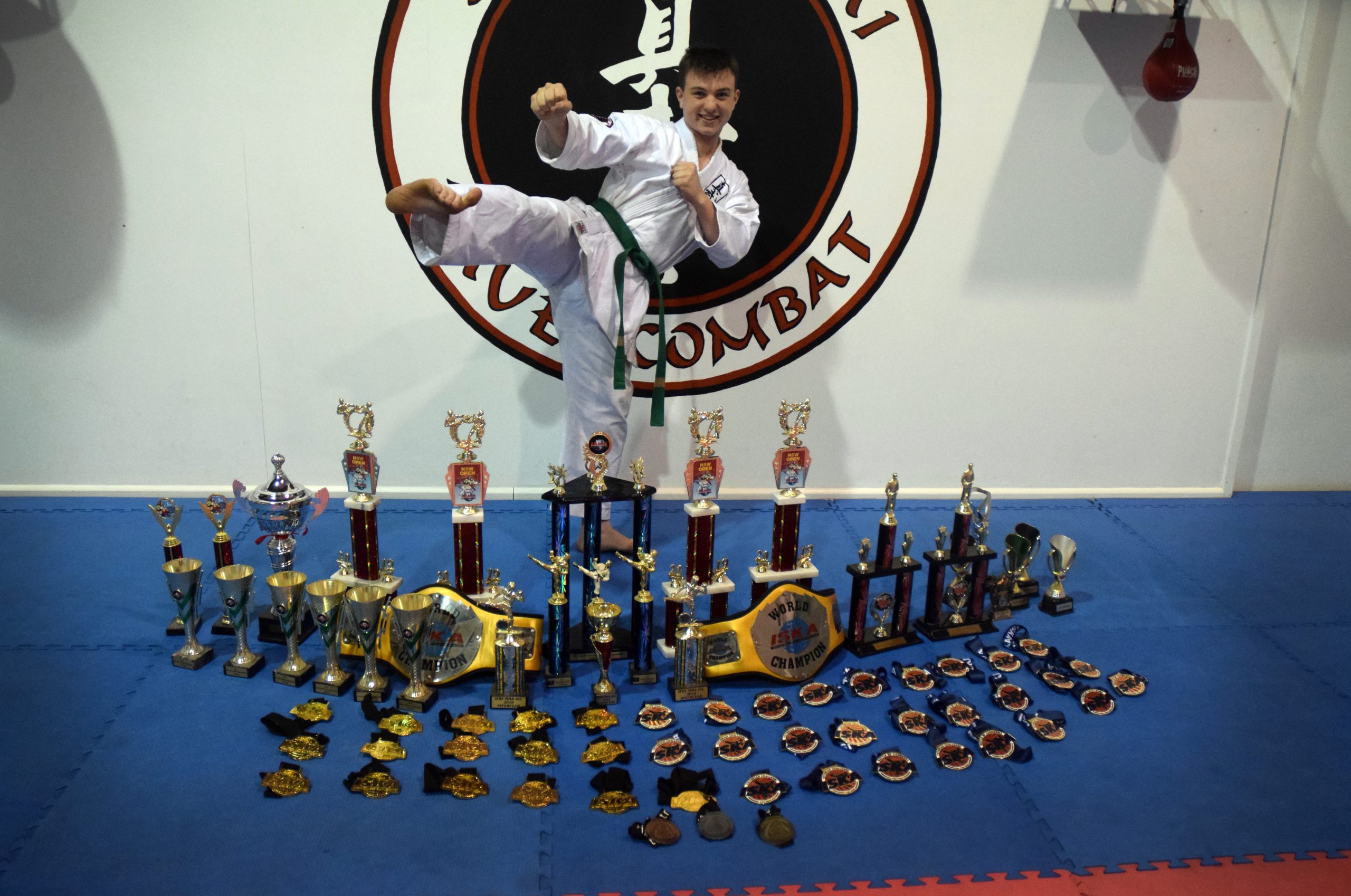 Kate Withers
The family home of Moe teen Nathan Xerri has served as a giant makeshift trophy cabinet recently as the karate kid continues to take his sport by storm.

Nathan, who turns 15 this weekend, has only been in the game for about three years and has already achieved more than most could hope for in a career.
He recently returned from an International Sport Karate Association tournament in Sydney with a clean sweep of five wins from a pool of more than 500 competitors in the under 17 class as a bottom-age 14-year-old.
"He's come a long way in a short time but there's been a lot of people involved," dad Charlie said.
"He's been training five, six days a week, sometimes seven when he wants to."
Nathan's interest in martial arts was sparked when he came across a newspaper ad for karate, went to Shim Bu Kai Karate Do in Morwell and "never looked back".
It has taken a village to get the Lowanna College year 10 student to great heights and a team of dedicated backers at Shim Bu Kai Karate are part of the winning formula.
Under the tutelage of coach Paul Clerks, senpai Jarrod Tomholt and sensei Chris Pelz, Nathan has "come a long way in a short amount of time" with added assistance from strength and conditioning coach Chris Peters and kickboxing guru Vince Tanti.

"He's got 10 Victorian titles in total, three Australian titles, five Queensland titles, two world titles, five titles from Canberra … and there's two NAS titles … and more," coach Clerks said.
All of Nathan's wins have come in just 18 months on the competition circuit.
"This is the thing that makes us proud of him … I wouldn't say he was an absolute natural (to begin with). He's worked really hard to get what he's done," Clerks said.
"We're sort of fortunate that we've had a lot of these people involved and one thing we sort of said to him when he started competing was 'try and surround yourself with good people and stay humble, be modest and work hard'.
"But he's exceeded his own expectations I think. For him to come away with a couple of world championships in Sydney at the end of 2017 was great to see. When we watch him win we feel like winners too."
Nathan is eyeing a brown belt and will then set his sights on black stripe and black belt – a feat rarely achieved by someone his age.
"He'll probably achieve his black belt … probably in the next year-and-a-half the way he's going if he stays on track," Clerks said.
"Normally if you're really stringent and work hard you can achieve your black belt in around four years, five years.
"I've been going for seven years and I still haven't got mine yet but I believe he can reach his in four years; he's got the skill and determination."