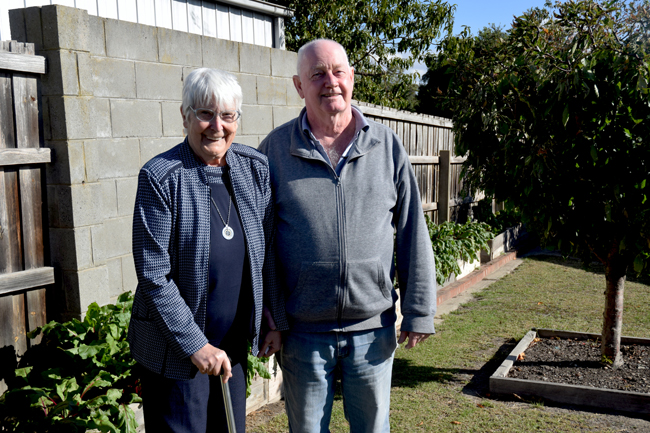 Heidi Kraak
Traralgon residents Barry and Janice Sharp joke about the neighbours nicking cucumbers from their bountiful garden.

As it turns out, however, the sneaky cucumber thieves are just their grandchildren who live over the back fence.
"They just love them," Mr Sharp said.
"They'll sit there and eat a whole cucumber like it's an apple."
However, it is not only the Sharps' hungry offspring that love the produce from their garden – the couple were awarded the 'best edible garden award' in the state-wide public housing tenants' Victoria in Bloom awards.
The couple have won the award before, along with an award for their roses in the front yard, however, Barry said he had not been planning on entering this year.
Barry and Janice have lived in the Traralgon house since 1979 and, according to the couple, the garden has changed a lot over the years.
Barry likes to experiment and isn't afraid to try new things – his latest idea is to grow tomatoes inside on a string.
"We mainly grow for the kids and the grandkids who don't have time to do it themselves," he said.
"The main things we grow are beans, tomatoes and beetroot."
The Sharps firmly believe that gardening should not cost a fortune, and Barry has crafted planter boxes out of pallets to house the couple's many vegetable plants.
"You could spend hundreds of dollars in the garden, but if that is the case, you might as well buy [the produce] from a shop," he said.
Janice is a keen gardener herself, however, is limited in how much she can contribute due to a medical issue.
"I love gardening – it something you used to learn from your parents and grandparents and it gets passed down," she said.
"Back in the day, everyone had a garden."
One of the couple's granddaughters works at a local primary school, and the couple have hosted groups from the school to help the students learn about how food is grown.
"We gave them a taste and showed them the worms," Barry said.