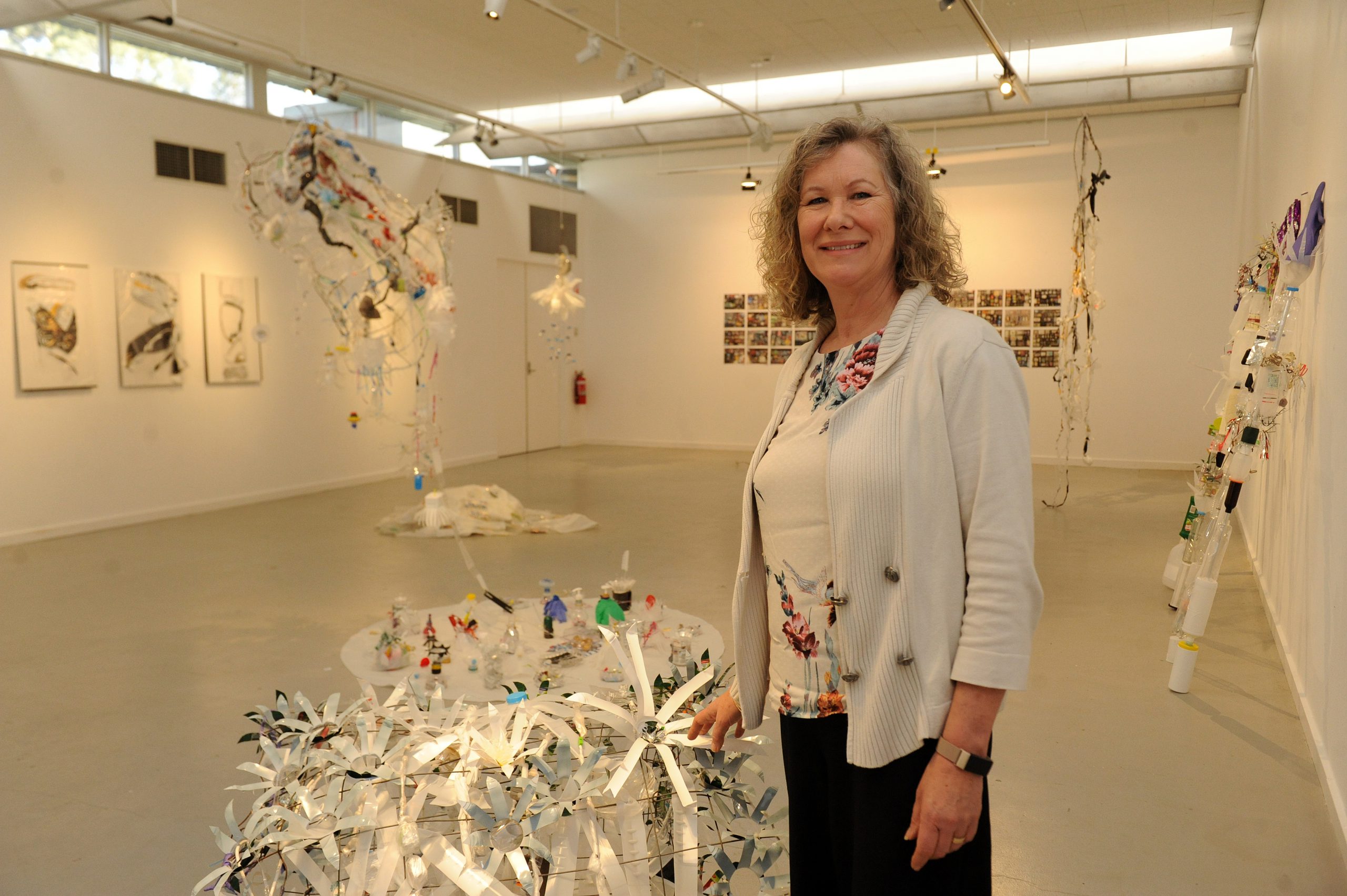 Anne Simmons
When an artist stockpiled a year of household plastics the results were "overwhelming".
Not only could Drouin resident Karen Preston view the volume of bottles, lids, caps, tubs and fragile filmy bits of waste, but it was also "a bit confessional".
"Looking back I realised I eat a lot of Twisties and chocolate … and all the things you shove in the rubbish and don't want other people to see," Ms Preston said.
Now the plastic is contained to Switchback Gallery at Federation University, Churchill where she has repurposed the former products into works of art.
There are snippets of recipes and ingredient lists in the sculptural forms, flickers of metallic colour and bottles cut and peeled back into stars.
Ms Preston has twisted postal packaging and wrapped plastic around fencing wire from her yard.
"We don't value plastic," Ms Preston, an alumni of the Gippsland School of Art and Design, said.
"We treat it as something we can just throw away and we disregard it so I wanted to show that plastic is a worthy material and that we can reuse it for a whole lot of things and it can be beautiful.
"It's not just ugly, smelly plastic."
By the end of a year of saving plastic from the recycling bin Ms Preston said she had cut products from her life like plastic straws and detergent packaged in plastic.
"By the year 2050 there will be more plastic in the sea than there are fish and that really concerns me," Ms Preston said.
In her exhibition is her own marine creature of sorts, representing something both formed out of plastic and invaded by plastic.
"Then I started thinking of it as a goddess of plastic," she said.
Her work has a deliberate environmental message.
"I would like people to rethink disposing of plastic in the environment and think about other things they could do with it," Ms Preston said.
"Maybe using less of it is a good place to start."
Plasticity will be on display at Switchback Gallery at Federation University, Churchill from April 30 to June 28.