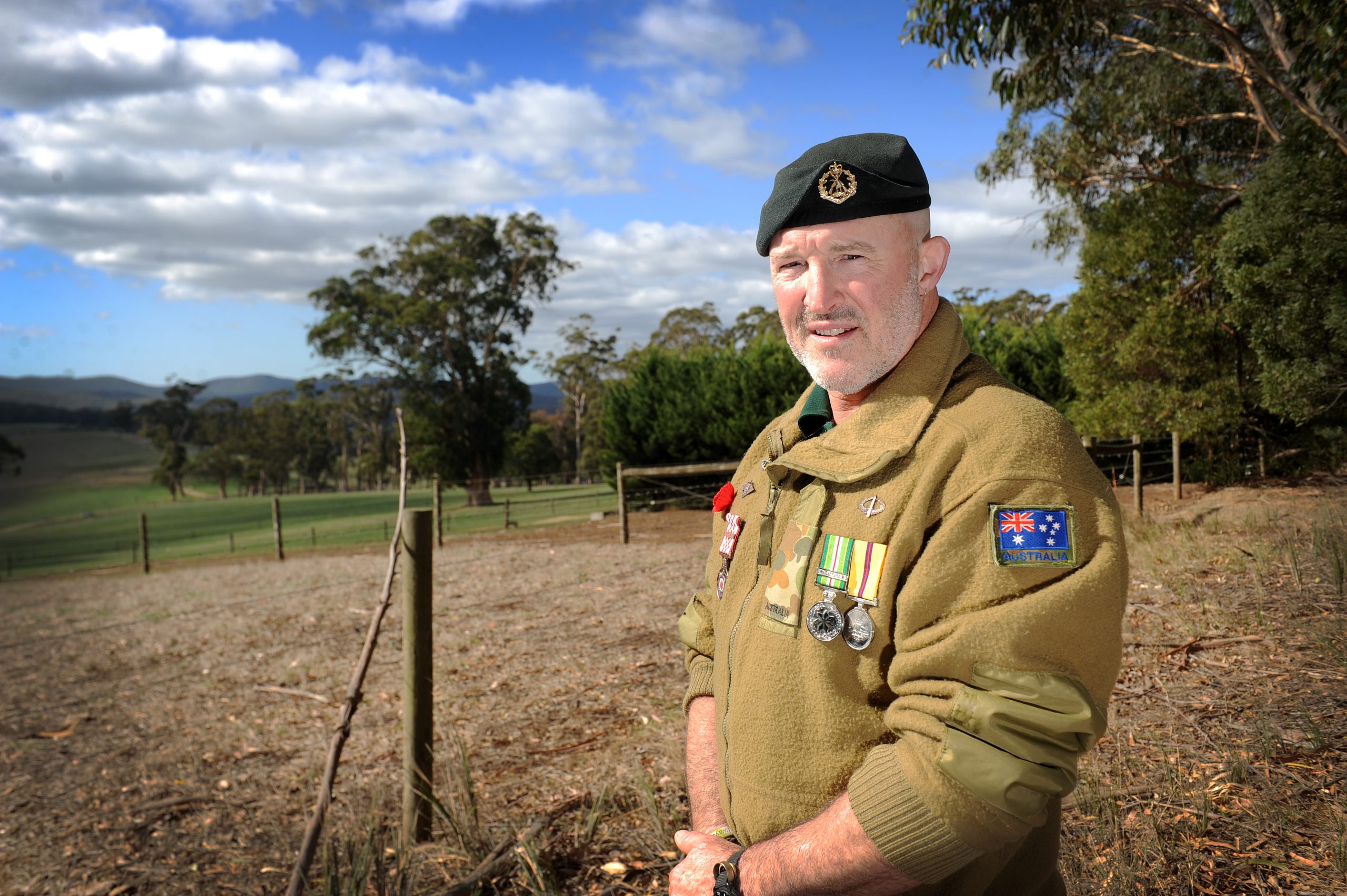 Bryce Eishold
Kev 'Doggie' Wilson describes himself as a "well-adjusted veteran", but for the former Australian solider who served in Iraq, memories of what he experienced on tour in 2007 are a regular occurrence.

The Hill End resident was one of about 60 people who attended the town's morning service on Thursday to pay homage to those who he fought alongside as a rifleman and machine gunner in an infantry section in the fifth battalion.
"I joined the Army on my 36th birthday. I got to a point in my life where I thought 'it's now or never' and the circumstances of my life at that time allowed me to do it," Kev said.
He was almost twice the age of the next youngest man in his battalion, but despite the age difference he still took on one of the most physical and arduous tasks by carrying a bulky machine gun during combat.
Kev is what the army calls an IED-survivor. IED stands for improvised explosive device, in this case, a roadside bomb.
"I've been in a few vehicle rollovers, a couple of friendly-fire incidents and some minor stuff," Kev said.
"But unfortunately when you're on operations in a combat zone there's always the normal stuff like vehicle accidents and people get injured; it's not all bullets and bombs that inflict injury.
"Of course you come home and eventually you leave a place like Iraq or Afghanistan having witnessed some of the extreme forms of violence and the way it is for the average person over there, you're forever changed."
For Kev, Anzac Day has a number of meanings; whether it be remembering his great-grandfather who was killed in combat in Belgium, or those killed in more recent times.
"I think about my generation, the younger veterans as we're called, not only the ones we've lost in Afghanistan but also the people who have been serving and killed in training accidents," Kev said.
"Often they get overlooked and because they're not in combat zones it gets pushed aside, but we remember them and they were still serving their country.
"I also think about the veterans who did make it home and are still struggling, and those who could survive the war but couldn't survive civilian life and have taken their own."
But for Kev civilian life is not too bad; for 20 years he's served his local community as a member of the Willow Grove Fire Brigade and is known around town as a local legend, not that he'd be one to admit that of course.
"Some learn to live with it and deal with it. For others it consumes them and ruins the rest of their life," Kev said.
"It's very hard to talk about. We're getting better but we've got a long way to go."