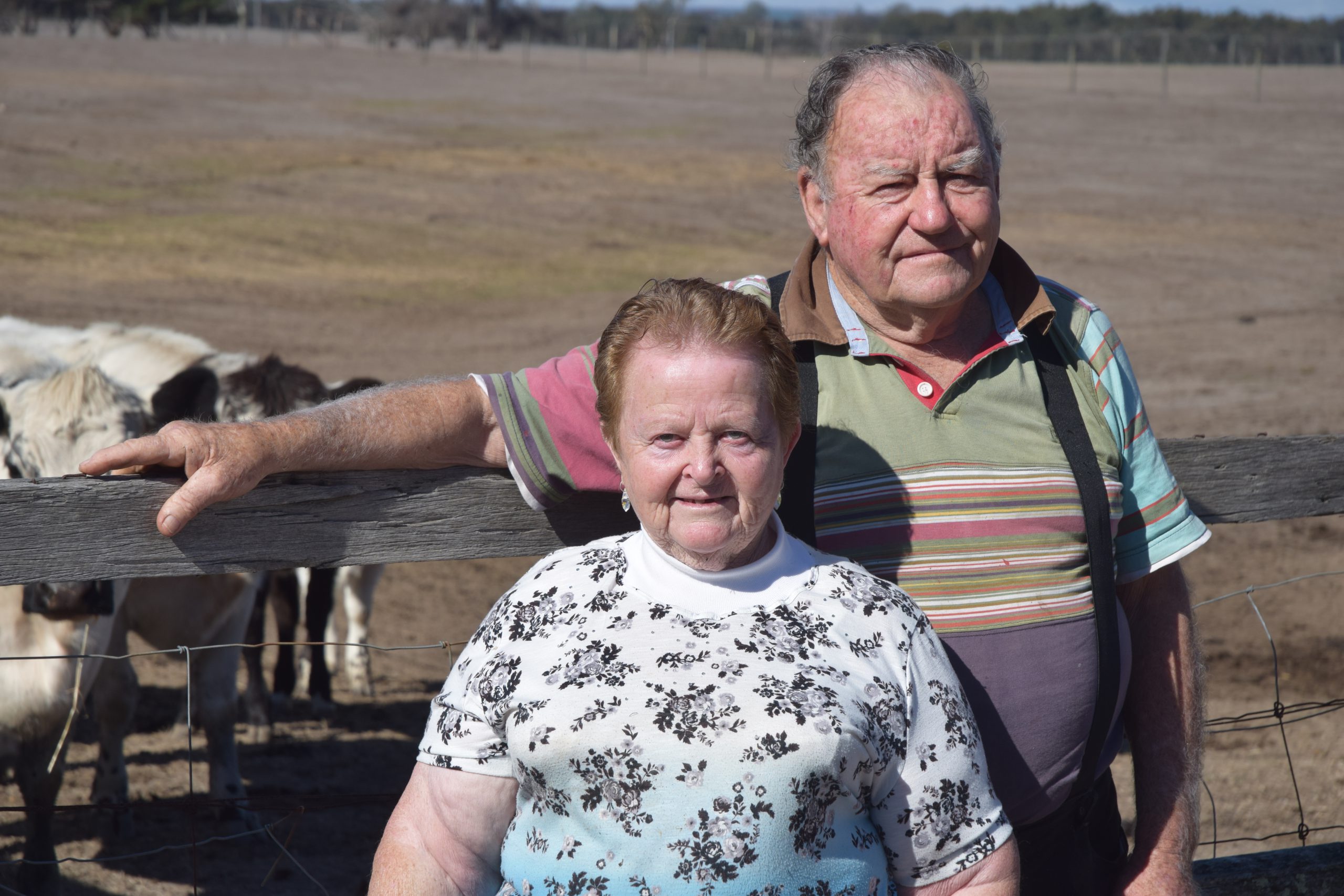 Bryce Eishold
Drought conditions worsening across the region are placing farmers in unbearable positions, with some struggling to feed stock and others barely making ends meet.

Flynn couple Ron and Violet Munn fear they will run out of fodder as early as Sunday and are living their day-to-day lives on a frugal budget in an attempt to pay their bills and stay on the land.
The Munns moved to their 34.4-hectare Brazen Lodge property 30 years ago and say the dry conditions are the worst they've seen in more than 50 years.
Mr Munn, 79, has three bales of hay left for his 40-odd head of British White cattle and fears he will be out of feed within days.
"It's very, very depressing," Mr Munn said.
"I have three bales, that will last me three days and I get spuds from Thorpdale so I have enough to last us maybe until the end of the week."
The Munns are just two of many farmers across the region who are in desperate need of financial assistance, and claim they are not eligible for support compared to their counterparts in Wellington and East Gippsland shires.
"Just up the road, you draw a line in the sand and you're in Wellington. They have so much drought relief and help there and we don't have any here because we're in Latrobe City," Mr Munn said.
"They're getting money to re-sew their paddocks and we don't qualify. It makes you feel pretty lousy and we're forced to give our cows a starvation pack because our money is going towards paying for our water, sewerage and rates."
Member for Morwell Russell Northe called on the state government in Parliament yesterday to provide $2.6 million in rate relief for more than 1000 farmers in Latrobe City.
The couple have had bill assistance from St Vincent de Paul thanks to the Lions Club of Heyfield's Supporting Gippsland Farmers program.

Lions Club of Heyfield drought coordinator Ray Akers said the drought was worsening across the region and moving west towards Flynn, Gormandale and Willung.
"When you look at it, farmers can't make it rain. They need fodder but they have no income. Unless you are going to give them hands, rate relief is the best way to help our farmers," Mr Akers said.
Just up the road at Callignee, another farmer, who requested she remained anonymous, said farmers in Latrobe City were receiving less assistance than those in neighbouring shires.
"Now Wellington Shire is across the road and there's only four metres of bitumen between my neighbour and I. We don't receive the assistance that's available for them," the farmer, in her late 60s, said.
"It's even more challenging when you can't produce your normal amount of beef because a lot of our costs like farm rates, fertiliser and fence maintenance are fixed. So any kind of rate relief would be a real help."
Agriculture Minister Jaclyn Symes said the government was monitoring seasonal changes so it could provide support to Victorian farmers to prepare for the cooler months.
For more information about support and advice for farmers, visit agriculture.vic.gov.au/dryseasons.