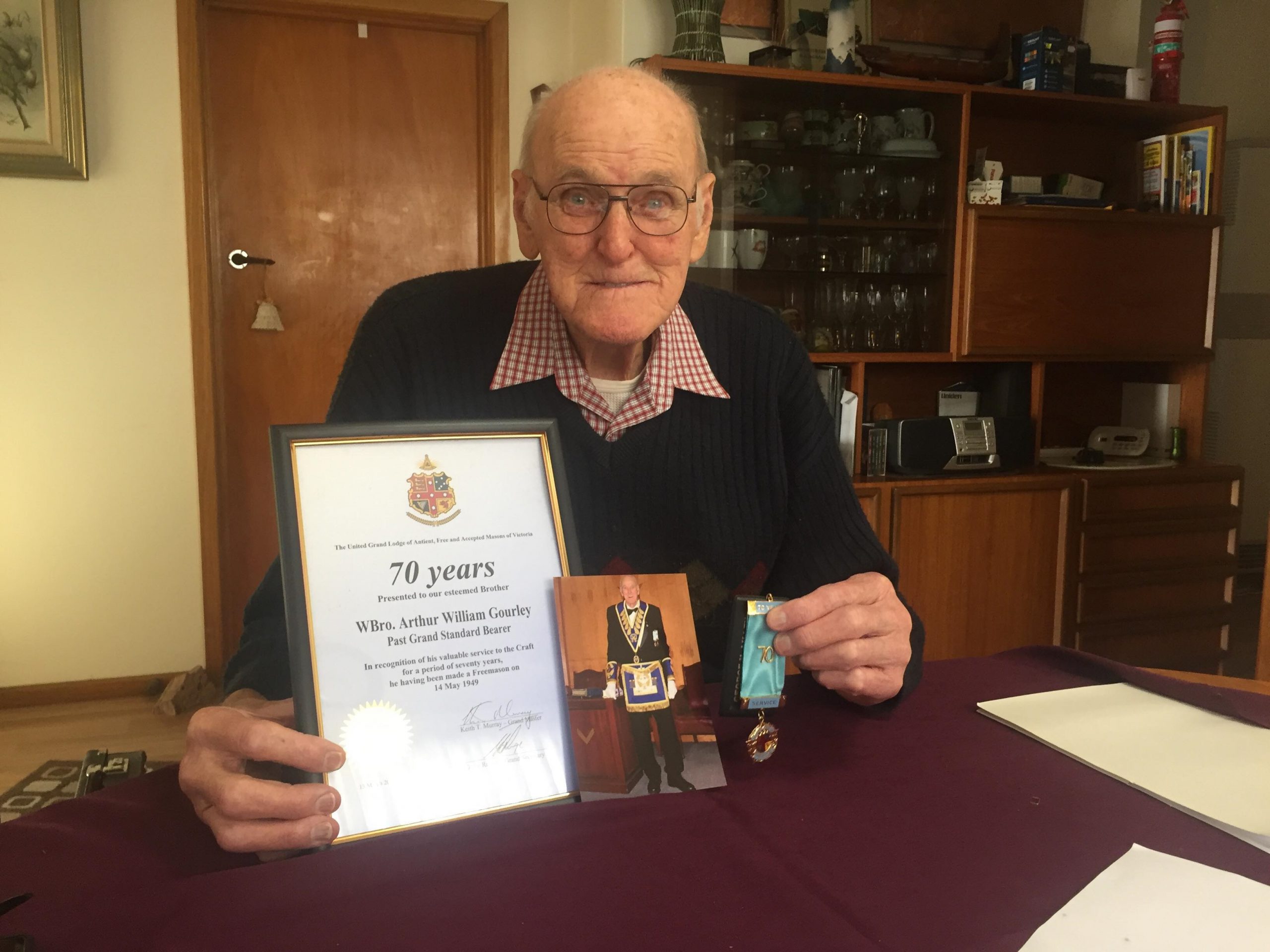 Heidi Kraak
Eighty-eight-year-old Traralgon resident Arthur Gourley found genuine friendship during his 70 years of service with the Freemasons.

Having joined the group at 18 years old, Mr Gourley often reflects on the words of his father, who also served as a Freemason.
"He told me 'you're joining this organisation for what you can do for other people'," he said.
His father would often tell him stories from during the Depression when "things were tough", he'd get a knock at the door late at night and a plate of sandwiches would be left on the front step for the family.
He knew it was a member of the Freemasons who had left it there for the family.
"Then he joined, my brother joined, and when I turned 18, I joined," Mr Gourley said.
"I remember what my father said and I've tried to do that in my life."
While it took 50 years for Mr Gourley to gain rank in the organisation – he jokes he is a slow learner – he has held multiple titles of importance including master, and now serves as a senior warden. Current Argyle master Liam Cole describes Mr Gourley as his "most energetic member" in the lodge.
The highlight of Mr Gourley's Masonic career, he said, was being able to meet practical needs for a fellow Freemason.
The man, who was part of the lodge at Mirboo North, had part of his leg amputated multiple times.
Mr Gourely was able to drive him to and from medical appointments in Melbourne, drive him to Freemason meetings and make alterations to his house to make it more wheelchair-accessible.
The favours were returned when Mr Gourley had to have medical appointments in Melbourne in recent years for his eyes – a fellow Freemason was able to drive him to and from the appointments.
"Members know they can ring a member if they need something," he said.
Mentoring has also been a big part of Mr Gourley's contribution to the Freemasons, having both been the mentor and mentee.
The late Kerry Watson was Mr Gourley's mentor within the Freemasons – Mr Watson had presented Mr Gourley with commemorative jewels at every significant milestone of service and his wife Lauris presented Mr Gourley with the 70-year jewel in place of Mr Watson at a ceremony in April.
"That, to me, is very important," he said.
"Without friends, life would get very boring and very lonely."