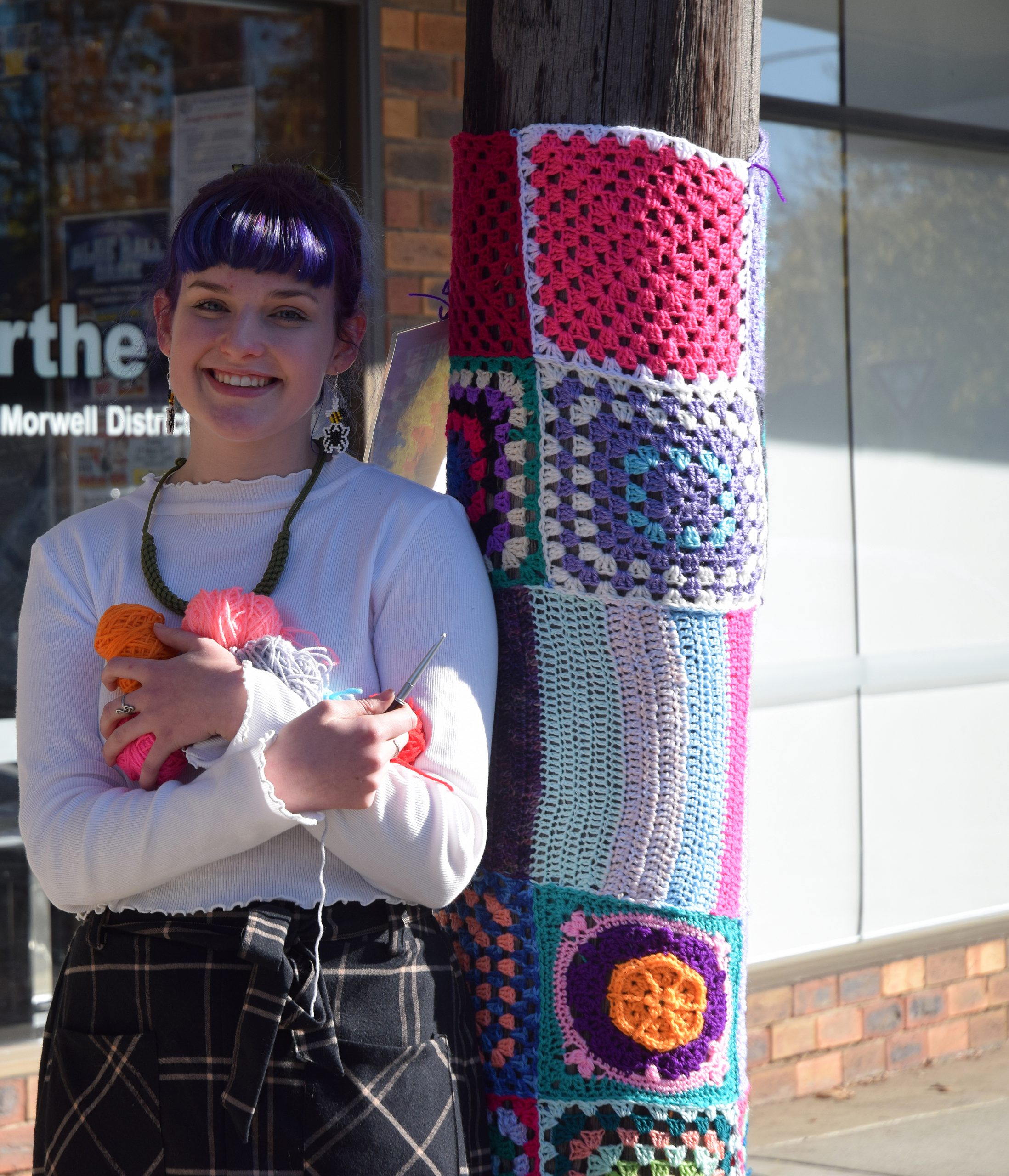 Cher Jimenez
If you happened to drive down Morwell's George Street and noticed that parking signs and light posts were dressed in colourful yarns ,your eyes are not deceiving you.

A local young entrepreneur has set off a yarn bomb to brighten up the street that's home to a mixture of business, private and government offices.

Morwell mum Matilda Lapin is holding weekly knitting and crocheting workshops at The Bee & The Spider shop making squares from colourful acrylic wool to attract people into the area.

She is doing the project with support from Latrobe City council and Advance Morwell through the Visitor Economy Activation Project.
"I wanted to liven up George Street, brighten it up and sort of bring people here because it's a bit forgotten. I thought by getting community involved in it, it would get them to talk about craft and [the area]," the 23-year-old business owner said.
"Commercial Road is the main road [and] they get all the beautification projects. We're not getting anything really so we'll get our own beautification project."
Ms Lappin started the free weekly workshops two months ago and has attracted 30 people who were making the squares every Friday afternoon.
About 30 squares were put together to dress up a pole which volunteers started on the weekend.
"I can sort of imagine families walking down the street and looking at all the different squares. I'd love [them] spending time at the Morwell CBD and see the beauty of the town," she said.
Ms Lappin was born in Morwell, however, only learnt to appreciate the town after coming back from studying music in Melbourne.

"In high school the aim was to get out of Morwell. It took me until I came back to realise it's a nice place to live and the community is lovely," she said.
Ms Lappin started knitting and crocheting at the age of eight, skills that were passed on to her by the women in her family.
"I've always got something in my hands," she said adding that she had been knitting jumpers that were sent off to support children overseas.