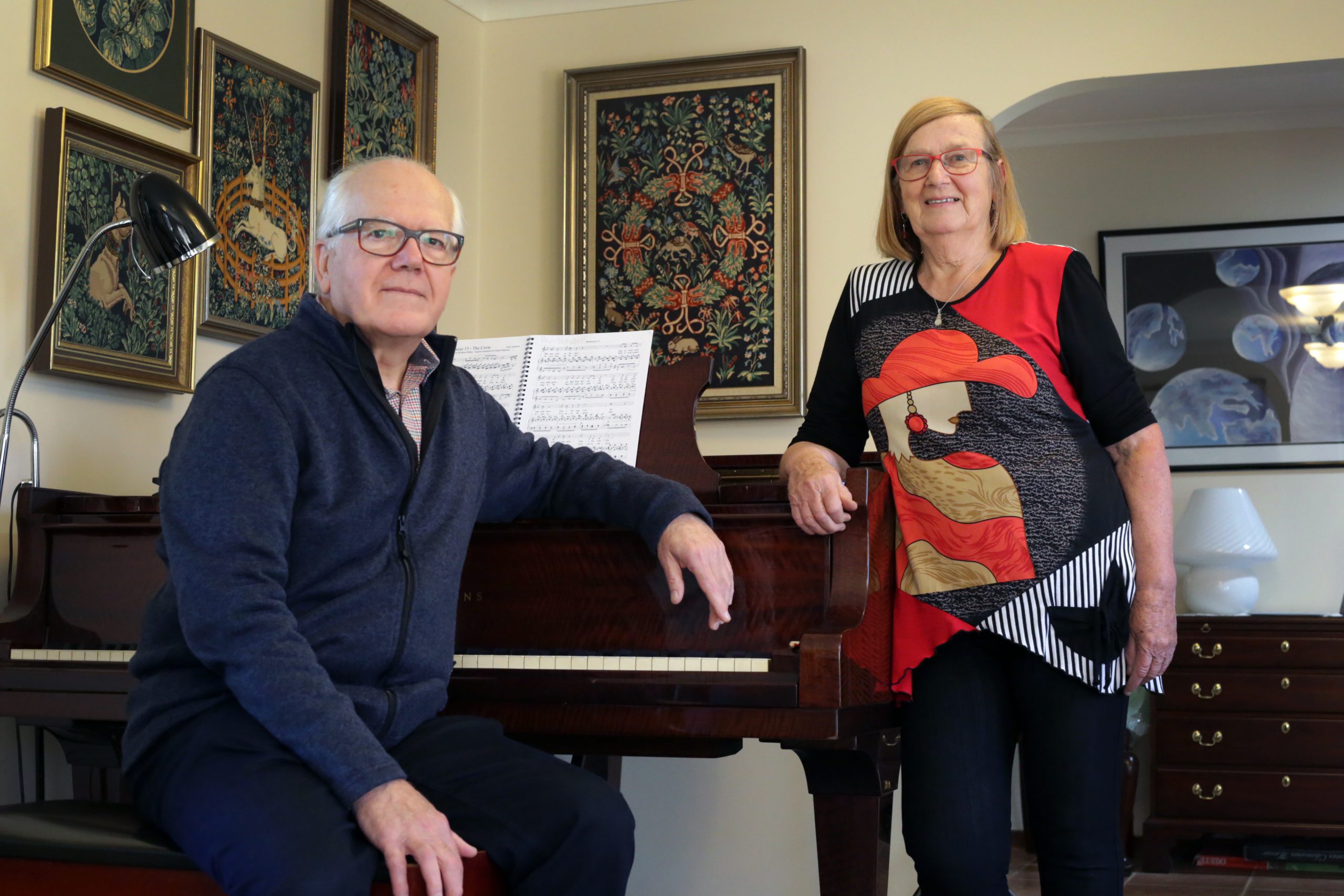 Anne Simmons
A Steinway grand piano sits in Lucy and Brian Chapman's Drouin lounge room, waiting to be relocated to Yinnar for an exhibition.

The pedals can bear weight and stand in as legs, which come off, making it a one-person task unexpectedly easier than moving an upright piano, Brian says.

It will go to arc Yinnar's gallery space, where the couple are presenting a huge project indulging the right-brain by combining painting, music and poetry.

Austrian composer Franz Schubert's famous song cycle Winterreise, translated to Winter Journey, is its inspiration.

"Many people feel it is the greatest work of all that Schubert wrote," Brian said.
Schubert was still finalising the work before his death aged 31.
Pianist Brian, a retired academic physiologist who was involved with Monash University's Churchill medical school, will perform the song cycle in its entirety with Latrobe Valley-raised professional baritone Nathan Lay.
Brian describes music as his passion but always a "moonlight activity" that led him to make more than 100 studio recordings and broadcasts for the ABC.
The words to Winterreise are 24 poems by Germany's Wilhelm Muller, telling the tale of a man who ventures out into the snow despairing at unrequited love.

"He feels all alone in the world and hardly done by and exceedingly sorry for himself," Brian said.
"It's a very dark work as well as being a very great work."
Lucy has painted one artwork for each poem, which via nature-surrealism show the freezing lifelessness of a northern hemisphere winter alongside the man's strange hallucinations in explosive colour.
On his journey he is haunted by threats like a crow and eyes.
Lucy said, "Surrealism allows that sort of thing to happen on the canvas."
"This man has dreams of visualising his sweetheart there watching him," she said.
While Lucy absorbed herself in research for the work she began while Monash University still had an art school at Gippsland, Brian set himself his own project.
"The snag with Winterreise is that it's a real niche art form," Brian said.
"Someone in the late 19th century came up with an English rhyming translation but it's a very sanitised sort of translation that doesn't really get to grips with the darkness of the poems."
To solve the problem, Brian notated his own English translation into the music. Then he needed a singer.
He was set on collaborating with a previous fellow member in the West Gippsland Chorale, Nathan Lay, who was about 21 years old at the time.
"I heard his diction … Nathan's diction is stunningly clear, absolutely, you just can't miss it," Brian said.
"He at that time expressed no interest and I didn't pursue it."
Now 31 years old, Lay features on a double CD with Brian, featuring both English and German versions of Winterreise with a "centimetre thick" booklet containing Lucy's artworks alongside each poem in both languages.

Winter Journey art exhibition will be on display at arc Yinnar June 8 to July 6. There will be a free opening event at 2pm on Saturday, June 15 with a short live sampler of the Winterreise music and a wine tasting.

The full recital with Brian Chapman and Nathan Lay will be on Sunday, June 16 at 2.30pm at arc Yinnar. For bookings, visit trybooking.com/482896.