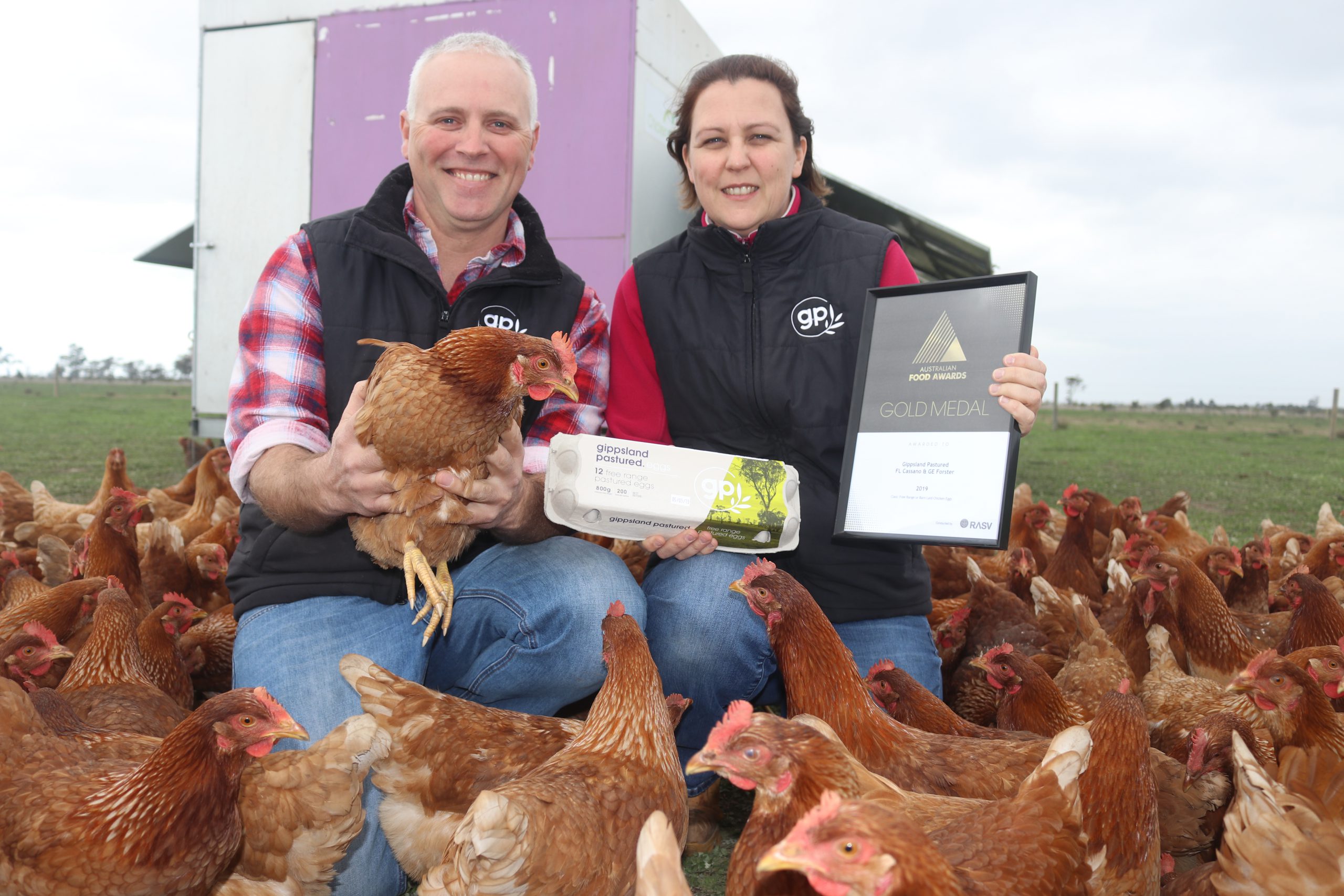 Michelle Slater
A Rosedale pastured egg farm has proven its free roaming chooks lay 'golden' eggs by taking out a gold medal at this year's Royal Agricultural Society of Victoria Australian Food Awards.
Gippsland Pastured also won two bronze medals in another section for smaller-sized eggs, in the third year it has entered the prestigious national fine food award.
Farmers Felicity Cassano and Greg Forster said they were thrilled to win the gold after establishing their pastured egg business four years ago.
"This is very exciting, it recognises that we are supplying our customers with a good product. We set out to focus on consistent quality and freshness and reliability," Ms Cassano said.
Judges sampled poached eggs in a blind taste test assessed for appearance, aroma, taste, texture and flavour, as well as shell quality and raw appearance.
The judge commented the Gippsland Pastured eggs had "nice, solid whites, and a large yolk that leapt out with joy".
Ms Cassano said the eggs had become popular with cafes because they consistently poached well with little waste.
They also supply independent groceries and butchers in Traralgon, Maffra and Rosedale as well as the Queen Victoria and Prahran markets and Mornington farmers market.
"People initially buy our eggs because of our animal welfare values, but they come back because these are not like any eggs they have tasted before, they love the flavour and freshness," she said.
The couple run about 3000 Isa Browns in open paddocks on what was formerly a barren sheep property with no infrastructure, and they have doubled production each year with plans to expand.
They decided to give egg production a crack as a way to deliver cash flow to the farm while also running a few head of beef cattle and pigs.
"These chooks have a great lifestyle and they are not de-beaked. They are out all day foraging on grass, getting sunshine and are protected from predators," Ms Cassano said.
"We use premium feeds and we collect, grade and deliver the eggs daily. We don't wash our eggs, they are naturally clean."