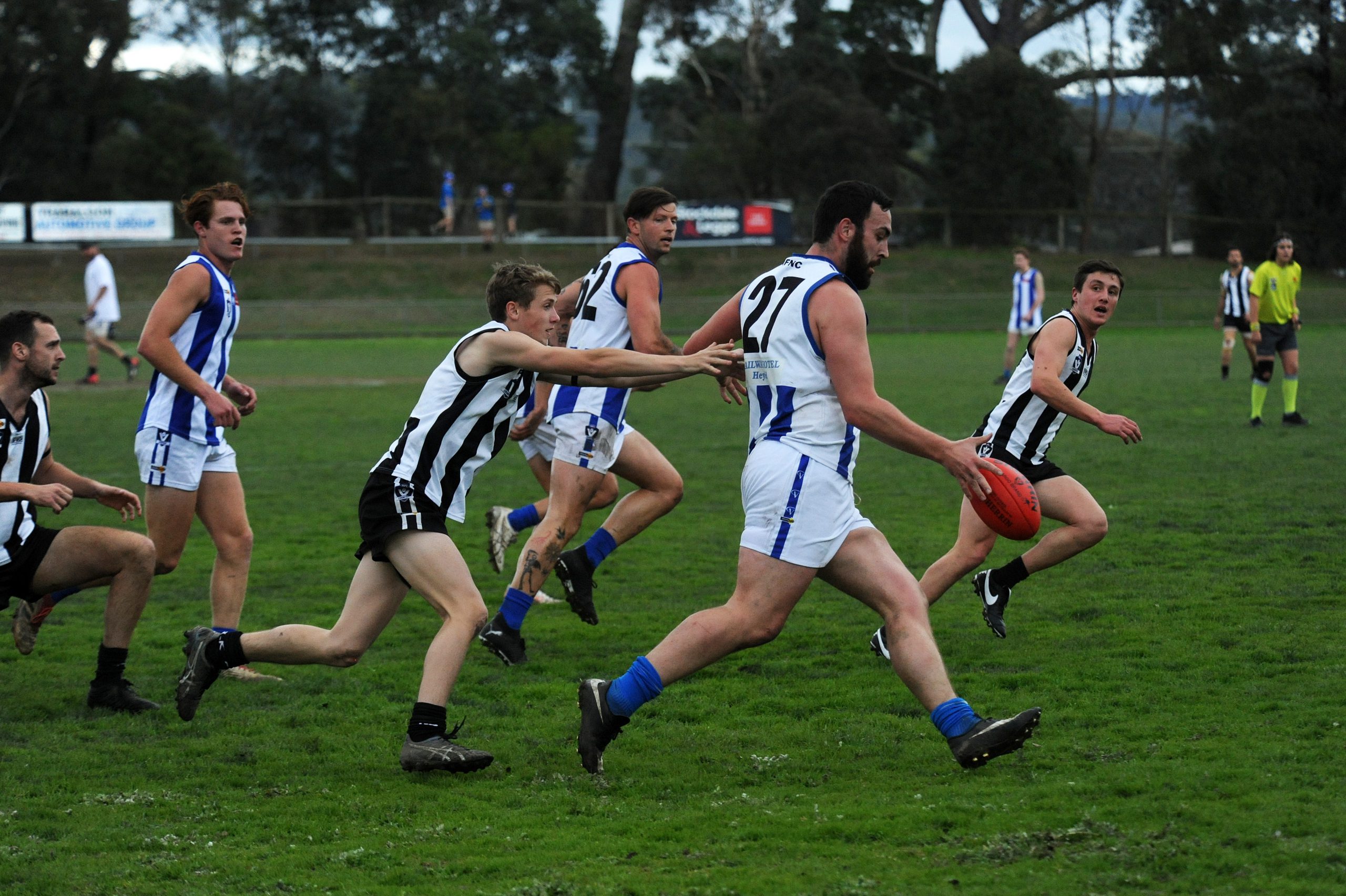 Kate Withers
FOOTBALL

The top end of the North Gippsland football league ladder has been shaken up with just two home and away games remaining after a senior side was stripped of premiership points and fined for fielding an ineligible player.

The Heyfield Football Netball Club was found to have breached AFL Victoria guidelines by allowing a 16-year-old to play in the senior team on multiple occasions this season.

The ruling was handed down after round 16 when an objection was lodged with the North Gippsland Football Netball League by an affiliate club.
The Express understands the inquiry was lodged by the Woodside Football Netball Club.
The player in question, who is a member of the Heyfield Junior Football Club's under 18 side, played eight games in the Roos' senior team this year.
In a letter obtained by The Express issued to Heyfield, NGFNL president David Kyle said: "I have consulted with senior NGFNL league administrators, AFL Gippsland regional general manager Ben Joske and Gerard Ryan from AFL Victoria to seek guidance and clarity, including eligibility, any breach and such penalty.
"It gives me no pleasure to advise that we believe a breach of policy has occurred in each instance when [this player] has played senior football for your club."
Mr Kyle advised the player in question was 16-and-a-half years old as of January 1 and was therefore ineligible to play in the club's senior side.
Heyfield was initially issued a $4000 fine and stripped of 28 premiership points for the seven winning games which involved the underage player.
The club then lodged an appeal with AFL Gippsland.
Prior to the objection being lodged, Heyfield were in third spot on the senior ladder and, had they been docked the full 28 premiership points initially handed down, would have dropped to the bottom four.
The AFL Gippsland Commission Appeal Panel upheld the objection in part, deciding to reduce the fine to $4000 with $3500 suspended for 12 months and deduct four premiership points instead of 28.
In its letter of appeal to AFL Gippsland, Heyfield president Kelvin Sundermann said the club was unaware of any breach prior to receiving notice from the league.
"This breach has only just been brought to our attention … any breach should have been detected after [the player's] first game, not now," the statement reads.
"The HFNC had a perception that with its affiliation with the Heyfield junior club, a pathway existed that deemed [the player] eligible.
"We feel that the loss of premiership points and attached fines is far too severe … at no stage was there any intention of manipulation by our club's action."
Mr Sundermann admitted club administration was "at fault for not being across all the rules and regulations", however, cited "confusion" surrounding current policy and eligibility processes.
"[The player's] participation was not game-changing or a defining contribution, but more to provide development and education to a talented 16-year-old," he said.
With the Heyfield senior side sitting in fifth spot after the points' deduction with two games left in the home and away season, Roos coach Rick Galea said the overwhelming feeling around the club was one of "disappointment".
"To be honest I'm just very disappointed with it all," Mr Galea told The Express.
"[The player] played three senior games last year as a 15-year-old and he's played eight games this year and no one has picked it up and we're trying to keep kids in the game.
"As far as I'm concerned, we submit our team on a Thursday night and the league check off on player points and eligibility, so my concern is why wasn't the administration doing their job?"
Mr Galea was confident the Roos would make finals, however, said the all-important double chance that comes with a top-three finish may now be out of reach.
"We should still make final but the double chance comes tougher now," he said.
"We'll use this, draw from it and band together and show what we're made of. It'll take a lot more than this to bring the club down."