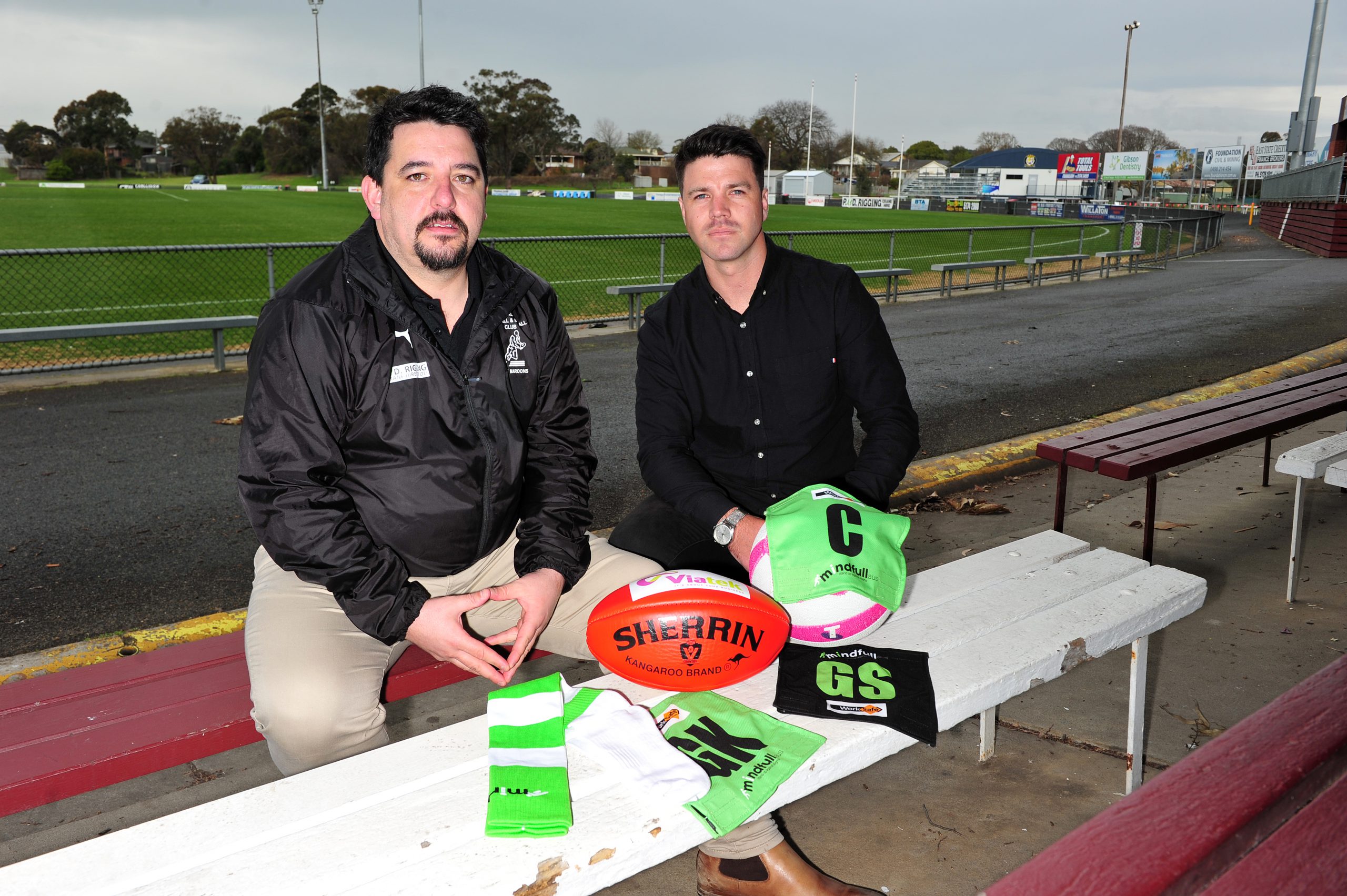 Kate Withers
FOOTBALL

Aside from the turf at Traralgon Recreation Reserve, there will be an extra tinge of green about this weekend's round 16 clash between the Maroons and Warragul.

Footballers and netballers will don a splash of bright green on their socks and bibs as the sides play off in a round dedicated to raising awareness about mental health.
Traralgon coach Tim McGibney made the decision to pair up with life-long friend and chief executive of not-for-profit Mindfull Aus Matt Runnalls to create a safe space for discussion about mental health and suicide prevention.
In his first year at the helm of the Maroons' senior side, McGibney said he was struck by the "very real" grief that was still affecting many at the club in the wake of the tragic death of young clubman Jack Strong last year.
"When I was growing up, I played sport with Matt (Runnals), and he went off and started his mental health organisation and I moved into the footy world and we always said we'd bring them together one day," McGibney said.
"When I took the job at Traralgon I immediately heard their players were still grieving from the loss of Jack and I thought it was a great opportunity to bring mental health into the fold and create some discussion.
"Matt came in during preseason and did a talk about mental health, depression and suicide and it was received really well among the playing group.
"We've also had other occasions where Matt's checked in on everyone and it's something we've made a real effort to implement at the club to make sure our people are OK. Unfortunately Jack's loss has instigated it and it would have been great if it didn't take that for it to happen, but we're just learning on the run."
McGibney, who grew up playing football for Warragul, said the decision to partner with them for this weekend's mental health round was a natural progression.
"Before I took the Traralgon job I played for the Gulls 10 years ago so I have a really strong connection with the team,"he said.
"I spoke with Warragul president Aaron Rhodes and the conversation came about that one of their own under 16 players also took his own life, so this mental health round is something we both really wanted to do."
McGibney said said the program had "gathered traction" with regular visits from Matt Runnalls in his capacity as Mindfull Aus chief executive.
"Traditionally, young men aren't the best, and footballers particularly, aren't the best at talking about their feelings or what's bothering them,"he said.
"This weekend is just another commitment to the club, the under 16s, the under 18s, the seniors and the netballers, it's another show of commitment to providing a safe place for them to talk.
"This will hopefully go some way to letting people know we care."
The senior footballers will wear green socks this weekend and netballers will wear green bibs to mark the mental health round, which ties in with the colours of Mindfull Aus.
McGibney's company Viatek will donate $100 to Mindfull Aus for every goal scored on the day and the Traralgon Football Club will also match the donations.
The seniors game between Traralgon and Warragul will start at 2.20pm at Traralgon Recreation Reserve and the A grade netball will start at 2.15pm.
If this article causes you or someone you know concern, phone beyondblue on 1300 224 636 or Lifeline on 13 11 14.