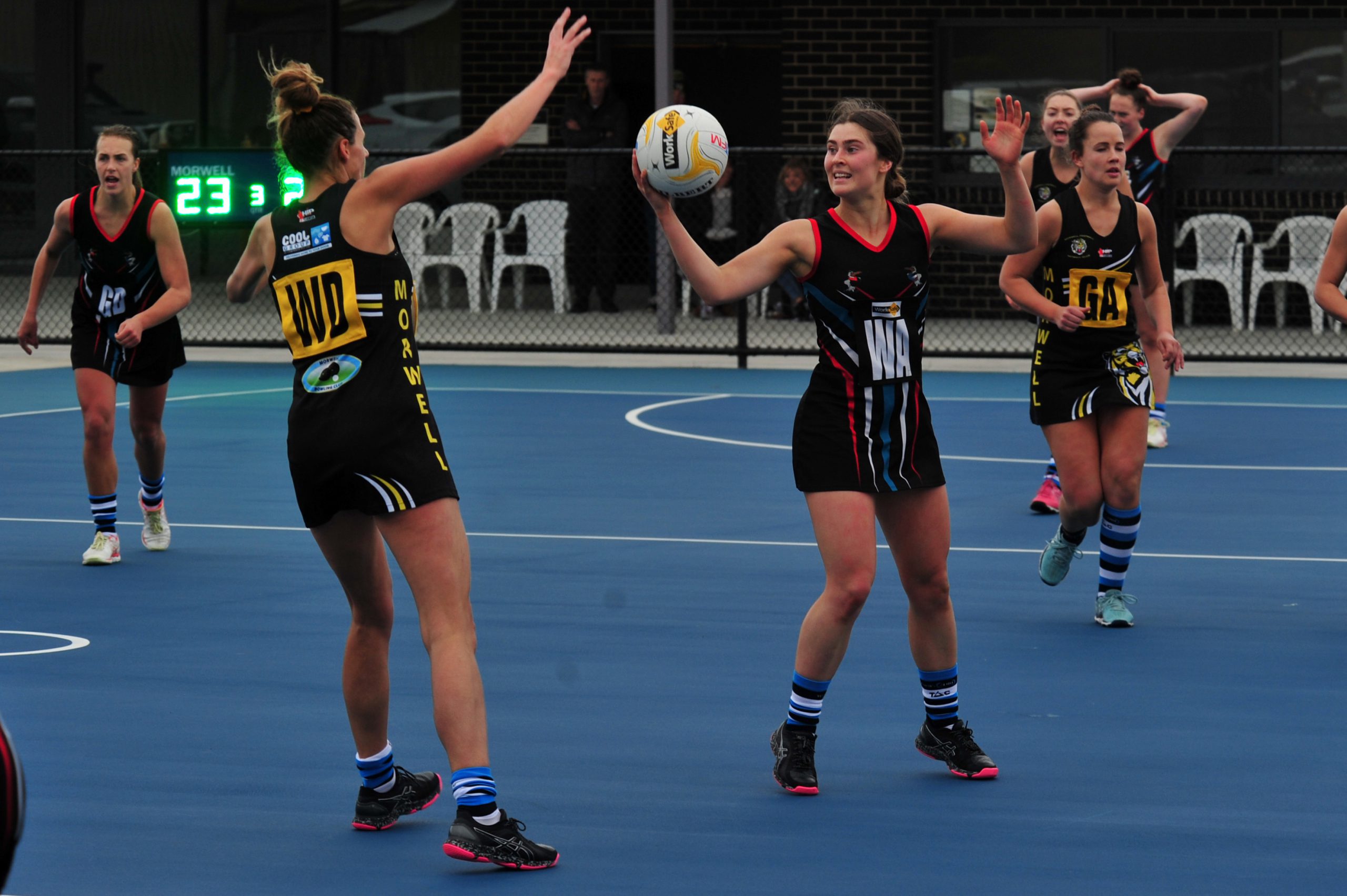 Kate Withers
NETBALL

GIPPSLAND LEAGUE

In a battle that will go down as one of the best of the 2019 season, first-placed Morwell and second-placed Warragul fought out a thrilling draw on Saturday in round 15 A grade netball action.

The Tigers established a slender two-goal lead at the first break which was pegged back to a single goal at half-time.
The third term, much like the first two, was an end-to-end arm wrestle.
Tiger defenders Courtney Garth and Tanya Budge had their work cut out for them with Gulls shooters Myah Healey and Jaime Rollinson matching muscle with muscle.
At the other end, Morwell goaling duo Daisy Hill and Claire Allison showed no signs of slowing despite the best efforts of a standout Christie Hillberg in defence and earned their side a valuable three-goal buffer at the last change.
The mid-court battle was also a spectacle for on-lookers, with Tiger Rachel Tatterson providing plenty of feed into goals, as was Gulls centre Hayley Roberts.
A congested, stop-start final term reached a crescendo with a few minutes to go, Warragul etching back the three-goal deficit to go down to a shoot-out which ended in a stunning 39-39 stalemate.
Among the best on court for Morwell was defender Courtney Garth and midcourter Lexi Bowe while Warragul's best was Christie Hillberg.
Morwell sit in first spot with 14 wins and Warragul in third with 12 with just three games remaining in the home and away season.
In the run home, Warragul face second-placed Traralgon this weekend and then close out the season proper with Bairnsdale and defending premiers Moe.
Morwell travel to take on Drouin this weekend and then host Traralgon and hit the road to Sale before their finals stint.
Sale v Moe

Defending premiers Moe travelled to take on eighth-placed Sale at the weekend and returned home with the premiership points with no trouble, 55-39.

Usual suspects shooting duo Bella Hodgson and Georgia Moody worked in tandem to control the goal circle, shooting 27 and 28 of their side's goals, respectively.
Jenny Wrigglesworth did most of the heavy lifting at the other end for Sale with little support and was left to convert 21 of her side's 39 goals.
The remaining goal-shooting duties fell to Livinia Ronchi (nine) and Olivia Barnett (nine).
Among the best on court for the Lions were Jordan Pyle and Bella Hodgson while Sale's best were Barnett and Wrigglesworth.
Moe are in fourth spot with 11 wins for the season to-date, four clear of Leongatha in fifth.
Sale, at the other end, are in eighth spot with three wins.
Traralgon v Bairnsdale

Traralgon rocketed to second spot on the Gippsland league A grade ladder at an opportune time, displacing Warragul to sit just one game behind ladder leaders Morwell.

The Maroons made off with the points against Bairnsdale, 58 to 32, in a display that was once again led by shooting machine Taylin Gourley.
Gourley converted 37 of her side's goals while Saskia Eenjes (11) and Maddison Stockdale (10) shared the rest of the load.
For Bairnsdale, Sally Deller and Michaela O'Connor shared the scoring duties and shot 19 and 13 goals, respectively.
Among the best for the Maroons in the win was defender Ramayer Gourley, Jaimee Salleh and winger Kate French.
Traralgon will fight to retain second spot on the ladder this weekend when they meet third-placed Warragul while Bairnsdale will come up against Wonthaggi in a clash of the cellar-dwellers.
Maffra v Wonthaggi

Maffra laid claim to the biggest win of round 15 in the Gippsland league A grade competition, flattening a winless Wonthaggi with an impressive home-court win, 72-21.

Abbey Pleydell and Faith Biddle paired for a dominant performance in the goal circle, shooting 37 and 31 of the Eagles' goals, respectively.
At the other end, Power shooter Sophie Bolam was left wanting support in the goal circle and converted 14 of her side's goals.
Among the best on court for the Eagles in the win was midcourt gun Montana Holmes while Bella Anderson was Wonthaggi's best.
Maffra are matched with Leongatha on seven wins for the season but sit just outside the top five by three percentage points.
The Eagles have a tough run home to the post season with defending premiers Moe, Leongatha and Traralgon to come in the final three rounds.
Leongatha v Drouin

Leongatha snatched victory from the jaws of defeat against Drouin at the weekend, holding off to beat the Hawks by four goals on Saturday.

Goal shooting duties were shared among the Parrots' attackers with Hannah Flanders (15 goals), Jess Edgar (15) and Maddie (Kerr) all making valid contributions.
For Drouin, Stacie Gardiner shot 24 goals and Kylie Proctor 16.
Among the best for the Parrots were Lauren Redpath, Kate Brone and Edgar.