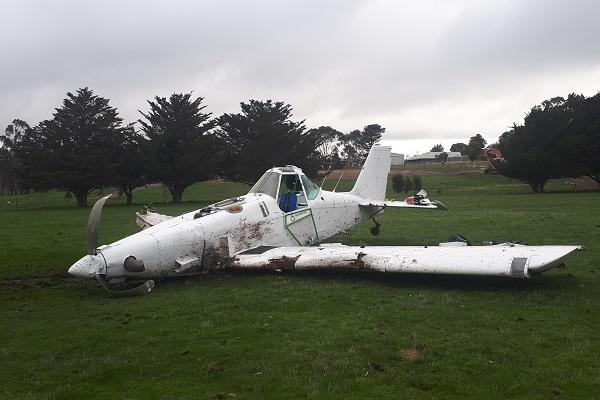 Bryce Eishold
A pilot has survived unscathed after a light plane crashed into a paddock near Traralgon on Tuesday morning.

The 59-year-old Latrobe Valley man was "up walking around" moments after the plane, used in agriculture for crop dusting, force-landed in a paddock off Coonoc Road, Traralgon shortly before 8.30am.

Traralgon Sergeant Danny Carbonneau said a mechanical fault was likely the cause of the incident after the pilot had just left Latrobe Regional Airport en route to New Zealand when the crash occurred.

"I think he's nicked the power lines just west of the scene," Sergeant Carbonneau said.
"I was actually quite surprised because he was walking around and drinking coffee so I was really happy the pilot was safe and sound.
"The owner of the property just treated him with fruit cake, not bad."
The owner of the property where the crash occurred, Ken Ludlow, was sitting upstairs on his computer when he heard a loud "bang" before realising a plane had crashed into his paddock about 2.5 kilometres east of the airport.

"I rushed outside and saw a pilot just getting out of the aeroplane and realised what had happened," Mr Ludlow, who has lived at the property for 45 years, said.
"He was good, not a problem. He got out straight away and said he was 'OK' which was our main concern."
Mr Ludlow described the pilot, who he knows through the Latrobe Valley Aero Club, as a "very, very experienced pilot" who had been flying for decades.
"From my understanding [the pilot] said it just lost power. He was on his way up north today and going across to New Zealand tomorrow," Mr Ludlow said.

"He's really lucky too because only three years ago I cut those pine trees down so he would have ploughed into those had they not been cut down."

The Express understands the aircraft had been sold to a person in New Zealand where it was due to arrive on Wednesday.

Ambulance Victoria Gippsland area manager Paul James said the pilot "refused an assessment".
"When our crews first arrived they approached the pilot who said that he was fine and didn't require any sort of assessment," Mr James said.
The Civil Aviation Safety Authority will investigate the incident.