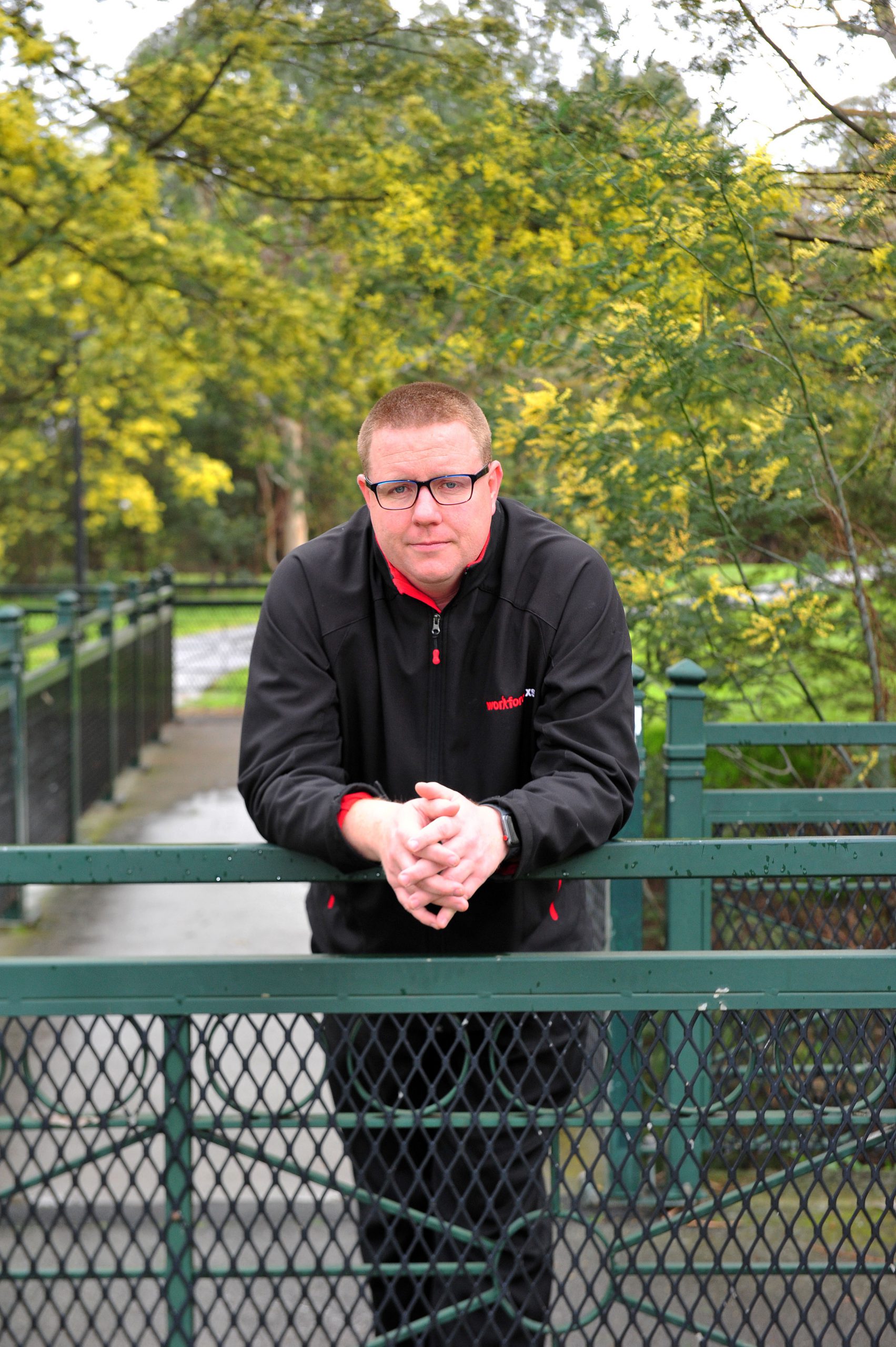 Bryce Eishold
Crying uncontrollably and collapsed on the floor of his home – in front of his wife and kids – Luke Henderson was broken.

The once self-confident business owner had mostly withdrawn from his community, unable to face questions about his company's future and the debt it was owed by Steelvision.
At the height of the saga Mr Henderson's company was owed $1.25 million by Steelvision, a company which received state government funding to create local jobs.
In his first interview since Steelvision's collapse in January, Mr Henderson, one of Steelvision's main creditors, has revealed the personal toll on him and his family and how Steelvision's demise contributed to a decline in his mental health, requiring him to seek medical treatment.

He has also detailed how he raised concerns about the embattled company more than six months before it entered administration, including with government officials.

Related:

Mr Henderson said of the past six months, he did not want help, nor did he want his colleagues or his family and friends to know he was ill, very ill.

"Whilst we're all superman, or at least claim to be, sometimes you're just not," Mr Henderson said.
"I was a typical male and I didn't want to get any help. I was operating adequately under severe mental health issues.
"There's been so many people affected by the money situation … but essentially there's a bigger toll that's been on some of the victims which are the business owners of the local community."
Mr Henderson's company, WorkforceXS, was brought in to provide the labour hire on the Steelvision project, starting with 10 people before it eventually grew to 52 workers in every role from boilermakers to administration assistants.
Steelvision used Mr Henderson's workers in order to receive the first round of government funding, worth $400,000.
It was later revealed the government had paid Steelvision taxpayer money, despite the company breaching grant guidelines by using a labour hire firm to employ new staff – rather than creating direct local jobs.
Steelvision received the grant to establish a precast concrete and high security building fixture factory at Morwell with the promise to create 53 full-time jobs.
However, six months after receiving the grant, the company entered administration owing businesses across Australia more than $21 million, including more than $1 million to Latrobe Valley businesses.
"We went about six months where the government was very confident everything was OK without really knowing. They had no idea," Mr Henderson said.
"The government presented Steelvision to our community as a game-changer in the face of Hazelwood, and it's been a game-changer alright."
Prior to Steelvision's collapse at the start of the year, it owed Mr Henderson's company $1.25 million.
WorkforceXS faced the risk of also entering administration.
In the first quarter of 2019, his company lost 95 per cent of its business compared to 2018.
"Personally, I haven't drawn a wage for six months. That's been a challenge for me and my family," Mr Henderson said.
"So you have lifestyle changes which as a business owner you expect to make sometimes. But when you've done everything right, that's probably the hardest."
Government 'warned'

Mr Henderson said he warned government officials about Steelvision's failure to pay invoices six months before the company entered administration.

"I was told by Regional Development Victoria, the CEO at the time, that there was bigger things to worry about than that at the moment and that it wasn't my concern," Mr Henderson said.
"Money was coming, cashflow was tight, money's coming, and RDV told me they wouldn't invest in a company to come to town if they weren't financially feasible."
"What I've learnt from this is to make my own decisions on business transactions. Not to listen to the media and the announcements that the government have, and then falling in love with those opportunities."
In March 2018 during a visit to Morwell, former Regional Development Minister Ben Carroll touted Steelvision would create more than 50 jobs suitable for people such as ex-Hazelwood workers.
In the same month, Mr Henderson's company was waiting for a debt of $200,000 and dating back six months to be paid.
A personal toll

Mr Henderson said his company's debt, which has since been reduced to $380,000, contributed to a decline in his mental health and wellbeing.

"On two different occasions I've been to Latrobe Regional Hospital to seek some treatment and then I've seen another provider in Traralgon on a number of occasions to help re-gather some thoughts," Mr Henderson said.
"I came to the realisation that Steelvision was starting to define who I was. I couldn't function every time that company's name was mentioned. I would just go into a dark place.
"I don't want it to define me or my family, I want it to be a bump in the road of the life journey. "
Moving forward

Despite an ordinary start to the year, Mr Henderson said his company was recovering despite losing Steelvision – which was about 85 per cent of his business.
"We're in a much better place than where we were in 2017 so if you take 2018 out of it, the Steelvision year, we're actually trading at our second best ever year so there's some positive signs there," he said
"We're now back to 20 per cent down on last year and we've got some wonderful employees contributing to our company at the moment.

"What government should do in future is build stronger relationships with these people so they didn't get conned. Get away from the paperwork and so forth for being the reason to do business and go and do background checks, rather than red tape checks."
His mental health is also improving, as he encouraged people who experienced similar incidents to share their story.
If this article causes you concern, call Lifeline Gippsland on 13 11 14.