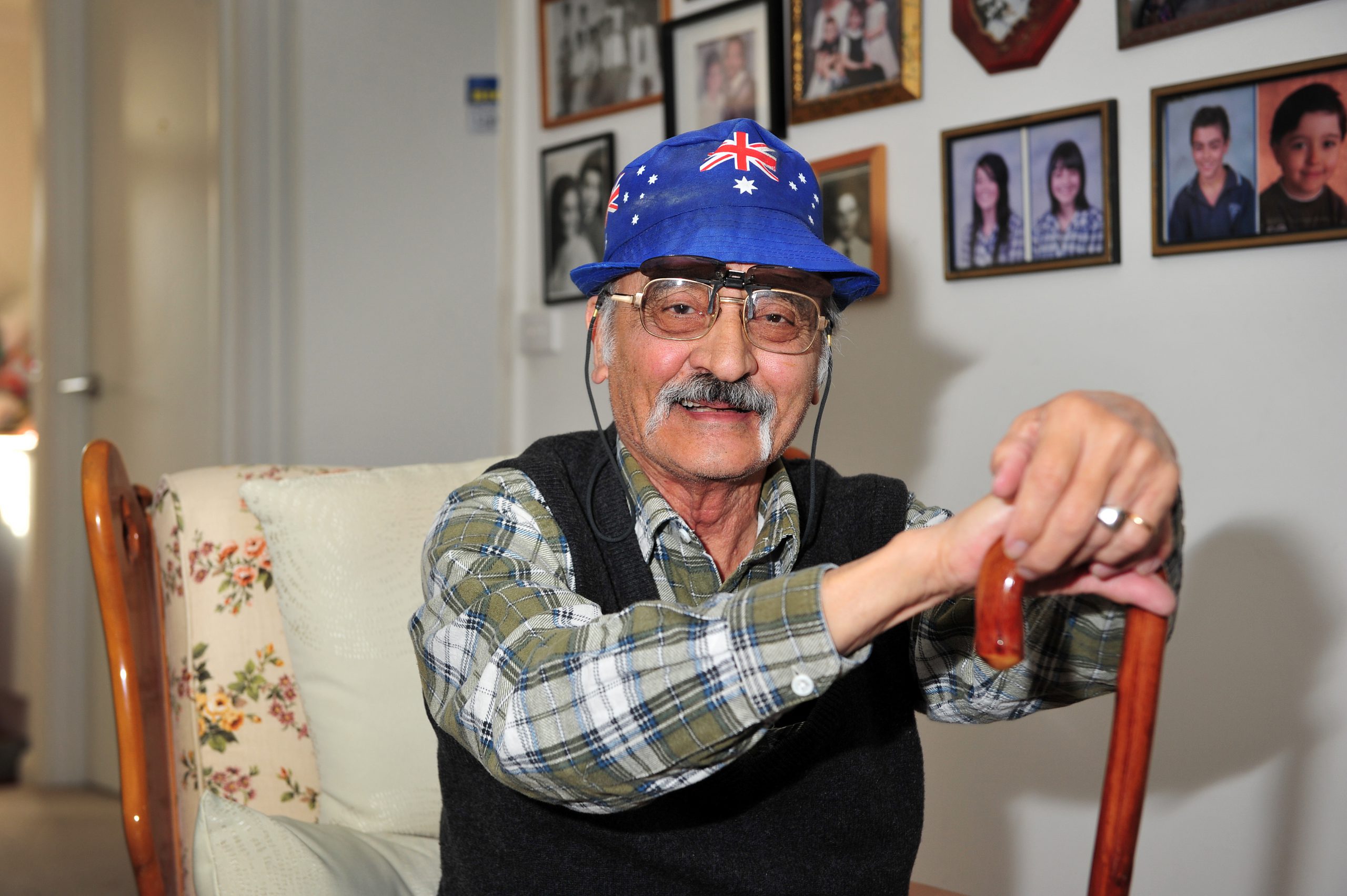 Bryce Eishold
PEOPLE IN PROFILE

Roy Foenander pulls out his memoirs while wearing his iconic duo; an Australian bucket hat and clip-on sunglasses.

"People don't recognise me if I don't wear my hat," Mr Foenander, who had just returned from the chemist, said.
"I didn't wear it today and one of the pharmacists said 'what's wrong with you, where's your hat?'"
Notes in his memoirs date back to diaries from 1936, some three decades before he migrated to Australia from Ceylon, now known as Sri Lanka.

"You see, my boy, there's two things I do before I go to bed. The first is a crossword and then my diary and then I'm ready to sleep. If I don't do that, I can't sleep," Mr Foenander said.
"I have kept a diary since I was six years old.
"In the old days the big companies used to give out a complimentary diary to their staff at Christmas time. So my father brought his diary and gave it to me, and ever since, I've been writing into a diary each night before bed."
For now, the memoirs are for his eyes only.
"Until I die, then anybody he bloody read it," Mr Foenander joked.
Mr Foenander migrated to Australia in May 1964, but it wasn't the only place he had been granted permission to live as a migrant.
He said he was given a "green ticket" to the United States, could have entered England, where his brother lived, or Canada, where he'd also been approved to move.
"I'm damn glad I didn't go to either of those places because this is bad enough with the cold," he joked.
After relocating to Australia for a better life, Mr Foenander moved to Morwell where he had received an accommodation guarantee from a relative.
His initial job with the State Electricity Commission was as a labourer with the "concrete gang" – but he only lasted a few days due to his small stature – recalling a moment where he was working on the cement mixer.
"I stuck the bloody shovel into the stand and couldn't take it out because it was too heavy.
"The Italian bloke said 'oh no, not that way … you must do this way' … and then I was banned from lifting a full shovel of sand into the mixer, I was told I could only do a half-shovel.
"I was working twice as hard."
From there, he went to work in the mess hut and spent time "sorting some nuts and bolts" before securing a job at Australian Paper as a payroll clerk.
It was during his time at AP Mr Foenander was offered a job at the Latrobe Valley Express as a sports reporter by the paper's founder and inaugural editor, Pat Hegarty.
"Pat phoned me at the office and asked if I could come and see him. He said "I have a job for you" because I was already writing junior cricket for the [Traralgon] Journal.
"I told him I'd write for him on a part-time basis and cover the cricket or junior footy, but I couldn't do it full-time because I was trying to raise a family and it wasn't paying that well."
Prior to retirement, Mr Foenander worked for the City of Traralgon, starting as the subdivision and purchasing clerk before he was promoted to an executive assistant and made redundant several years later.
He was the first liquor licence holder at the Traralgon Football Club, has served on a number of committees, and is an honorary life member of the Traralgon and District Cricket Association.
Mr Foenander said he had also worked at every pub in Traralgon, and for a short time was referred to as the "singing barman" as he'd carry a guitar around his neck while serving a pot of beer.
He lost the love of his life, wife Barbara, in 2010, but said he'd found a new lease on life.
After celebrating his 88th birthday in May, he encouraged other people in a similar position to "make the most" of their life by taking a holiday, cooking a delicious meal, joining a community group, meeting new people or having a "jolly of laugh".
"There's so much more I need to do," Mr Foenander said.
"I edit the Probus Club of Traralgon's monthly bulletin it keeps my mind active.
"People like me need to be happy and do what they like, there's no point sitting here waiting to go into a nursing home".
Longevity is in his family. His father lived until he was 86 and his mother died a week shy of her 92nd birthday.
When asked about his secret to a healthy and happy life Mr Foenander replied "whisky".