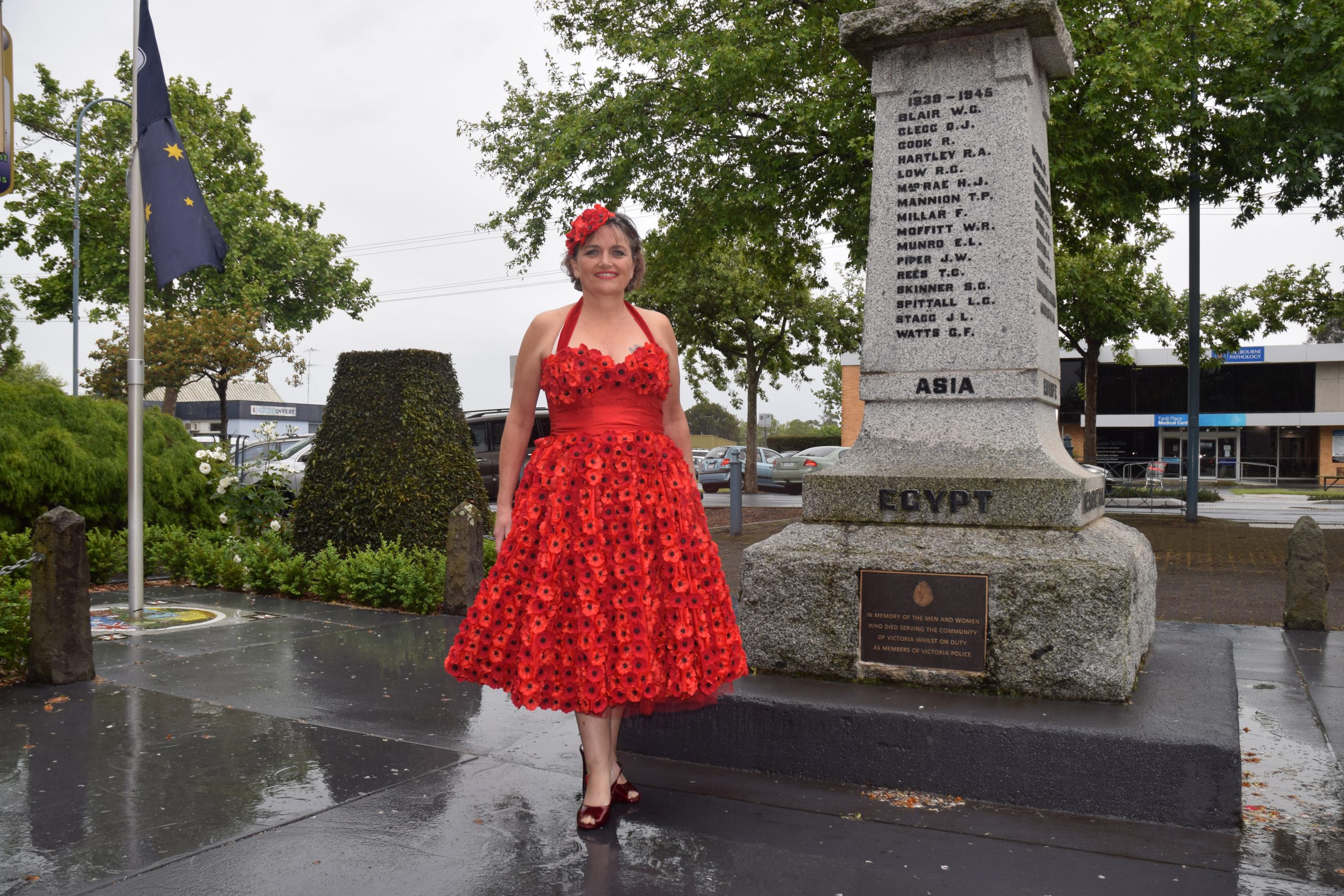 Tessa Randello
Moe's Kylie Treanor is playing a key role in this year's annual Poppy Appeal.

The retired servicewoman sported the rare poppy dress, which promotes the appeal ahead of Remembrance Day on Monday, November 11.
Moe RSL general manager Beth Wilson said the dress generated attention when Ms Treanor attended the venue recently.
"Kylie walking around in the poppy dress [on Monday] got people's attention and gives the awareness that it is November and time to start the poppy appeal and of course all that money goes to veterans and their welfare," she said.
Ms Treanor served in the Royal Australian Navy for 12 years and said she was proud to be assisting the poppy appeal.
"As an ex-servicewoman I still have friends that are serving… and it's important people know that there are veterans out there that are still struggling," she said.
"It's still as valid an appeal today as it was when it first originated.
"People need to consider veterans' mental health as well… there are places out there that they can go to and of course the RSL are a huge part of that."
Ms Treanor joined the navy on March 5, 1990 as a 19-year-old and discharged on the same date of 2002.
She was a part of the first Australian intake of women that were trained for active service.
Ms Treanor shared a plethora of intriguing and hilarious stories of her time on exchange in the UK and travelling the world, such as running to a balcony to take a photo of the Queen Elizabeth, who visited her naval base, getting lost in Tokyo with a group of navy members and experiencing an Anzac Day dawn service in the United States.
After 10 years with the navy, Ms Treanor was assigned to the HMS Success, her dream ship, and was delighted to go out to sea.
"It made everything fall into place for me. I understood why they had a height requirement in the navy… why they had traditions that I didn't understand on shore, but it was amazing,"she said.
Even seeing the world was a big part of the job, but Ms Treanor said the most important thing was serving her country.
"Remembrance Day is very special to me, my mum's father died in WWII which shaped her life," she said.
Ms Treanor described her intake group as her brothers and sisters and their 30-year reunion is coming up in March 2020.
Helen Manuell, who made the poppy dress, has roots in Gippsland and was honoured to be tasked with creating the dress 10 years ago.
It took Ms Manuell about 40 hours to complete the dress as each poppy was pinned individually.
"It represents something for everyone, our heritage, our history its all in one dress," she said.