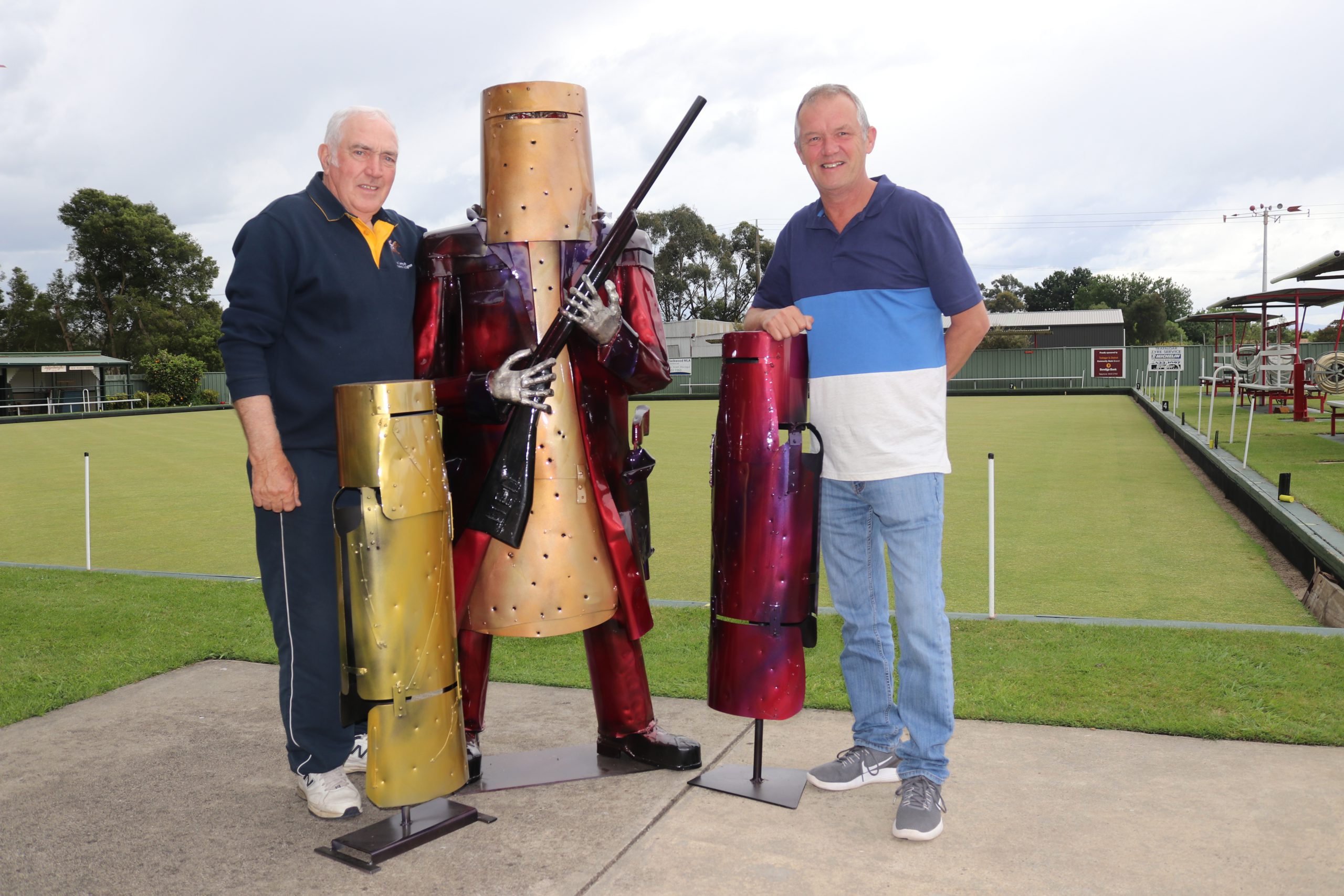 Michelle Slater
Ned Kelly could be holding his last stand in someone's backyard or business to help raise some much-needed cash for the Trafalgar Bowling Club.

Moe-based sculptor Jim Lawrence spent more than a month creating the life-sized steel statue of Australia's most notorious outlaw to donate to the bowlo, and is looking for offers of more than $5000.
Mr Lawrence has sculpted some of Gippsland's most well-known statues including Rosedale's 1915 Melbourne Cup winner Patrobas, Lord Nelson in Trafalgar and the Kokoda soldiers at the Moe RSL.
The six-foot-four-inch-high statue features Kelly in full armour, holding a rifle and flanked by two pistols in his oilskin coat pocket.
It also comes with two smaller Kelly figures that can be put in a garden or entertainment area, and the entire work has been sandblasted and finished with two coats of metallic car paint.
The artist said his latest work would be a real boon for a Kelly collector
"It's very well finished and is one of the best sculptures I've made. I tried to make this as real as I possibly could, this one was a special effort to have it fully sealed and painted, and whoever gets it will get a mini-masterpiece," Mr Lawrence said.
"I made Ned Kelly to try to get funds for the club, and I've left it up to the club to sell it for whatever they can get for it."
Trafalgar Bowling Club chairman Ian Riley said all the funds from the sale will go back to the club, after it hit financial strife to the tune of nearly $200,000 last year and almost closed down.
He said local community groups and businesses went out of their way to hold functions and events at the club to get it back in the black.
"The 120 members were devastated, but they rallied around with lots of volunteer support, attending fundraisers and giving donations, now we don't have any outstanding debt," Mr Riley said.
"This club has served the community for 100 years. We didn't want to let one disastrous event close it down and we didn't think the community would let it happen."
To purchase the Ned Kelly, statue, contact the Trafalgar Bowling Club on 5633 1274.