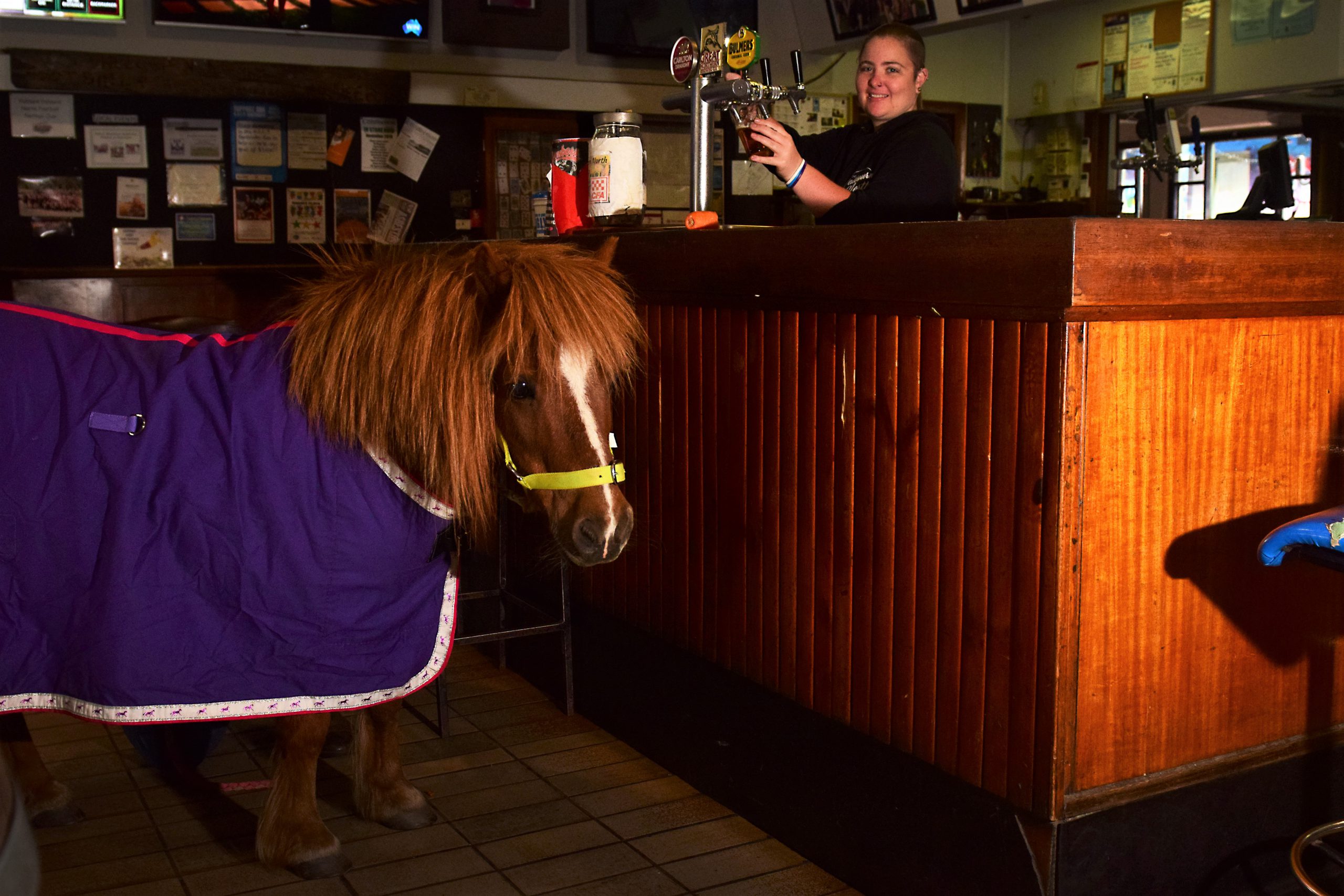 Kate Withers
It wasn't quite beer weather when Spud the Shetland pony embarked on a spontaneous solo pub crawl, but that didn't stop him from dropping into the Yallourn North Hotel for a quick ale.

On a Saturday night earlier this month, wild winds blew open the fence of the property where the 10-year-old pint-sized pony lives, and the prospect of an unbridled run was too good to refuse.
He took his chance and bolted – or trotted – the streets of the township for a short time before ending up at the watering hole.
Yallourn North Hotel manager Lisa Phillips was behind the bar when Spud popped in, but said the surprise guest was no more difficult to rein in than any other patron.
"I walked out there and sure enough, there he was," Ms Phillips said.
"It was pretty funny because there were some kids here at the time as well and they went out there to make sure he wasn't going to get out or anything.
"I think I'd seen him one time before but I didn't know who he belonged to, so I figured he had to belong to someone, so I just took a couple of photos and put them up on Facebook."
Within eight minutes owner Nicole White received a call to say Spud had made his way to the pub.
"I got the call and reassured them – 'he's quiet, he's not going to be a problem, I'm on my way'," Ms White said.
"We'd had the storm the night before and I had not been out to see him yet and he'd just gone for a wander."
Described as docile and a pony of the people, Spud was named at a yard sale in Bairnsdale where the White family first fell in love with him.
"The guy jumped on him and laid on him backwards like he was a couch, so that's where his name came from – Spud the couch potato," Ms White said.
Spud will venture back to the Yallourn North Hotel, this time for a planned visit, as a way to thank the community for their help and give back.

A fundraising day will be held at the pub on Sunday with money raised going to the Leukaemia Foundation.
"Spud's coming up and we're going to do some pony rides and things like that," Ms Phillips said.
"We're going to take a donation for the Leukaemia Foundation and we've got one of the owners dressing up as Santa to hand out some lollies and things like that.
"Being the first of December we thought we'd tie it all together, so we're just going to take all the money for charity."
Meet Spud the Naughty Pony Charity Day will be on Sunday at the Yallourn North Hotel from 2pm.