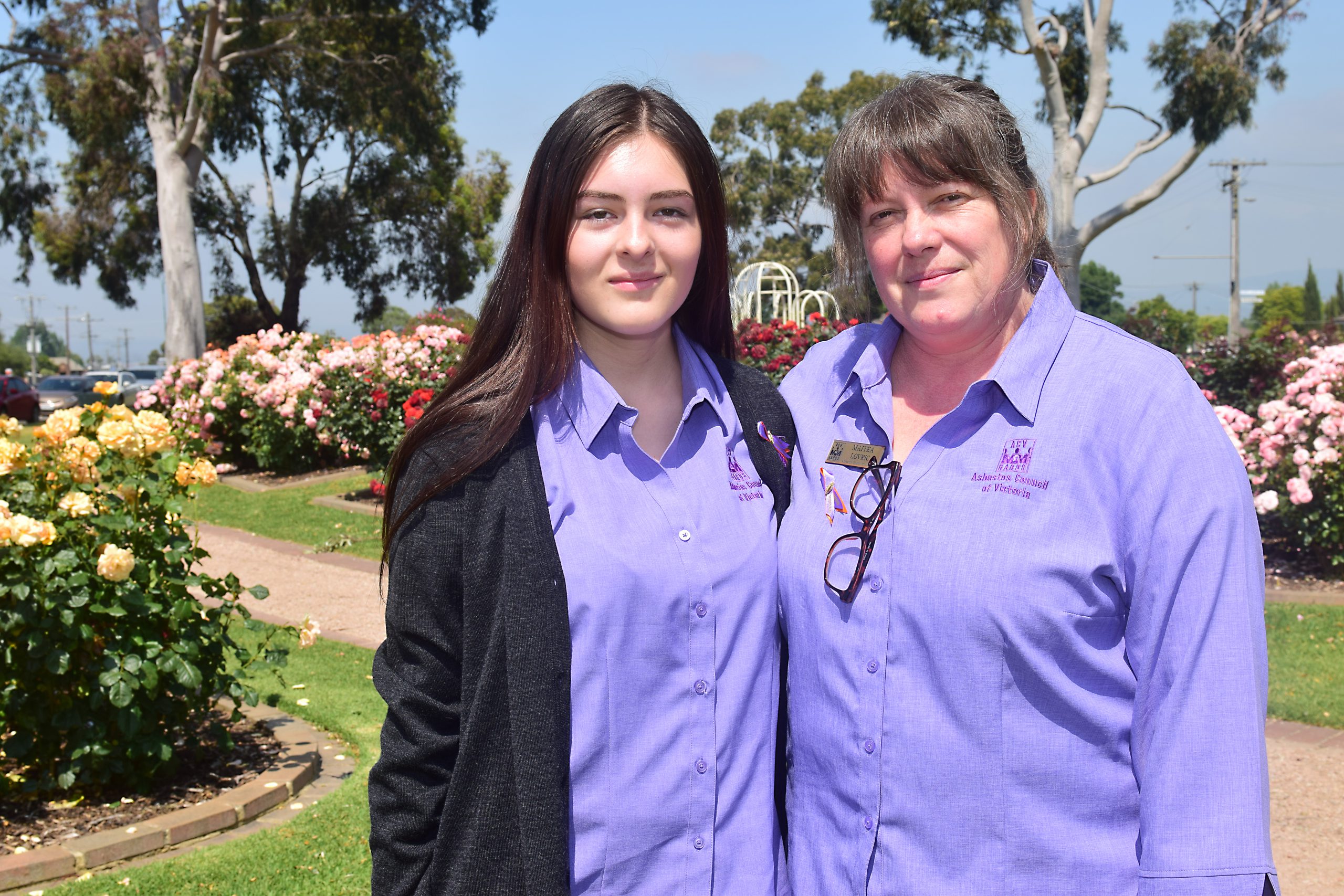 Kate Withers
Maitea Lovric and Nadine Medina know all too well the pain and prolonged suffering that asbestos-related disease can bring.

Tony Medina, partner to Maitea and father to Nadine, died of mesothelioma aged just 42 after a 23-year battle with the insidious disease.
Nearly 11 years after his death, and at the same rotunda in Morwell's rose garden where Tony spoke passionately many times, Matiea and Nadine addressed a crowd of hundreds at the annual Asbestos Awareness Day last week.
"[Asbestos] is truly a sublime destroyer of all hope," Maitea said.
"Added to our loss was the prevailing sense of injustice that our loved one's death was either a preventable workplace-related death or occurred through exposure to asbestos in the community.
"Tony's early exposure to asbestos as a young working man of just 19 would have dire consequences and ultimately claim his life.
"His parents, his two brothers, a sister and five children survive him. He crammed a lot of living into those few short years but had more hopes and aspirations that sadly would never be realised."
Born in Chile in 1965, Tony moved to Australia and worked as a labourer and was a unionist with the CFMEU where he was "a natural organiser" and unionist.
"Tony's disarming smile and warm, friendly nature ensured he made friends wherever he went. Underlying his whole working life was a drive to improve the conditions of all workers," Maitea said.
"It was no small irony that in 2006 when he started to become sick that Tony realised the very thing he had been campaigning against … was likely catching up with him.
"There is no safe level of exposure to asbestos, [nor] are there safer forms of asbestos."
Tony campaigned to have chemotherapy drug Alimta subsidised for all mesothelioma sufferers, successfully sued his former employers and travelled to Chile, Peru and Argentina with the whole family in his final years.
He also received a life-long membership with the CFMEU in recognition of his contribution.
December 23 will mark 11 years since Tony's death, and despite being just six at the time, daughter Nadine recalls clearly the agony her family endured.
"As a young child, my siblings and family suffered the many detriments of having a family member diagnosed with lung cancer due to early asbestos exposure," Nadine said.
"Losing a family member or a friend is a difficult experience but presents an emotional toll that will never completely leave.
"To see their diagnosis worsen drastically and to witness their health rapidly decline is hard for anyone, let alone a child of six years old.
"From my perspective, my father's death makes me feel as though I was too young to understand the details of his diagnosis but I wasn't too young to feel the grief and sorrow that accompanied it."
Every year just before Christmas, Nadine said the Medina family was burdened with the reminder of yet another year without her father.
"I think it's a very cruel thing and I don't think any child deserves to experience that," she said.
"I don't think it's fair that any person should experience losing a loved one simply because they chose to go to work."
Matiea and Nadine are both members of a support group for family and friends of people who have been affected by asbestos-related disease.