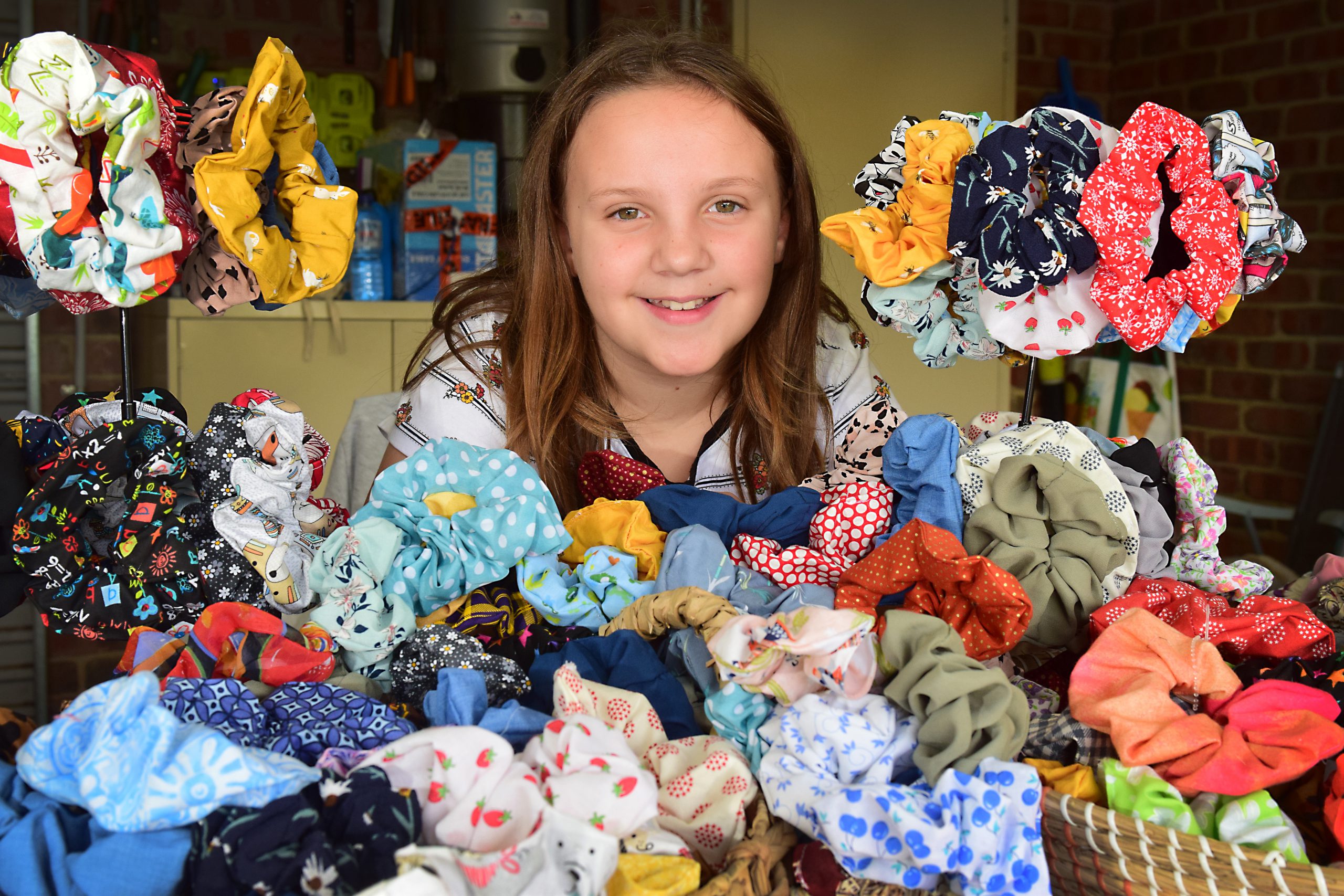 Tessa Randello
Young entrepreneur Elissa Mayes has taken fundraising for the Gippsland Emergency Relief Fund into her own hands.

The 10-year-old held a stall selling hand-made scrunchies last weekend to raise money for fire-affected areas in Gippsland.
Elissa sold 123 scrunchies and has many more orders on the way
Tracy B's Biscuits donated cookies for the stall and in return for their donation people could take a biscuit.
Elissa aimed to raise $500 for GERF across the weekend, but surpassed that goal by $200 before Sunday evening, so she set a new goal of $1000.
The Newborough East Primary student will continue fundraising by donating $2 from every sale until the end of the week.
She also auctioned off two sets of five scrunchies that she had donated, with all proceeds going to GERF.
But this is not the first time Elissa, better known as Lissy, has raised money with her colourful creations.
Since July 2019, Lissy has been making and selling scrunchies with a portion of the proceeds going to Challenge – Supporting Kids With Cancer through her Facebook page and stalls at community events.
Lissy said it all started on a weekend away with her family.
"When we were away I met a lady who was selling scrunchies, as we were driving home I told mum that I wanted to start making scrunchies," she said.
"The next week we bought a sewing machine and fabric and my friends were the first people to buy them."
Lissy said the decision to donate some of her sales was one close to her family's heart.
"We chose challenge because when my dad was little he had Hodgkin lymphoma, which is a type of cancer and my cousin Bailey died from a brain tumour when I was two," she said.
"Some nights I don't really want to do it, I want to play outside but then I realise that I'm doing it for a good cause and I just do it."
Lissy said that she spends between eight and 10 hours every week making scrunchies and her mother Rachael has had to buy a second sewing machine to keep up with demand.
With help from Rachael and her best friend Lilian Green, Lissy makes her scrunchies in stages and said she has "gotten really good at making scrunchies."
Rachael said that her contribution to the process is the last stitch that holds the scrunchies together but Lissy organises the finances, marketing and designed her own logo and business cards.
"She even has new products in research and development," she said.
"She's just a great kid with a beautiful heart, we are such proud parents to see her set herself a goal and smash it.
"She was the one that sat up, gave up time playing with her friends to be sitting on that sewing machine and making it happen".
For more information or to make an order visit E.M Hair Scrunchies on Facebook.